JV PPC has passed express tests for the Poltava region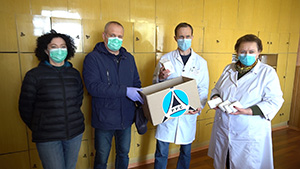 April 27, Poltava – JV PPC purchased tests for rapid diagnosis of COVID-19 for the Poltava Regional Infectious Diseases Hospital and the Novosanzharsky Central Regional Hospital.
The Department of Health of the Poltava Regional State Administration asked for the necessary help and assistance in the procurement of quick response tests. So, the company purchased and personally handed over 570 tests for the diagnosis of COVID-19 to two hospitals.
"Any help from the business community is important for us to quickly identify and prevent the spread of coronavirus. We are grateful to JV PPC for the indifference and willingness to support the Poltava region at such a difficult time for everyone, "commented Natalya Petrovna Sviridenko, chief physician of the Poltava Regional Clinical Hospital
With the onset of a pandemic, JV PPC is actively helping the Poltava region. Thus, the Company purchased and handed over to the hospitals respirators, medical masks and protective disposable suits.
"For more than 25 years, JV PPC has been implementing charity projects of various sizes for the Poltava region. The company today, more than ever, feels the need for support for the community of Poltava, especially for physicians who continue to work in extremely difficult conditions. In general, the JV PPC has already provided assistance for almost 4,500,000 hryvnias during the period of the fight against COVID-19. We are grateful to medical workers of all levels who are taking on the challenges now in the midst of a pandemic and are protecting Ukrainian health. ", Said Victor Gladun, General Director of JV PPC.