PPC Employees Conduct Volunteer Clean-up at Poltava City Park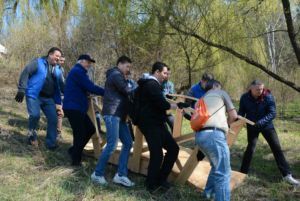 Poltava, 24 April 2018 – On Saturday, April 21, more than fifty employees of Poltava Petroleum Company (PPC) together with their family members organized volunteer clean-up of the Poltava City Park to prepare it for the summer season. PPC traditionally participates in such social projects and contributes to restoration and maintenance of parks and recreational areas in Poltava region.
During the event, PPC employees, including company management and representatives from almost all departments planted around 40 plants for a hedge, cleaned up a section of the park and installed a bridge across a stream intersecting pedestrian and bicycle paths. In addition, our colleagues made an interesting discovery: abandoned holy icons and a small Buddha sculpture. These items were transferred to the Park administration for restoration; one of the icons will be given to PPC after restoration.
Director of the Poltava City Park Mykhailo Shlafer and Secretary of the City Council Oksana Derkach greeted the participants and thanked them for their initiative.
The event gave the weekend a great and inspiring start. We thank our colleagues for their participation in the clean-up and their wonderful initiative!
Photos available on our Facebook page.