');mask-image:url('data:image/svg+xml;utf8,');mask-mode:alpha;-webkit-mask-repeat:no-repeat;mask-repeat:no-repeat;-webkit-mask-size:contain;mask-size:contain;-webkit-mask-position:center;mask-position:center;border-radius:0}}.wp-block-latest-comments__comment{line-height:1.1;list-style:none;margin-bottom:1em}.has-avatars .wp-block-latest-comments__comment{min-height:2.25em;list-style:none}.has-avatars .wp-block-latest-comments__comment .wp-block-latest-comments__comment-excerpt,.has-avatars .wp-block-latest-comments__comment .wp-block-latest-comments__comment-meta{margin-left:3.25em}.has-dates .wp-block-latest-comments__comment,.has-excerpts .wp-block-latest-comments__comment{line-height:1.5}.wp-block-latest-comments__comment-excerpt p{font-size:.875em;line-height:1.8;margin:.36em 0 1.4em}.wp-block-latest-comments__comment-date{display:block;font-size:.75em}.wp-block-latest-comments .avatar,.wp-block-latest-comments__comment-avatar{border-radius:1.5em;display:block;float:left;height:2.5em;margin-right:.75em;width:2.5em}.wp-block-latest-posts.alignleft{margin-right:2em}.wp-block-latest-posts.alignright{margin-left:2em}.wp-block-latest-posts.wp-block-latest-posts__list{list-style:none}.wp-block-latest-posts.wp-block-latest-posts__list li{clear:both}.wp-block-latest-posts.is-grid{display:flex;flex-wrap:wrap;padding:0}.wp-block-latest-posts.is-grid li{margin:0 1.25em 1.25em 0;width:100%}@media (min-width:600px){.wp-block-latest-posts.columns-2 li{width:calc(50% - .625em)}.wp-block-latest-posts.columns-2 li:nth-child(2n){margin-right:0}.wp-block-latest-posts.columns-3 li{width:calc(33.33333% - .83333em)}.wp-block-latest-posts.columns-3 li:nth-child(3n){margin-right:0}.wp-block-latest-posts.columns-4 li{width:calc(25% - .9375em)}.wp-block-latest-posts.columns-4 li:nth-child(4n){margin-right:0}.wp-block-latest-posts.columns-5 li{width:calc(20% - 1em)}.wp-block-latest-posts.columns-5 li:nth-child(5n){margin-right:0}.wp-block-latest-posts.columns-6 li{width:calc(16.66667% - 1.04167em)}.wp-block-latest-posts.columns-6 li:nth-child(6n){margin-right:0}}.wp-block-latest-posts__post-author,.wp-block-latest-posts__post-date{display:block;color:#555;font-size:.8125em}.wp-block-latest-posts__post-excerpt{margin-top:.5em;margin-bottom:1em}.wp-block-latest-posts__featured-image a{display:inline-block}.wp-block-latest-posts__featured-image img{height:auto;width:auto}.wp-block-latest-posts__featured-image.alignleft{margin-right:1em}.wp-block-latest-posts__featured-image.alignright{margin-left:1em}.wp-block-latest-posts__featured-image.aligncenter{margin-bottom:1em;text-align:center}.block-editor-image-alignment-control__row .components-base-control__field{display:flex;justify-content:space-between;align-items:center}.block-editor-image-alignment-control__row .components-base-control__field .components-base-control__label{margin-bottom:0}ol.has-background,ul.has-background{padding:1.25em 2.375em}.wp-block-media-text{ /*!rtl:begin:ignore*/direction:ltr; /*!rtl:end:ignore*/display:-ms-grid;display:grid;-ms-grid-columns:50% 1fr;grid-template-columns:50% 1fr;-ms-grid-rows:auto;grid-template-rows:auto}.wp-block-media-text.has-media-on-the-right{-ms-grid-columns:1fr 50%;grid-template-columns:1fr 50%}.wp-block-media-text.is-vertically-aligned-top .wp-block-media-text__content,.wp-block-media-text.is-vertically-aligned-top .wp-block-media-text__media{-ms-grid-row-align:start;align-self:start}.wp-block-media-text.is-vertically-aligned-center .wp-block-media-text__content,.wp-block-media-text.is-vertically-aligned-center .wp-block-media-text__media,.wp-block-media-text .wp-block-media-text__content,.wp-block-media-text .wp-block-media-text__media{-ms-grid-row-align:center;align-self:center}.wp-block-media-text.is-vertically-aligned-bottom .wp-block-media-text__content,.wp-block-media-text.is-vertically-aligned-bottom .wp-block-media-text__media{-ms-grid-row-align:end;align-self:end}.wp-block-media-text .wp-block-media-text__media{ /*!rtl:begin:ignore*/-ms-grid-column:1;grid-column:1;-ms-grid-row:1;grid-row:1; /*!rtl:end:ignore*/margin:0}.wp-block-media-text .wp-block-media-text__content{direction:ltr; /*!rtl:begin:ignore*/-ms-grid-column:2;grid-column:2;-ms-grid-row:1;grid-row:1; /*!rtl:end:ignore*/padding:0 8%;word-break:break-word}.wp-block-media-text.has-media-on-the-right .wp-block-media-text__media{ /*!rtl:begin:ignore*/-ms-grid-column:2;grid-column:2;-ms-grid-row:1;grid-row:1 /*!rtl:end:ignore*/}.wp-block-media-text.has-media-on-the-right .wp-block-media-text__content{ /*!rtl:begin:ignore*/-ms-grid-column:1;grid-column:1;-ms-grid-row:1;grid-row:1 /*!rtl:end:ignore*/}.wp-block-media-text__media img,.wp-block-media-text__media video{max-width:unset;width:100%;vertical-align:middle}.wp-block-media-text.is-image-fill figure.wp-block-media-text__media{height:100%;min-height:250px;background-size:cover}.wp-block-media-text.is-image-fill figure.wp-block-media-text__media>img{position:absolute;width:1px;height:1px;padding:0;margin:-1px;overflow:hidden;clip:rect(0,0,0,0);border:0}@media (max-width:600px){.wp-block-media-text.is-stacked-on-mobile{-ms-grid-columns:100%!important;grid-template-columns:100%!important}.wp-block-media-text.is-stacked-on-mobile .wp-block-media-text__media{-ms-grid-column:1;grid-column:1;-ms-grid-row:1;grid-row:1}.wp-block-media-text.is-stacked-on-mobile .wp-block-media-text__content{-ms-grid-column:1;grid-column:1;-ms-grid-row:2;grid-row:2}}.wp-block-navigation:not(.has-background) .wp-block-navigation__container .wp-block-navigation-link:not(.has-text-color){color:#1e1e1e}.wp-block-navigation:not(.has-background) .wp-block-navigation__container .wp-block-navigation__container{background-color:#fff}.items-justified-left>ul{justify-content:flex-start}.items-justified-center>ul{justify-content:center}.items-justified-right>ul{justify-content:flex-end}.wp-block-navigation-link{display:flex;align-items:center;position:relative;margin:0}.wp-block-navigation-link .wp-block-navigation__container:empty{display:none}.wp-block-navigation__container{list-style:none;margin:0;padding-left:0;display:flex;flex-wrap:wrap}.is-vertical .wp-block-navigation__container{display:block}.has-child>.wp-block-navigation-link__content{padding-right:.5em}.has-child .wp-block-navigation__container{border:1px solid rgba(0,0,0,.15);background-color:inherit;color:inherit;position:absolute;left:0;top:100%;width:-webkit-fit-content;width:-moz-fit-content;width:fit-content;z-index:2;opacity:0;transition:opacity .1s linear;visibility:hidden}.has-child .wp-block-navigation__container>.wp-block-navigation-link>.wp-block-navigation-link__content{flex-grow:1}.has-child .wp-block-navigation__container>.wp-block-navigation-link>.wp-block-navigation-link__submenu-icon{padding-right:.5em}@media (min-width:782px){.has-child .wp-block-navigation__container{left:1.5em}.has-child .wp-block-navigation__container .wp-block-navigation__container{left:100%;top:-1px}.has-child .wp-block-navigation__container .wp-block-navigation__container:before{content:"";position:absolute;right:100%;height:100%;display:block;width:.5em;background:transparent}.has-child .wp-block-navigation__container .wp-block-navigation-link__submenu-icon svg{transform:rotate(0)}}.has-child:hover{cursor:pointer}.has-child:hover>.wp-block-navigation__container{visibility:visible;opacity:1;display:flex;flex-direction:column}.has-child:focus-within{cursor:pointer}.has-child:focus-within>.wp-block-navigation__container{visibility:visible;opacity:1;display:flex;flex-direction:column}.wp-block-navigation-link__content{color:inherit;text-decoration:none;padding:.5em 1em}.wp-block-navigation-link__content+.wp-block-navigation-link__content{padding-top:0}.has-text-color .wp-block-navigation-link__content{color:inherit}.wp-block-navigation-link__label{word-break:normal;overflow-wrap:break-word}.wp-block-navigation-link__submenu-icon{height:inherit;padding:.375em 1em .375em 0}.wp-block-navigation-link__submenu-icon svg{fill:currentColor}@media (min-width:782px){.wp-block-navigation-link__submenu-icon svg{transform:rotate(90deg)}}.is-small-text{font-size:.875em}.is-regular-text{font-size:1em}.is-large-text{font-size:2.25em}.is-larger-text{font-size:3em}.has-drop-cap:not(:focus):first-letter{float:left;font-size:8.4em;line-height:.68;font-weight:100;margin:.05em .1em 0 0;text-transform:uppercase;font-style:normal}p.has-background{padding:1.25em 2.375em}p.has-text-color a{color:inherit}.wp-block-post-author{display:flex;flex-wrap:wrap}.wp-block-post-author__byline{width:100%;margin-top:0;margin-bottom:0;font-size:.5em}.wp-block-post-author__avatar{margin-right:1em}.wp-block-post-author__bio{margin-bottom:.7em;font-size:.7em}.wp-block-post-author__content{flex-grow:1;flex-basis:0}.wp-block-post-author__name{font-weight:700;margin:0}.wp-block-pullquote{padding:3em 0;margin-left:0;margin-right:0;text-align:center}.wp-block-pullquote.alignleft,.wp-block-pullquote.alignright{max-width:290px}.wp-block-pullquote.alignleft p,.wp-block-pullquote.alignright p{font-size:1.25em}.wp-block-pullquote p{font-size:1.75em;line-height:1.6}.wp-block-pullquote cite,.wp-block-pullquote footer{position:relative}.wp-block-pullquote .has-text-color a{color:inherit}.wp-block-pullquote:not(.is-style-solid-color){background:none}.wp-block-pullquote.is-style-solid-color{border:none}.wp-block-pullquote.is-style-solid-color blockquote{margin-left:auto;margin-right:auto;text-align:left;max-width:60%}.wp-block-pullquote.is-style-solid-color blockquote p{margin-top:0;margin-bottom:0;font-size:2em}.wp-block-pullquote.is-style-solid-color blockquote cite{text-transform:none;font-style:normal}.wp-block-pullquote cite{color:inherit}.wp-block-quote.is-large,.wp-block-quote.is-style-large{margin-bottom:1em;padding:0 1em}.wp-block-quote.is-large p,.wp-block-quote.is-style-large p{font-size:1.5em;font-style:italic;line-height:1.6}.wp-block-quote.is-large cite,.wp-block-quote.is-large footer,.wp-block-quote.is-style-large cite,.wp-block-quote.is-style-large footer{font-size:1.125em;text-align:right}.wp-block-rss.alignleft{margin-right:2em}.wp-block-rss.alignright{margin-left:2em}.wp-block-rss.is-grid{display:flex;flex-wrap:wrap;padding:0;list-style:none}.wp-block-rss.is-grid li{margin:0 1em 1em 0;width:100%}@media (min-width:600px){.wp-block-rss.columns-2 li{width:calc(50% - 1em)}.wp-block-rss.columns-3 li{width:calc(33.33333% - 1em)}.wp-block-rss.columns-4 li{width:calc(25% - 1em)}.wp-block-rss.columns-5 li{width:calc(20% - 1em)}.wp-block-rss.columns-6 li{width:calc(16.66667% - 1em)}}.wp-block-rss__item-author,.wp-block-rss__item-publish-date{display:block;color:#555;font-size:.8125em}.wp-block-search .wp-block-search__inside-wrapper{display:flex;flex:auto;flex-wrap:nowrap;max-width:100%}.wp-block-search .wp-block-search__label{width:100%}.wp-block-search .wp-block-search__input{flex-grow:1;min-width:3em;border:1px solid #949494}.wp-block-search .wp-block-search__button{margin-left:.625em;word-break:normal}.wp-block-search .wp-block-search__button svg{min-width:1.5em;min-height:1.5em}.wp-block-search.wp-block-search__button-only .wp-block-search__button{margin-left:0}.wp-block-search.wp-block-search__button-inside .wp-block-search__inside-wrapper{padding:4px;border:1px solid #949494}.wp-block-search.wp-block-search__button-inside .wp-block-search__inside-wrapper .wp-block-search__input{border-radius:0;border:none;padding:0 0 0 .25em}.wp-block-search.wp-block-search__button-inside .wp-block-search__inside-wrapper .wp-block-search__input:focus{outline:none}.wp-block-search.wp-block-search__button-inside .wp-block-search__inside-wrapper .wp-block-search__button{padding:.125em .5em}.wp-block-separator.is-style-wide{border-bottom-width:1px}.wp-block-separator.is-style-dots{background:none!important;border:none;text-align:center;max-width:none;line-height:1;height:auto}.wp-block-separator.is-style-dots:before{content:"\00b7 \00b7 \00b7";color:currentColor;font-size:1.5em;letter-spacing:2em;padding-left:2em;font-family:serif}.wp-block-custom-logo .aligncenter{display:table}.wp-block-social-links{display:flex;flex-wrap:wrap;justify-content:flex-start;padding-left:0;padding-right:0;text-indent:0;margin-left:0}.wp-block-social-links .wp-social-link a,.wp-block-social-links .wp-social-link a:hover{text-decoration:none;border-bottom:0;box-shadow:none}.wp-social-link{display:block;width:36px;height:36px;border-radius:9999px;margin:0 8px 8px 0;transition:transform .1s ease}@media (prefers-reduced-motion:reduce){.wp-social-link{transition-duration:0s}}.wp-social-link a{padding:6px;display:block;line-height:0;transition:transform .1s ease}.wp-social-link a,.wp-social-link a:active,.wp-social-link a:hover,.wp-social-link a:visited,.wp-social-link svg{color:currentColor;fill:currentColor}.wp-social-link:hover{transform:scale(1.1)}.wp-block-social-links.aligncenter{justify-content:center;display:flex}.wp-block-social-links:not(.is-style-logos-only) .wp-social-link{background-color:#f0f0f0;color:#444}.wp-block-social-links:not(.is-style-logos-only) .wp-social-link-amazon{background-color:#f90;color:#fff}.wp-block-social-links:not(.is-style-logos-only) .wp-social-link-bandcamp{background-color:#1ea0c3;color:#fff}.wp-block-social-links:not(.is-style-logos-only) .wp-social-link-behance{background-color:#0757fe;color:#fff}.wp-block-social-links:not(.is-style-logos-only) .wp-social-link-codepen{background-color:#1e1f26;color:#fff}.wp-block-social-links:not(.is-style-logos-only) .wp-social-link-deviantart{background-color:#02e49b;color:#fff}.wp-block-social-links:not(.is-style-logos-only) .wp-social-link-dribbble{background-color:#e94c89;color:#fff}.wp-block-social-links:not(.is-style-logos-only) .wp-social-link-dropbox{background-color:#4280ff;color:#fff}.wp-block-social-links:not(.is-style-logos-only) .wp-social-link-etsy{background-color:#f45800;color:#fff}.wp-block-social-links:not(.is-style-logos-only) .wp-social-link-facebook{background-color:#1778f2;color:#fff}.wp-block-social-links:not(.is-style-logos-only) .wp-social-link-fivehundredpx{background-color:#000;color:#fff}.wp-block-social-links:not(.is-style-logos-only) .wp-social-link-flickr{background-color:#0461dd;color:#fff}.wp-block-social-links:not(.is-style-logos-only) .wp-social-link-foursquare{background-color:#e65678;color:#fff}.wp-block-social-links:not(.is-style-logos-only) .wp-social-link-github{background-color:#24292d;color:#fff}.wp-block-social-links:not(.is-style-logos-only) .wp-social-link-goodreads{background-color:#eceadd;color:#382110}.wp-block-social-links:not(.is-style-logos-only) .wp-social-link-google{background-color:#ea4434;color:#fff}.wp-block-social-links:not(.is-style-logos-only) .wp-social-link-instagram{background-color:#f00075;color:#fff}.wp-block-social-links:not(.is-style-logos-only) .wp-social-link-lastfm{background-color:#e21b24;color:#fff}.wp-block-social-links:not(.is-style-logos-only) .wp-social-link-linkedin{background-color:#0d66c2;color:#fff}.wp-block-social-links:not(.is-style-logos-only) .wp-social-link-mastodon{background-color:#3288d4;color:#fff}.wp-block-social-links:not(.is-style-logos-only) .wp-social-link-medium{background-color:#02ab6c;color:#fff}.wp-block-social-links:not(.is-style-logos-only) .wp-social-link-meetup{background-color:#f6405f;color:#fff}.wp-block-social-links:not(.is-style-logos-only) .wp-social-link-pinterest{background-color:#e60122;color:#fff}.wp-block-social-links:not(.is-style-logos-only) .wp-social-link-pocket{background-color:#ef4155;color:#fff}.wp-block-social-links:not(.is-style-logos-only) .wp-social-link-reddit{background-color:#fe4500;color:#fff}.wp-block-social-links:not(.is-style-logos-only) .wp-social-link-skype{background-color:#0478d7;color:#fff}.wp-block-social-links:not(.is-style-logos-only) .wp-social-link-snapchat{background-color:#fefc00;color:#fff;stroke:#000}.wp-block-social-links:not(.is-style-logos-only) .wp-social-link-soundcloud{background-color:#ff5600;color:#fff}.wp-block-social-links:not(.is-style-logos-only) .wp-social-link-spotify{background-color:#1bd760;color:#fff}.wp-block-social-links:not(.is-style-logos-only) .wp-social-link-tumblr{background-color:#011835;color:#fff}.wp-block-social-links:not(.is-style-logos-only) .wp-social-link-twitch{background-color:#6440a4;color:#fff}.wp-block-social-links:not(.is-style-logos-only) .wp-social-link-twitter{background-color:#1da1f2;color:#fff}.wp-block-social-links:not(.is-style-logos-only) .wp-social-link-vimeo{background-color:#1eb7ea;color:#fff}.wp-block-social-links:not(.is-style-logos-only) .wp-social-link-vk{background-color:#4680c2;color:#fff}.wp-block-social-links:not(.is-style-logos-only) .wp-social-link-wordpress{background-color:#3499cd;color:#fff}.wp-block-social-links:not(.is-style-logos-only) .wp-social-link-yelp{background-color:#d32422;color:#fff}.wp-block-social-links:not(.is-style-logos-only) .wp-social-link-youtube{background-color:red;color:#fff}.wp-block-social-links.is-style-logos-only .wp-social-link{background:none;padding:4px}.wp-block-social-links.is-style-logos-only .wp-social-link svg{width:28px;height:28px}.wp-block-social-links.is-style-logos-only .wp-social-link-amazon{color:#f90}.wp-block-social-links.is-style-logos-only .wp-social-link-bandcamp{color:#1ea0c3}.wp-block-social-links.is-style-logos-only .wp-social-link-behance{color:#0757fe}.wp-block-social-links.is-style-logos-only .wp-social-link-codepen{color:#1e1f26}.wp-block-social-links.is-style-logos-only .wp-social-link-deviantart{color:#02e49b}.wp-block-social-links.is-style-logos-only .wp-social-link-dribbble{color:#e94c89}.wp-block-social-links.is-style-logos-only .wp-social-link-dropbox{color:#4280ff}.wp-block-social-links.is-style-logos-only .wp-social-link-etsy{color:#f45800}.wp-block-social-links.is-style-logos-only .wp-social-link-facebook{color:#1778f2}.wp-block-social-links.is-style-logos-only .wp-social-link-fivehundredpx{color:#000}.wp-block-social-links.is-style-logos-only .wp-social-link-flickr{color:#0461dd}.wp-block-social-links.is-style-logos-only .wp-social-link-foursquare{color:#e65678}.wp-block-social-links.is-style-logos-only .wp-social-link-github{color:#24292d}.wp-block-social-links.is-style-logos-only .wp-social-link-goodreads{color:#382110}.wp-block-social-links.is-style-logos-only .wp-social-link-google{color:#ea4434}.wp-block-social-links.is-style-logos-only .wp-social-link-instagram{color:#f00075}.wp-block-social-links.is-style-logos-only .wp-social-link-lastfm{color:#e21b24}.wp-block-social-links.is-style-logos-only .wp-social-link-linkedin{color:#0d66c2}.wp-block-social-links.is-style-logos-only .wp-social-link-mastodon{color:#3288d4}.wp-block-social-links.is-style-logos-only .wp-social-link-medium{color:#02ab6c}.wp-block-social-links.is-style-logos-only .wp-social-link-meetup{color:#f6405f}.wp-block-social-links.is-style-logos-only .wp-social-link-pinterest{color:#e60122}.wp-block-social-links.is-style-logos-only .wp-social-link-pocket{color:#ef4155}.wp-block-social-links.is-style-logos-only .wp-social-link-reddit{color:#fe4500}.wp-block-social-links.is-style-logos-only .wp-social-link-skype{color:#0478d7}.wp-block-social-links.is-style-logos-only .wp-social-link-snapchat{color:#fff;stroke:#000}.wp-block-social-links.is-style-logos-only .wp-social-link-soundcloud{color:#ff5600}.wp-block-social-links.is-style-logos-only .wp-social-link-spotify{color:#1bd760}.wp-block-social-links.is-style-logos-only .wp-social-link-tumblr{color:#011835}.wp-block-social-links.is-style-logos-only .wp-social-link-twitch{color:#6440a4}.wp-block-social-links.is-style-logos-only .wp-social-link-twitter{color:#1da1f2}.wp-block-social-links.is-style-logos-only .wp-social-link-vimeo{color:#1eb7ea}.wp-block-social-links.is-style-logos-only .wp-social-link-vk{color:#4680c2}.wp-block-social-links.is-style-logos-only .wp-social-link-wordpress{color:#3499cd}.wp-block-social-links.is-style-logos-only .wp-social-link-yelp{background-color:#d32422;color:#fff}.wp-block-social-links.is-style-logos-only .wp-social-link-youtube{color:red}.wp-block-social-links.is-style-pill-shape .wp-social-link{width:auto}.wp-block-social-links.is-style-pill-shape .wp-social-link a{padding-left:16px;padding-right:16px}.wp-block-spacer{clear:both}p.wp-block-subhead{font-size:1.1em;font-style:italic;opacity:.75}.wp-block-table{overflow-x:auto}.wp-block-table table{width:100%}.wp-block-table .has-fixed-layout{table-layout:fixed;width:100%}.wp-block-table .has-fixed-layout td,.wp-block-table .has-fixed-layout th{word-break:break-word}.wp-block-table.aligncenter,.wp-block-table.alignleft,.wp-block-table.alignright{display:table;width:auto}.wp-block-table.aligncenter td,.wp-block-table.aligncenter th,.wp-block-table.alignleft td,.wp-block-table.alignleft th,.wp-block-table.alignright td,.wp-block-table.alignright th{word-break:break-word}.wp-block-table .has-subtle-light-gray-background-color{background-color:#f3f4f5}.wp-block-table .has-subtle-pale-green-background-color{background-color:#e9fbe5}.wp-block-table .has-subtle-pale-blue-background-color{background-color:#e7f5fe}.wp-block-table .has-subtle-pale-pink-background-color{background-color:#fcf0ef}.wp-block-table.is-style-stripes{border-spacing:0;border-collapse:inherit;background-color:transparent;border-bottom:1px solid #f0f0f0}.wp-block-table.is-style-stripes tbody tr:nth-child(odd){background-color:#f0f0f0}.wp-block-table.is-style-stripes.has-subtle-light-gray-background-color tbody tr:nth-child(odd){background-color:#f3f4f5}.wp-block-table.is-style-stripes.has-subtle-pale-green-background-color tbody tr:nth-child(odd){background-color:#e9fbe5}.wp-block-table.is-style-stripes.has-subtle-pale-blue-background-color tbody tr:nth-child(odd){background-color:#e7f5fe}.wp-block-table.is-style-stripes.has-subtle-pale-pink-background-color tbody tr:nth-child(odd){background-color:#fcf0ef}.wp-block-table.is-style-stripes td,.wp-block-table.is-style-stripes th{border-color:transparent}.wp-block-text-columns,.wp-block-text-columns.aligncenter{display:flex}.wp-block-text-columns .wp-block-column{margin:0 1em;padding:0}.wp-block-text-columns .wp-block-column:first-child{margin-left:0}.wp-block-text-columns .wp-block-column:last-child{margin-right:0}.wp-block-text-columns.columns-2 .wp-block-column{width:50%}.wp-block-text-columns.columns-3 .wp-block-column{width:33.33333%}.wp-block-text-columns.columns-4 .wp-block-column{width:25%}.wp-block-video{margin-left:0;margin-right:0}.wp-block-video video{max-width:100%}@supports (position:sticky){.wp-block-video [poster]{-o-object-fit:cover;object-fit:cover}}.wp-block-video.aligncenter{text-align:center}.wp-block-video figcaption{margin-top:.5em;margin-bottom:1em}.wp-block-post-featured-image a{display:inline-block}:root .has-pale-pink-background-color{background-color:#f78da7}:root .has-vivid-red-background-color{background-color:#cf2e2e}:root .has-luminous-vivid-orange-background-color{background-color:#ff6900}:root .has-luminous-vivid-amber-background-color{background-color:#fcb900}:root .has-light-green-cyan-background-color{background-color:#7bdcb5}:root .has-vivid-green-cyan-background-color{background-color:#00d084}:root .has-pale-cyan-blue-background-color{background-color:#8ed1fc}:root .has-vivid-cyan-blue-background-color{background-color:#0693e3}:root .has-vivid-purple-background-color{background-color:#9b51e0}:root .has-white-background-color{background-color:#fff}:root .has-very-light-gray-background-color{background-color:#eee}:root .has-cyan-bluish-gray-background-color{background-color:#abb8c3}:root .has-very-dark-gray-background-color{background-color:#313131}:root .has-black-background-color{background-color:#000}:root .has-pale-pink-color{color:#f78da7}:root .has-vivid-red-color{color:#cf2e2e}:root .has-luminous-vivid-orange-color{color:#ff6900}:root .has-luminous-vivid-amber-color{color:#fcb900}:root .has-light-green-cyan-color{color:#7bdcb5}:root .has-vivid-green-cyan-color{color:#00d084}:root .has-pale-cyan-blue-color{color:#8ed1fc}:root .has-vivid-cyan-blue-color{color:#0693e3}:root .has-vivid-purple-color{color:#9b51e0}:root .has-white-color{color:#fff}:root .has-very-light-gray-color{color:#eee}:root .has-cyan-bluish-gray-color{color:#abb8c3}:root .has-very-dark-gray-color{color:#313131}:root .has-black-color{color:#000}:root .has-vivid-cyan-blue-to-vivid-purple-gradient-background{background:linear-gradient(135deg,#0693e3,#9b51e0)}:root .has-vivid-green-cyan-to-vivid-cyan-blue-gradient-background{background:linear-gradient(135deg,#00d084,#0693e3)}:root .has-light-green-cyan-to-vivid-green-cyan-gradient-background{background:linear-gradient(135deg,#7adcb4,#00d082)}:root .has-luminous-vivid-amber-to-luminous-vivid-orange-gradient-background{background:linear-gradient(135deg,#fcb900,#ff6900)}:root .has-luminous-vivid-orange-to-vivid-red-gradient-background{background:linear-gradient(135deg,#ff6900,#cf2e2e)}:root .has-very-light-gray-to-cyan-bluish-gray-gradient-background{background:linear-gradient(135deg,#eee,#a9b8c3)}:root .has-cool-to-warm-spectrum-gradient-background{background:linear-gradient(135deg,#4aeadc,#9778d1 20%,#cf2aba 40%,#ee2c82 60%,#fb6962 80%,#fef84c)}:root .has-blush-light-purple-gradient-background{background:linear-gradient(135deg,#ffceec,#9896f0)}:root .has-blush-bordeaux-gradient-background{background:linear-gradient(135deg,#fecda5,#fe2d2d 50%,#6b003e)}:root .has-purple-crush-gradient-background{background:linear-gradient(135deg,#34e2e4,#4721fb 50%,#ab1dfe)}:root .has-luminous-dusk-gradient-background{background:linear-gradient(135deg,#ffcb70,#c751c0 50%,#4158d0)}:root .has-hazy-dawn-gradient-background{background:linear-gradient(135deg,#faaca8,#dad0ec)}:root .has-pale-ocean-gradient-background{background:linear-gradient(135deg,#fff5cb,#b6e3d4 50%,#33a7b5)}:root .has-electric-grass-gradient-background{background:linear-gradient(135deg,#caf880,#71ce7e)}:root .has-subdued-olive-gradient-background{background:linear-gradient(135deg,#fafae1,#67a671)}:root .has-atomic-cream-gradient-background{background:linear-gradient(135deg,#fdd79a,#004a59)}:root .has-nightshade-gradient-background{background:linear-gradient(135deg,#330968,#31cdcf)}:root .has-midnight-gradient-background{background:linear-gradient(135deg,#020381,#2874fc)}:root .has-link-color a{color:#00e;color:var(--wp--style--color--link,#00e)}.has-small-font-size{font-size:.8125em}.has-normal-font-size,.has-regular-font-size{font-size:1em}.has-medium-font-size{font-size:1.25em}.has-large-font-size{font-size:2.25em}.has-huge-font-size,.has-larger-font-size{font-size:2.625em}.has-text-align-center{text-align:center}.has-text-align-left{text-align:left}.has-text-align-right{text-align:right}#end-resizable-editor-section{display:none}.aligncenter{clear:both} div.wpcf7{margin:0;padding:0}div.wpcf7-response-output{margin:2em .5em 1em;padding:.2em 1em}div.wpcf7 .screen-reader-response{position:absolute;overflow:hidden;clip:rect(1px,1px,1px,1px);height:1px;width:1px;margin:0;padding:0;border:0}div.wpcf7-mail-sent-ok{border:2px solid #398f14}div.wpcf7-mail-sent-ng{border:2px solid red}div.wpcf7-spam-blocked{border:2px solid orange}div.wpcf7-validation-errors{border:2px solid #f7e700}.wpcf7-form-control-wrap{position:relative}span.wpcf7-not-valid-tip{color:red;font-size:1em;font-weight:400;display:block}.use-floating-validation-tip span.wpcf7-not-valid-tip{position:absolute;top:20%;left:20%;z-index:100;border:1px solid red;background:#fff;padding:.2em .8em}span.wpcf7-list-item{display:inline-block;margin:0 0 0 1em}span.wpcf7-list-item-label:before,span.wpcf7-list-item-label:after{content:" "}.wpcf7-display-none{display:none}div.wpcf7 .ajax-loader{visibility:hidden;display:inline-block;background-image:url(//www.ppc.net.ua/wp-content/plugins/contact-form-7/includes/css/../../images/ajax-loader.gif);width:16px;height:16px;border:none;padding:0;margin:0 0 0 4px;vertical-align:middle}div.wpcf7 .ajax-loader.is-active{visibility:visible}div.wpcf7 div.ajax-error{display:none}div.wpcf7 .placeheld{color:#888}div.wpcf7 .wpcf7-recaptcha iframe{margin-bottom:0}div.wpcf7 input[type=file]{cursor:pointer}div.wpcf7 input[type=file]:disabled{cursor:default} /** * All of the CSS for your public-facing functionality should be * included in this file. */ @font-face{font-family:'GothamPro';src:url(//www.ppc.net.ua/wp-content/themes/ppc/css/../fonts/GothamPro.eot?#iefix) format("embedded-opentype"),url(//www.ppc.net.ua/wp-content/themes/ppc/css/../fonts/GothamPro.otf) format("opentype"),url(//www.ppc.net.ua/wp-content/themes/ppc/css/../fonts/GothamPro.woff) format("woff"),url(//www.ppc.net.ua/wp-content/themes/ppc/css/../fonts/GothamPro.ttf) format("truetype"),url(//www.ppc.net.ua/wp-content/themes/ppc/css/../fonts/GothamPro.svg#GothamPro) format("svg");font-weight:400;font-style:normal}@font-face{font-family:'GothamPro';src:url(//www.ppc.net.ua/wp-content/themes/ppc/css/../fonts/GothamPro-Bold.eot?#iefix) format("embedded-opentype"),url(//www.ppc.net.ua/wp-content/themes/ppc/css/../fonts/GothamPro-Bold.otf) format("opentype"),url(//www.ppc.net.ua/wp-content/themes/ppc/css/../fonts/GothamPro-Bold.woff) format("woff"),url(//www.ppc.net.ua/wp-content/themes/ppc/css/../fonts/GothamPro-Bold.ttf) format("truetype"),url(//www.ppc.net.ua/wp-content/themes/ppc/css/../fonts/GothamPro-Bold.svg#GothamPro-Bold) format("svg");font-weight:700;font-style:normal}@font-face{font-family:'GothamPro';src:url(//www.ppc.net.ua/wp-content/themes/ppc/css/../fonts/GothamPro-Medium.eot?#iefix) format("embedded-opentype"),url(//www.ppc.net.ua/wp-content/themes/ppc/css/../fonts/GothamPro-Medium.woff) format("woff"),url(//www.ppc.net.ua/wp-content/themes/ppc/css/../fonts/GothamPro-Medium.ttf) format("truetype"),url(//www.ppc.net.ua/wp-content/themes/ppc/css/../fonts/GothamPro-Medium.svg#GothamPro-Bold) format("svg");font-weight:500;font-style:normal}html{height:100%;-webkit-text-size-adjust:none}body{font-family:"GothamPro",Arial,Helvetica,sans-serif;font-size:15px;line-height:1.2;color:#696969;margin:0;background:#fff;padding:0;min-width:320px;letter-spacing:.02em;height:auto !important}header,nav,section,article,aside,footer,figure,menu{display:block}img{border:none}*,*:after,*:before{outline:none;-webkit-box-sizing:border-box;box-sizing:border-box}a{color:#241f1d;text-decoration:underline;-webkit-transition:color .35s ease;-o-transition:color .35s ease;transition:color .35s ease}a:hover{text-decoration:none}.resolution-tablet,.resolution-mobile{display:none;position:absolute;top:-9999px;left:-9999px}@media only screen and (max-width:1023px){.resolution-tablet{display:block}}@media only screen and (max-width:767px){.resolution-mobile{display:block}}.pull-left{float:left}.pull-right{float:right}h1,.h1,h2,.h2,h3,.h3,h4,.h4,h5,.h5{color:#241f1d;line-height:1.2}h1,.h1{font-size:50px;margin:0 0 10px;font-weight:500}h2,.h2,h3,.h3,h4,.h4,h5,.h5{font-weight:400}h2,.h2{font-size:35px;margin:0 0 17px}@media only screen and (max-width:767px){h2,.h2{font-size:30px}}h3,.h3{font-size:25px;margin:0 0 31px}h4,.h4{font-size:18px;margin:0 0 17px}h5,.h5{font-size:15px;margin:0 0 17px}p{margin:0 0 19px}p+ul,p+ol{margin-top:-10px}p+.btn{margin-top:9px}p a{text-decoration:none;color:#00b9e1}p a:hover{text-decoration:underline}@media only screen and (max-width:767px){p{margin-bottom:21px}}ul:not([class]){padding:0 0 0 18px;margin:0 0 13px;list-style:none}ul:not([class])>li{margin:0 0 18px;position:relative;padding:0 0 0 18px}ul:not([class])>li:after{position:absolute;content:'';top:6px;left:0;width:6px;height:6px;border-radius:50%;background:#00b9e1}ul.without-markers{padding:0;margin:0;list-style:none}ul.without-markers>li{margin:0 0 23px}ul.without-markers a{text-decoration:none;color:#00b9e1}ul.without-markers a:hover{text-decoration:underline}ol:not([class]){padding:0 0 0 18px;margin:0 0 19px;list-style:none;counter-reset:item}ol:not([class])>li{padding:0 0 0 18px;margin:0 0 18px;position:relative;counter-increment:item}ol:not([class])>li:before{position:absolute;content:counters(item,".") ".";right:100%;color:#00b9e1;margin:0 -10px 0 0}@media only screen and (max-width:767px){ol:not([class]){padding-left:31px}ol:not([class])>li{padding-left:22px}}.preloader{position:fixed;top:-9999px;left:-9999px;right:9999px;bottom:9999px;opacity:0;z-index:16000;background:#fff;-webkit-transition:all 0s ease 1.5s,opacity .5s ease 1s;-o-transition:all 0s ease 1.5s,opacity .5s ease 1s;transition:all 0s ease 1.5s,opacity .5s ease 1s}.preloader span{position:absolute;top:50%;left:50%;width:79px;height:79px;margin:-40px 0 0 -40px;background:url(//www.ppc.net.ua/wp-content/themes/ppc/css/../images/preload.png) no-repeat;-webkit-animation:rotate 1.5s linear infinite;animation:rotate 1.5s linear infinite}@-webkit-keyframes rotate{0%{-webkit-transform:rotate(0);transform:rotate(0)}100%{-webkit-transform:rotate(360deg);transform:rotate(360deg)}}@keyframes rotate{0%{-webkit-transform:rotate(0);transform:rotate(0)}100%{-webkit-transform:rotate(360deg);transform:rotate(360deg)}}.on-load{overflow:hidden}.on-load .preloader{top:0;left:0;right:0;bottom:0;opacity:1;-webkit-transition:opacity .35s ease;-o-transition:opacity .35s ease;transition:opacity .35s ease}.on-load #header,.on-load .nav-list{opacity:0}#wrapper{overflow:hidden;min-height:100%}.col-row{margin-left:-20px;margin-right:-20px}.col-row:after{content:'';clear:both;display:block}.col-row>.col{float:left;padding-left:20px;padding-right:20px}.col-row>.col.l-1{width:8.33%}.col-row>.col.l-2{width:16.66%}.col-row>.col.l-3{width:25%}.col-row>.col.l-4{width:33.3%}.col-row>.col.l-5{width:41.66%}.col-row>.col.l-6{width:50%}.col-row>.col.l-7{width:58.33%}.col-row>.col.l-8{width:66.66%}.col-row>.col.l-9{width:75%}.col-row>.col.l-10{width:83.33%}.col-row>.col.l-11{width:91.66%}.col-row>.col.l-12{width:100%}@media only screen and (max-width:1023px){.col-row>.col.t-1{width:8.33%}.col-row>.col.t-2{width:16.66%}.col-row>.col.t-3{width:25%}.col-row>.col.t-4{width:33.3%}.col-row>.col.t-5{width:41.66%}.col-row>.col.t-6{width:50%}.col-row>.col.t-7{width:58.33%}.col-row>.col.t-8{width:66.66%}.col-row>.col.t-9{width:75%}.col-row>.col.t-10{width:83.33%}.col-row>.col.t-11{width:91.66%}.col-row>.col.t-12{width:100%}}@media only screen and (max-width:767px){.col-row>.col.m-1{width:8.33%}.col-row>.col.m-2{width:16.66%}.col-row>.col.m-3{width:25%}.col-row>.col.m-4{width:33.3%}.col-row>.col.m-5{width:41.66%}.col-row>.col.m-6{width:50%}.col-row>.col.m-7{width:58.33%}.col-row>.col.m-8{width:66.66%}.col-row>.col.m-9{width:75%}.col-row>.col.m-10{width:83.33%}.col-row>.col.m-11{width:91.66%}.col-row>.col.m-12{width:100%}}.btn{display:inline-block;vertical-align:middle;padding:31px 30px 25px;border:none;text-align:center;cursor:pointer;height:auto;min-height:0;position:relative;z-index:10;font-size:17px;line-height:1.2;letter-spacing:.075em;text-decoration:none;-webkit-transition:all .35s ease;-o-transition:all .35s ease;transition:all .35s ease;-webkit-border-radius:0;-webkit-appearance:none}.btn:active{-webkit-transform:scale(.96);-ms-transform:scale(.96);transform:scale(.96)}.btn-default{background:#7aa3ba;color:#fff}.btn-default:hover{background:#00b9e1}.slick-list,.slick-slide{overflow:hidden}.slick-slide{float:left}.tab{position:absolute;top:-9999px;left:-9999px;opacity:0;-webkit-transition:all 0s ease .35s,opacity .35s ease;-o-transition:all 0s ease .35s,opacity .35s ease;transition:all 0s ease .35s,opacity .35s ease}.tab.active{position:static;top:auto;left:auto;opacity:1;-webkit-transition:opacity .35s ease;-o-transition:opacity .35s ease;transition:opacity .35s ease}.container{margin:0 auto;padding:0 20px;max-width:1190px}#header{position:absolute;top:0;left:0;right:0;z-index:300;color:#fff;padding:3px 28px;-webkit-transition:opacity .35s ease;-o-transition:opacity .35s ease;transition:opacity .35s ease}#header:after{content:'';clear:both;display:block}#header.only-fixed{position:fixed}#header.only-fixed #nav a{-webkit-transition:none;-o-transition:none;transition:none}#header.fixed{position:fixed;color:#696969;background:#fff;border-bottom:1px solid #e0e7eb;-webkit-transform:translateY(-100%);-ms-transform:translateY(-100%);transform:translateY(-100%)}#header.fixed .logo{width:52px;height:52px}#header.fixed .logo a{background-image:url(//www.ppc.net.ua/wp-content/themes/ppc/css/../images/fixed-logo.png)}#header.fixed.animate{-webkit-transition:-webkit-transform .35s ease;transition:-webkit-transform .35s ease;-o-transition:transform .35s ease;transition:transform .35s ease;transition:transform .35s ease,-webkit-transform .35s ease}#header.fixed.show{-webkit-transform:translateY(0);-ms-transform:translateY(0);transform:translateY(0);-webkit-transition:-webkit-transform .35s ease;transition:-webkit-transform .35s ease;-o-transition:transform .35s ease;transition:transform .35s ease;transition:transform .35s ease,-webkit-transform .35s ease}#header.fixed #nav,#header.fixed .lang-list{padding-top:20px}#header .burger{position:absolute;top:0;right:0;height:60px;width:70px;display:none;z-index:500}#header .burger span{position:absolute;top:50%;left:50%;width:28px;height:2px;background:#fff;margin:-1px 0 0 -14px;text-indent:-9999px;-webkit-transition:all .35s ease;-o-transition:all .35s ease;transition:all .35s ease}#header .burger span:after,#header .burger span:before{position:absolute;content:'';height:2px;left:0;right:0;background:#fff;-webkit-transition:all .35s ease;-o-transition:all .35s ease;transition:all .35s ease}#header .burger span:after{top:-9px}#header .burger span:before{bottom:-9px}@media only screen and (max-width:1023px){#header{padding:0 20px}#header .mobile-menu-holder{position:fixed;top:-9999px;left:-9999px;right:9999px;bottom:9999px;z-index:500;overflow:hidden;padding:63px 0 0;opacity:0;background:#fff;-webkit-transition:all 0s ease .35s,opacity .35s ease;-o-transition:all 0s ease .35s,opacity .35s ease;transition:all 0s ease .35s,opacity .35s ease}#header .mobile-menu-holder:after{position:absolute;top:-500px;bottom:-500px;left:0;right:0;z-index:-10;background:#e2eaef}#header .mobile-menu-holder .scroll-cover{overflow:hidden;max-height:100%}#header .burger{display:block}#header.fixed #nav{padding-top:0}#header.fixed .logo{width:49px;height:56px}#header.fixed .burger span,#header.fixed .burger span:after,#header.fixed .burger span:before{background:#696969}}.inner-page #wrapper{padding-top:93px}.inner-page #nav li.active>a{color:#00b9e1}.inner-page #header{position:absolute;color:#696969;background:#fff;z-index:1600;border-bottom:1px solid #e0e7eb;padding-bottom:15px}.inner-page #header.fixed{position:fixed}.inner-page #header .logo{width:73px;height:74px}.inner-page #header .logo a{background-image:url(//www.ppc.net.ua/wp-content/themes/ppc/css/../images/fixed-logo.png)}.inner-page #header.animate{-webkit-transition:-webkit-transform .35s ease;transition:-webkit-transform .35s ease;-o-transition:transform .35s ease;transition:transform .35s ease;transition:transform .35s ease,-webkit-transform .35s ease}.inner-page #header.show{-webkit-transform:translateY(0);-ms-transform:translateY(0);transform:translateY(0);-webkit-transition:-webkit-transform .35s ease;transition:-webkit-transform .35s ease;-o-transition:transform .35s ease;transition:transform .35s ease;transition:transform .35s ease,-webkit-transform .35s ease}.inner-page #header #nav,.inner-page #header .lang-list{padding-top:33px}@media only screen and (max-width:1023px){.inner-page #wrapper{padding-top:61px}.inner-page #header{padding-bottom:4px}.inner-page #header .logo{width:49px;height:56px}.inner-page #header .burger span,.inner-page #header .burger span:after,.inner-page #header .burger span:before{background:#00b9e1}}@media only screen and (max-width:1023px){.menu-open{overflow:hidden}.menu-open #header{color:#241f1d;height:100%}.menu-open #header .burger span{background-color:transparent}.menu-open #header .burger span:after{top:50%;margin-top:-1px;-webkit-transform:rotate(45deg);-ms-transform:rotate(45deg);transform:rotate(45deg);background-color:#00b9e1}.menu-open #header .burger span:before{bottom:50%;margin-bottom:-1px;-webkit-transform:rotate(-45deg);-ms-transform:rotate(-45deg);transform:rotate(-45deg);background-color:#00b9e1}.menu-open #header .mobile-menu-holder{top:0;left:0;right:0;bottom:0;opacity:1;-webkit-transition:opacity .35s ease;-o-transition:opacity .35s ease;transition:opacity .35s ease}.menu-open #header.fixed{-webkit-transform:translateY(0);-ms-transform:translateY(0);transform:translateY(0)}}.logo{display:block;float:left;width:73px;height:74px;margin:0 40px 0 0}.logo a{height:100%;display:block;text-indent:-9999px;background:url(//www.ppc.net.ua/wp-content/themes/ppc/css/../images/logo.png) no-repeat;background-size:cover}@media only screen and (max-width:1023px){.logo{width:49px;height:56px;padding:3px 0;margin:0}}#nav{padding:33px 0 0;font-size:17px;float:left;-webkit-transition:all .35s ease;-o-transition:all .35s ease;transition:all .35s ease}#nav>ul{padding:0;margin:0 -24px;list-style:none}#nav>ul:after{content:'';clear:both;display:block}#nav>ul>li{padding:0;float:left;padding:0 24px}#nav>ul>li:after{display:none}#nav>ul>li>a{white-space:nowrap}#nav>ul a{text-decoration:none;color:inherit;-webkit-transition:color .35s ease;-o-transition:color .35s ease;transition:color .35s ease}#nav>ul a:hover{color:#00b9e1}#nav .drop{font-size:13px;line-height:17px;margin:0 -38px 0 0;padding:15px 0 0}#nav .drop ul{padding:0;margin:0;list-style:none}#nav .drop li{margin:0 0 13px;padding:0}#nav .drop li:after{display:none}#nav .arrow{display:none}@media only screen and (max-width:1023px){#nav{float:none;padding:0;font-size:19px;-webkit-transition:none;-o-transition:none;transition:none}#nav .arrow{display:block}#nav>ul{margin:0}#nav>ul>li{float:none;margin:0;padding:0;width:auto !important;border-bottom:1px solid #e0e7eb}#nav>ul>li>a{background:#fff;display:block;position:relative;padding:27px 20px 25px 64px;-webkit-transition:padding .35s ease;-o-transition:padding .35s ease;transition:padding .35s ease}#nav>ul>li>a .arrow{position:absolute;top:50%;left:30px;width:10px;height:10px;margin:-6px 0 0;-webkit-transform:rotate(45deg);-ms-transform:rotate(45deg);transform:rotate(45deg);border:1px solid #696969;border-top-color:transparent;border-left-color:transparent;-webkit-transition:all .35s ease;-o-transition:all .35s ease;transition:all .35s ease}#nav>ul>li>a .arrow:after{position:absolute;content:'';top:-10px;left:-10px;right:-10px;bottom:-10px}#nav>ul>li.open>a{background:#f2f6f8;color:#241f1d;padding-bottom:7px}#nav>ul>li.open>a .arrow{margin-top:9px;border-top-color:#696969;border-left-color:#696969;border-right-color:transparent;border-bottom-color:transparent}#nav .drop{margin:0;padding:0 0 20px;display:block;background:#f2f6f8;font-size:15px}#nav .drop li{margin:0}#nav .drop a{display:block;padding:14px 20px 14px 65px}}.lang-list{float:right;font-size:17px;margin:0 -13px 0 -14px;padding:33px 0 0;list-style:none}.lang-list li{float:left;margin:0 13px 0 14px}.lang-list a{text-decoration:none;color:inherit;-webkit-transition:color .35s ease;-o-transition:color .35s ease;transition:color .35s ease}.lang-list a:hover{color:#00b9e1}.lang-list .active a{color:#00b9e1}@media only screen and (max-width:1023px){.lang-list{float:none;position:absolute;top:0;left:0;right:0;padding:22px 20px;padding-top:22px !important;background:#e2eaef}}.section-line1,.section-line2,.section-line3{text-indent:-9999px;position:absolute;top:0;bottom:0;width:1px;display:none !important;background:#fff;margin:0 0 0 -1px;opacity:.2}@media only screen and (max-width:1023px){.section-line1,.section-line2,.section-line3{display:none}}.section-line1{left:25%}.section-line2{left:50%}.section-line3{left:75%}.intro{height:100vh;min-height:600px;background:url(//www.ppc.net.ua/wp-content/themes/ppc/css/../images/img1.jpg) 50% 50% no-repeat;background-size:cover;position:relative;z-index:10;color:#fff;font-size:20px;letter-spacing:.01em;overflow:hidden}.intro:after{position:absolute;content:'';top:0;left:0;right:0;bottom:0;opacity:.5;z-index:-10;background:#000}.intro h1,.intro .h1,.intro h2,.intro .h2,.intro h3,.intro .h3,.intro h4,.intro .h4,.intro h5,.intro .h5{color:inherit}.intro h1,.intro .h1{font-size:70px;margin-left:-6px;margin-bottom:20px;letter-spacing:.017em}.intro .video-holder{position:absolute;top:0;left:0;right:0;z-index:-15;bottom:0}.intro .video-holder video{position:absolute;top:50%;left:50%;-webkit-transform:translate(-50%,-50%);-ms-transform:translate(-50%,-50%);transform:translate(-50%,-50%);width:auto;min-width:100%;height:auto;min-height:100%}.intro .slider{position:relative}.intro .content{max-width:690px;margin-left:-14px}.intro .middle{display:table;height:100vh;width:100%}.intro .centered{display:table-cell;vertical-align:middle;padding:83px 0 0}.intro .slick-dots{position:absolute;bottom:50px;left:30px;z-index:15000;padding:0;margin:0 -2px;list-style:none;font-size:0;line-height:0;letter-spacing:-4px}.intro .slick-dots li{display:inline-block;vertical-align:top;letter-spacing:0;margin:0 2px}.intro .slick-dots button{width:18px;height:18px;cursor:pointer;background:0 0;padding:0;margin:0;position:relative;text-indent:-9999px;border:1px solid transparent;-webkit-appearance:none;-webkit-border-radius:50%;border-radius:50%;-webkit-transition:all .35s ease;-o-transition:all .35s ease;transition:all .35s ease}.intro .slick-dots button:after{position:absolute;content:'';top:5px;left:5px;right:5px;bottom:5px;background:#fff;-webkit-border-radius:50%;border-radius:50%}.intro .slick-dots .slick-active button{border-color:#fff}.intro .btn-scroll{position:absolute;bottom:30px;left:50%;text-indent:-9999px;overflow:hidden;z-index:1500;width:24px;height:40px;border:1px solid #fff;margin:0 0 0 -12px;-webkit-border-radius:10px;border-radius:10px}.intro .btn-scroll:after{position:absolute;content:'';top:7px;left:50%;width:6px;height:6px;background:#fff;margin:0 0 0 -3px;-webkit-border-radius:10px;border-radius:10px;-webkit-animation:scale 1s ease infinite;animation:scale 1s ease infinite}@media only screen and (max-width:1259px){.intro{font-size:17px}.intro h1,.intro .h1{font-size:50px}}@media only screen and (max-width:1023px){.intro .centered{padding-top:8px}.intro .slick-dots{bottom:20px;left:20px}.intro .content{margin-left:0;max-width:83.5%}.intro .btn-scroll{display:none}.intro .video-holder{display:none}}@media only screen and (max-width:767px){.intro{font-size:15px;height:auto;min-height:0;letter-spacing:.02em}.intro .middle{min-height:480px}.intro h1,.intro .h1{font-size:30px;margin-left:0}}.mobile .intro .video-holder,.tablet .intro .video-holder{display:none}@-webkit-keyframes scale{0%{-webkit-transform:scale(.9);transform:scale(.9)}50%{-webkit-transform:scale(1.1);transform:scale(1.1)}100%{-webkit-transform:scale(.9);transform:scale(.9)}}@keyframes scale{0%{-webkit-transform:scale(.9);transform:scale(.9)}50%{-webkit-transform:scale(1.1);transform:scale(1.1)}100%{-webkit-transform:scale(.9);transform:scale(.9)}}.about-section{position:relative;z-index:10}.about-section .section-line1,.about-section .section-line2,.about-section .section-line3{opacity:1;background:#e0e7eb}.about-section .bg{position:absolute;top:0;left:50%;right:0;bottom:0;text-indent:-9999px;overflow:hidden;background-size:cover;background-position:0 0;background-repeat:no-repeat}.about-section .content{max-width:50%;position:relative;z-index:50;padding:161px 125px 0 0}.about-section .more-btn{margin:0 0 96px}.about-section .presentation{position:relative;z-index:15;padding-left:25%;padding-bottom:155px;font-size:25px;letter-spacing:.02em}.about-section .presentation a{display:inline-block;vertical-align:top;text-align:left;color:#fff;background:#7aa3ba;text-decoration:none;position:relative;width:calc(25% + 185px);padding:36px 100px 37px 50px;-webkit-transition:all .35s ease;-o-transition:all .35s ease;transition:all .35s ease}.about-section .presentation a .ico{position:absolute;top:50%;right:30px;width:38px;height:38px;border:1px solid #fff;margin:-17px 0 0;-webkit-border-radius:50%;border-radius:50%}.about-section .presentation a .ico:after{position:absolute;content:'';top:50%;left:50%;height:17px;width:1px;margin:-9px 0 0;background:#fff}.about-section .presentation a .ico:before{position:absolute;content:'';top:50%;left:50%;width:9px;height:9px;margin:-2px 0 0 -4px;border:1px solid #fff;border-top-color:transparent;border-left-color:transparent;-webkit-transform:rotate(45deg);-ms-transform:rotate(45deg);transform:rotate(45deg)}.about-section .presentation a:hover{background-color:#00b9e1}@media only screen and (max-width:1023px){.about-section .content{padding-top:70px;padding-right:40px}.about-section .presentation{padding-bottom:80px}.about-section .more-btn{margin-bottom:65px}}@media only screen and (max-width:767px){.about-section{padding:54px 0 59px;letter-spacing:.025em;border-bottom:1px solid #e0e7eb}.about-section .bg{position:static;width:100%;height:320px;display:block;background-position:50% 50%;background-attachment:scroll}.about-section .content{max-width:none;padding:0}.about-section .presentation{padding:0}.about-section .presentation a{padding:37px 100px 36px 18px;display:block;width:auto}.about-section .presentation a .ico{right:20px;margin-top:-16px}.about-section .more-btn{margin-bottom:58px}}.more-btn{padding:14px 0 0}.more-btn a{display:inline-block;position:relative;padding:0 0 0 22px;text-decoration:none}.more-btn a:after{position:absolute;content:'';top:8px;left:-8px;height:2px;width:22px;background:#241f1d}.more-btn a:hover{text-decoration:underline}@media only screen and (max-width:767px){.more-btn{padding-top:12px}.more-btn a{padding-left:31px}.more-btn a:after{top:8px;left:0}}.branches-list{padding:0;margin:0;list-style:none;font-size:0;position:relative;letter-spacing:-4px;color:#000}.branches-list.has-hover>li{color:rgba(255,255,255,0)}.branches-list.has-hover .ico{opacity:0}.branches-list>li{display:inline-block;vertical-align:top;letter-spacing:0;width:25%;font-size:15px;line-height:1.2;-webkit-transition:color .35s ease;-o-transition:color .35s ease;transition:color .35s ease}.branches-list>li:nth-child(4n+1),.branches-list>li:nth-child(4n+4){background:#edf2f5}.branches-list>li:nth-child(even) .ico-holder{height:65px;line-height:65px;margin-bottom:12px}.branches-list>li:nth-child(even) .content{padding-top:15px}.branches-list>li.hover{color:#000}.branches-list>li.hover .big-img{top:0;left:0;right:0;bottom:0;opacity:1;-webkit-transition:opacity .7s ease;-o-transition:opacity .7s ease;transition:opacity .7s ease}.branches-list>li.hover .content{color:#fff;background:#00b9e1}.branches-list>li.hover .ico{opacity:1}.branches-list>li.hover .ico img{-webkit-transform:translateY(-50%);-ms-transform:translateY(-50%);transform:translateY(-50%)}.branches-list .content{display:block;height:24.8vw;text-align:center;display:-webkit-box;display:-webkit-flex;display:-ms-flexbox;display:flex;z-index:50;position:relative;-webkit-box-orient:vertical;-webkit-box-direction:normal;-webkit-flex-direction:column;-ms-flex-direction:column;flex-direction:column;-webkit-box-pack:center;-webkit-justify-content:center;-ms-flex-pack:center;justify-content:center;text-decoration:none;color:inherit;padding:34px 20px 15px;-webkit-transition:all .35s ease;-o-transition:all .35s ease;transition:all .35s ease}.branches-list .content:after{position:absolute;content:'';top:0;left:0;right:0;bottom:0;opacity:.15;z-index:-10;background:#fff}.branches-list .visual{z-index:150}.branches-list .visual img{display:block;width:100%;-webkit-transform:translateY(0);-ms-transform:translateY(0);transform:translateY(0);-webkit-transition:all .35s ease;-o-transition:all .35s ease;transition:all .35s ease}.branches-list .ico-holder{display:block;min-height:52px;line-height:52px;text-align:center;margin:0 0 25px}.branches-list .ico{display:inline-block;vertical-align:middle;overflow:hidden;-webkit-transition:all .35s ease;-o-transition:all .35s ease;transition:all .35s ease}.branches-list .ico img{display:inline-block;vertical-align:top;max-width:100%}.branches-list .big-img{position:absolute;top:-9999px;left:-9999px;right:9999px;bottom:9999px;text-indent:-9999px;overflow:hidden;z-index:5;opacity:0;background-size:cover;background-position:50% 50%;background-repeat:no-repeat;-webkit-transition:all 0s ease .7s,opacity .7s ease;-o-transition:all 0s ease .7s,opacity .7s ease;transition:all 0s ease .7s,opacity .7s ease}.branches-list .mobile{display:none}@media only screen and (max-width:767px){.branches-list>li{width:50%}.branches-list>li:first-child .content{padding-top:28px}.branches-list>li:first-child .ico-holder{margin-bottom:8px}.branches-list>li:first-child+li .content{padding-top:24px}.branches-list>li:first-child+li .ico-holder{margin-bottom:5px}.branches-list>li:first-child+li+li .content{padding-top:17px}.branches-list>li:first-child+li+li .ico-holder{margin-bottom:16px}.branches-list>li:first-child+li+li+li .content{padding-top:11px}.branches-list>li:first-child+li+li+li .ico-holder{margin-bottom:4px}.branches-list .content{height:50vw}.branches-list .mobile{display:block}}.news-section{padding:71px 0 0;position:relative}.news-section h2{text-align:center;font-weight:500;margin-bottom:92px;letter-spacing:.02em}.news-section .section-line1,.news-section .section-line2,.news-section .section-line3{opacity:1;background:#e0e7eb}.news-section .section-content{display:-webkit-box;display:-webkit-flex;display:-ms-flexbox;display:flex;-webkit-align-content:stretch;-ms-flex-line-pack:stretch;align-content:stretch;position:relative;z-index:10}.news-section .news-preview{vertical-align:top;background:#f3f5f7;font-size:17px;width:50%;letter-spacing:.023em}.news-section .news-preview a{display:block;text-decoration:none;padding:0 50px 55px}.news-section .news-preview p{margin:0}.news-section .news-preview .visual-slider{display:block;overflow:hidden;position:relative}.news-section .news-preview .visual-slider .visual{display:block;margin:0 -50px 47px;height:16.875vw;overflow:hidden;position:relative}.news-section .news-preview .visual-slider .visual img{position:absolute;top:50%;left:50%;width:auto;height:auto;min-width:100%;min-height:100%;-webkit-transform:translate(-50%,-50%);-ms-transform:translate(-50%,-50%);transform:translate(-50%,-50%)}.news-section .news-preview .visual-slider .slick-list{margin:0 -15px}.news-section .news-preview .visual-slider .slick-slide{margin:0 15px}.news-section .news-preview .visual-slider .slick-dots{position:absolute;top:17vw;left:50px;z-index:15000;padding:0;margin:0 -2px;list-style:none;font-size:0;line-height:0;letter-spacing:-4px}.news-section .news-preview .visual-slider .slick-dots li{display:inline-block;vertical-align:top;letter-spacing:0;margin:0 2px}.news-section .news-preview .visual-slider .slick-dots button{width:18px;height:18px;cursor:pointer;background:0 0;position:relative;text-indent:-9999px;padding:0;margin:0;border:1px solid transparent;-webkit-appearance:none;-webkit-border-radius:50%;border-radius:50%;-webkit-transition:all .35s ease;-o-transition:all .35s ease;transition:all .35s ease}.news-section .news-preview .visual-slider .slick-dots button:after{position:absolute;content:'';top:5px;left:5px;right:5px;bottom:5px;background:#fff;-webkit-border-radius:50%;border-radius:50%}.news-section .news-preview .visual-slider .slick-dots .slick-active button{border-color:#fff}.news-section .news-preview .visual-slider img{display:block;width:100%}.news-section .news-preview time{display:block;font-size:13px;margin:0 0 23px;color:#696969}.news-section .all-news{font-size:25px;vertical-align:top;width:25%;text-decoration:none;padding:44px 47px 115px;color:#fff;display:block;position:relative;background:#00b9e1;-webkit-transition:all .35s ease;-o-transition:all .35s ease;transition:all .35s ease}.news-section .all-news .ico{position:absolute;bottom:53px;left:49px;width:38px;height:38px;border:1px solid #fff;margin:-19px 0 0;-webkit-border-radius:50%;border-radius:50%}.news-section .all-news .ico:after{position:absolute;content:'';top:50%;left:50%;width:17px;height:1px;margin:0 0 0 -9px;background:#fff}.news-section .all-news .ico:before{position:absolute;content:'';top:50%;left:50%;width:9px;height:9px;margin:-4px 0 0 -2px;border:1px solid #fff;border-bottom-color:transparent;border-left-color:transparent;-webkit-transform:rotate(45deg);-ms-transform:rotate(45deg);transform:rotate(45deg)}.news-section .all-news:hover{background-color:#7aa3ba}.news-section .news-slider{vertical-align:top;width:25%;font-size:17px;position:relative;overflow:hidden}.news-section .news-slider .slick-list{margin:0 -15px}.news-section .news-slider .slick-slide{margin:0 15px}.news-section .news-slider .item,.news-section .news-slider .slick-list,.news-section .news-slider .slick-track{height:100%}.news-section .news-slider a{display:block;height:100%;text-decoration:none;padding:44px 41px 115px}.news-section .news-slider .title{display:block;font-size:25px;font-weight:400;color:#241f1d;margin:0 0 20px;min-height:122px}.news-section .news-slider .slick-dots{position:absolute;bottom:45px;left:37px;z-index:15000;padding:0;margin:0 -2px;list-style:none;font-size:0;line-height:0;letter-spacing:-4px}.news-section .news-slider .slick-dots li{display:inline-block;vertical-align:top;letter-spacing:0;margin:0 2px}.news-section .news-slider .slick-dots button{width:18px;height:18px;cursor:pointer;background:0 0;position:relative;text-indent:-9999px;padding:0;margin:0;border:1px solid transparent;-webkit-appearance:none;-webkit-border-radius:50%;border-radius:50%;-webkit-transition:all .35s ease;-o-transition:all .35s ease;transition:all .35s ease}.news-section .news-slider .slick-dots button:after{position:absolute;content:'';top:5px;left:5px;right:5px;bottom:5px;background:#241f1d;-webkit-border-radius:50%;border-radius:50%}.news-section .news-slider .slick-dots .slick-active button{border-color:#241f1d}.news-section br.mobile{display:none}@media only screen and (max-width:1023px){.news-section .section-content{position:relative;padding:0 0 150px}.news-section .news-preview{width:66.6%}.news-section .news-preview .visual-slider .visual{height:26vw}.news-section .news-preview .visual-slider .slick-dots{top:22vw}.news-section .all-news{position:absolute;bottom:0;left:0;right:0;height:150px;width:auto;padding:42px 0 0 20px}.news-section .all-news .ico{left:auto;right:20px;top:50%;bottom:auto}.news-section .news-slider{width:33.3%}}@media only screen and (max-width:767px){.news-section{padding-top:38px}.news-section h2{font-size:30px;text-align:left;font-weight:400;margin-bottom:35px}.news-section br.mobile{display:block}.news-section .section-content{display:block;padding:0}.news-section .news-slider{width:auto}.news-section .news-slider .slick-dots{left:20px;bottom:19px}.news-section .news-slider .title{min-height:0}.news-section .news-slider .item,.news-section .news-slider .slick-list,.news-section .news-slider .slick-track{height:auto}.news-section .news-slider a{height:auto;padding:53px 20px 57px}.news-section .news-slider .title{margin-bottom:26px}.news-section .news-preview{display:block;width:auto}.news-section .news-preview a{padding:0 20px 41px}.news-section .news-preview .visual-slider .visual{margin-left:-20px;margin-right:-20px;margin-bottom:38px;height:39.6875vw}.news-section .news-preview .visual-slider .slick-dots{left:20px;top:31vw}.news-section .all-news{position:relative;bottom:auto;left:auto;right:auto;padding-top:37px;padding-bottom:37px;height:auto}}.news-list{padding:0 0 0 100px;margin:0 -50px 55px;list-style:none;font-size:0;line-height:0;color:#241f1d;letter-spacing:-4px}.news-list li{display:inline-block;vertical-align:top;letter-spacing:.02em;font-size:15px;line-height:1.2;width:50%;padding:0 50px;margin:0 0 55px}.news-list a{display:-webkit-box;display:-webkit-flex;display:-ms-flexbox;display:flex;-webkit-box-align:center;-webkit-align-items:center;-ms-flex-align:center;align-items:center;text-decoration:none;color:inherit;position:relative;z-index:50}.news-list .visual{display:block;overflow:hidden;position:relative;width:calc(50% + 50px)}.news-list .visual img{display:block;width:100%}.news-list .visual .parralax{position:absolute;top:0;left:-10%;right:-10%;bottom:0;z-index:10;background-size:cover;background-position:50% 50%}.news-list .content{display:block;background:#edf2f5;padding:38px 50px;position:relative;margin:0 -100px 0 0;z-index:15;width:calc(50% + 50px)}.news-list time{font-size:13px;display:block;margin:0 0 23px;color:#696969}.news-list p{margin:0}@media only screen and (max-width:1259px){.news-list .content{margin-left:-75px;margin-right:-75px;padding-left:30px;padding-right:30px;width:calc(50% + 100px)}.news-list .visual .parralax{display:none}}@media only screen and (max-width:1023px){.news-list{padding-left:0;margin-left:-20px;margin-right:-20px}.news-list li{padding-left:20px;padding-right:20px}.news-list .content{padding:25px;margin-left:0}}@media only screen and (max-width:860px){.news-list a{-webkit-box-orient:vertical;-webkit-box-direction:reverse;-webkit-flex-direction:column-reverse;-ms-flex-direction:column-reverse;flex-direction:column-reverse;-webkit-box-align:end;-webkit-align-items:flex-end;-ms-flex-align:end;align-items:flex-end}.news-list .content{display:block;width:93%;margin:-39px 0 0;padding:38px 28px}.news-list .visual{width:100%}}@media only screen and (max-width:640px){.news-list li{display:block;width:auto;max-width:400px;margin:0 auto 41px}}#footer{background:#e2eaef;position:relative;z-index:200;font-size:13px;overflow:hidden}#footer:after{content:'';clear:both;display:block}#footer .content{float:right;width:25%;background:#7aa3ba;position:relative;padding:40px 50px 40px;letter-spacing:.02em;color:#fff}#footer .content:after{position:absolute;content:'';top:100%;left:0;right:0;height:2000px;background:#7aa3ba}#footer .logo-list{padding:0;margin:0 -15px 77px;list-style:none;font-size:0;line-height:0;letter-spacing:-4px}#footer .logo-list li{display:inline-block;vertical-align:top;letter-spacing:0;margin:0 15px}#footer .logo-list li:first-child{margin-top:-4px}#footer .logo-list a{display:block;-webkit-transition:opacity .35s ease;-o-transition:opacity .35s ease;transition:opacity .35s ease}#footer .logo-list a:hover{opacity:.5}#footer .logo-list img{display:block}#footer .copyright{display:block;margin:0 0 13px}#footer .dev{color:inherit;position:relative;padding:0 35px 0 0;text-decoration:none;display:inline-block;white-space:nowrap}#footer .dev:after{position:absolute;content:'';top:50%;right:0;width:28px;height:16px;margin:-9px 0 0;background:url(//www.ppc.net.ua/wp-content/themes/ppc/css/../images/developer.png) no-repeat;-webkit-transition:opacity .35s ease;-o-transition:opacity .35s ease;transition:opacity .35s ease}#footer .dev:hover:after{opacity:.5}@media only screen and (max-width:1023px){#footer .content{float:none;width:auto;padding:44px 20px}#footer .logo-list{margin-bottom:34px}}.footer-list{padding:46px 108px 30px 52px;margin:0 -7px;list-style:none;float:left;width:75%;letter-spacing:-4px;text-align:justify;font-size:1px;line-height:1px}.footer-list:after{content:'.';display:inline-block;width:100%;visibility:hidden;opacity:0}.footer-list>li{display:inline-block;vertical-align:top;letter-spacing:0;font-size:13px;line-height:1.2;text-align:left;padding:0 7px;max-width:20%}.footer-list h5{letter-spacing:.01em;margin-bottom:24px}.footer-list h5 a{color:inherit;text-decoration:none}.footer-list h5 a:hover{text-decoration:underline}.footer-list ul,.footer-list ul:not([class]){padding:0;margin:0;list-style:none}.footer-list ul li,.footer-list ul:not([class]) li{padding:0;margin:0 0 15px}.footer-list ul li:after,.footer-list ul:not([class]) li:after{display:none}.footer-list a{color:inherit;text-decoration:none}.footer-list a:hover{text-decoration:underline}@media only screen and (max-width:1023px){.footer-list{float:none;width:auto;padding:37px 20px}}@media only screen and (max-width:767px){.footer-list{margin:0}.footer-list:after{display:none}.footer-list>li{display:block;padding:33px 0 0;max-width:none}.footer-list>li:first-child{padding-top:0}.footer-list>li.open h5 a:after{margin-top:-1px;border-left-color:#020202;border-top-color:#020202;border-right-color:transparent;border-bottom-color:transparent}.footer-list h5{margin:0}.footer-list h5 a{padding:0 0 0 25px;position:relative}.footer-list h5 a:after{position:absolute;content:'';top:50%;left:0;width:9px;height:9px;margin-top:-7px;border:1px solid #020202;border-left-color:transparent;border-top-color:transparent;-webkit-transform:rotate(45deg);-ms-transform:rotate(45deg);transform:rotate(45deg)}.footer-list h5 a:hover{text-decoration:none}.footer-list ul,.footer-list ul:not([class]){display:none;padding:24px 26px 0}.footer-list ul li,.footer-list ul:not([class]) li{margin-bottom:0;padding-top:15px}.footer-list ul li:first-child,.footer-list ul:not([class]) li:first-child{padding-top:0}}.socials{padding:0;margin:0 -10px 27px -9px;list-style:none;font-size:0;line-height:0;letter-spacing:-4px}.socials li{display:inline-block;vertical-align:top;letter-spacing:0;margin:0 10px 0 9px}.socials a{display:-webkit-box;display:-webkit-flex;display:-ms-flexbox;display:flex;-webkit-box-pack:center;-webkit-justify-content:center;-ms-flex-pack:center;justify-content:center;-webkit-box-align:center;-webkit-align-items:center;-ms-flex-align:center;align-items:center;text-indent:-9999px;width:38px;height:38px;border:1px solid #fff;position:relative;overflow:hidden;-webkit-border-radius:50%;border-radius:50%;-webkit-transition:all .35s ease;-o-transition:all .35s ease;transition:all .35s ease}.socials a:hover{background-color:#fff}.socials a:hover img{-webkit-transform:translateY(-25%);-ms-transform:translateY(-25%);transform:translateY(-25%)}.socials img{-webkit-transform:translateY(25%);-ms-transform:translateY(25%);transform:translateY(25%);-webkit-transition:all .35s ease;-o-transition:all .35s ease;transition:all .35s ease}.fixed-logo{position:fixed;top:112px;right:0;z-index:1500;padding:0;margin:0;list-style:none;text-align:right}.fixed-logo li{margin:0 0 20px}.fixed-logo a{display:block}.fixed-logo img{display:block}@media only screen and (max-width:1023px){.fixed-logo{display:none}}.product-section{position:relative}.product-section .section-line1,.product-section .section-line2,.product-section .section-line3{opacity:1;background:#e0e7eb}.product-section .container{padding-left:0;padding-right:0}.product-section .tabset{position:relative;z-index:50}.product-section .tab-body{width:100%}.product-section .tab-control{padding:0;margin:0;list-style:none;font-size:0;line-height:0;border-top:1px solid #e0e7eb;background:#fff;letter-spacing:-4px}.product-section .tab-control li{display:inline-block;vertical-align:top;letter-spacing:0;font-size:15px;line-height:1.2;width:25%;text-align:center;border-right:1px solid #e0e7eb;-webkit-transition:border-color .35s ease;-o-transition:border-color .35s ease;transition:border-color .35s ease}.product-section .tab-control li:first-child{border-left:1px solid #e0e7eb}.product-section .tab-control li:first-child:hover,.product-section .tab-control li:first-child.active{border-top-color:#00b9e1}.product-section .tab-control li.active a{color:#fff;background:#00b9e1}.product-section .tab-control li.active a img{-webkit-transform:translateY(-50%);-ms-transform:translateY(-50%);transform:translateY(-50%)}.product-section .tab-control .ico-holder{display:-webkit-flex;display:-moz-flex;display:-ms-flex;display:-o-flex;display:flex;-webkit-flex-direction:column;-moz-flex-direction:column;-ms-flex-direction:column;-o-flex-direction:column;flex-direction:column;justify-content:center;-ms-align-items:center;align-items:center;margin:0 0 10px}.product-section .tab-control a{display:block;min-height:138px;padding:36px 20px 31px;text-decoration:none;-webkit-transition:all .35s ease;-o-transition:all .35s ease;transition:all .35s ease}.product-section .tab-control a:hover{color:#fff;background:#00b9e1}.product-section .tab-control a:hover img{-webkit-transform:translateY(-50%);-ms-transform:translateY(-50%);transform:translateY(-50%)}.product-section .tab-control .ico{display:block;margin:0 auto;overflow:hidden}.product-section .tab-control img{display:block;margin:0 auto}.product-section .trade-btn{position:absolute;bottom:0;left:50%;z-index:50;min-width:50%;margin:0 0 0 -94px}.product-section .trade-btn a{color:#fff;font-size:25px;line-height:1.2;display:block;position:relative;text-decoration:none;padding:51px 25px 52px 129px;background:#00b9e1;letter-spacing:.016em;text-align:center;-webkit-transition:background .35s ease;-o-transition:background .35s ease;transition:background .35s ease}.product-section .trade-btn .ico{position:absolute;top:50%;left:33px;width:38px;height:38px;border:1px solid #fff;margin:-17px 0 0;-webkit-border-radius:50%;border-radius:50%}.product-section .trade-btn .ico:after{position:absolute;content:'';top:50%;left:50%;width:17px;height:1px;margin:0 0 0 -8px;background:#fff}.product-section .trade-btn .ico:before{position:absolute;content:'';top:50%;left:50%;width:9px;height:9px;margin:-4px 0 0 -6px;border:1px solid #fff;border-top-color:transparent;border-right-color:transparent;-webkit-transform:rotate(45deg);-ms-transform:rotate(45deg);transform:rotate(45deg)}.product-section .tab-head-content{background:#f2f6f8;position:relative;padding:53px 90px 176px calc(50% + 97px);min-height:560px}.product-section .tab-product-description{padding:64px 0 88px;position:relative;z-index:50}.product-section .tab-product-description h3{letter-spacing:.018em}.product-section .tab-product-description ol:not([class]){padding-left:75px}.product-section .tab.active{position:relative}.product-section .tab-head-content .visual{position:absolute;top:0;bottom:0;left:0;width:50%;z-index:50;background-position:50% 50%;background-repeat:no-repeat;background-size:cover}.product-section .more-btn a{padding-left:30px}.product-section .more-btn a:after{left:0}.product-section .text-image-block h3{margin-left:-9964px;letter-spacing:.018em}.product-section .text-image-block ol:not([class]){padding-left:27px}@media only screen and (max-width:1259px){.product-section .container{padding-left:20px;padding-right:20px}.product-section .tab-head-content{padding-right:30px;padding-left:calc(50% + 30px)}}@media only screen and (max-width:1023px){.product-section .tabset{display:block;padding-left:0}.product-section .tab-control{position:static;width:auto;display:block}.product-section .tab-control:after{content:'';clear:both;display:block}.product-section .tab-control li{height:auto;float:left;width:25%;min-height:0;border-left:1px solid #e0e7eb}.product-section .tab-control li:first-child{border-left:none}.product-section .tab-control li:first-child .ico{top:3px}.product-section .tab-control li:first-child+li .ico{top:9px}.product-section .tab-control li:first-child+li+li+li .ico{top:3px}.product-section .tab-control li.active{border-top-color:#00b9e1}.product-section .tab-control a{min-height:110px}.product-section .tab-control .ico{position:relative}.product-section .tab-head-content{padding-right:20px;padding-left:calc(50% + 20px)}.product-section .trade-btn{left:33.3%}.product-section .trade-btn a{padding:51px 15px 52px 90px}}@media only screen and (max-width:767px){.product-section .tab-head-content{padding:0 20px}.product-section .tab-head-content .visual{position:static;width:auto;height:62.5vw;margin:0 -20px 34px}.product-section .trade-btn{position:relative;left:auto;bottom:auto;margin:0 -20px}.product-section .trade-btn a{text-align:left;padding:25px 75px 18px 19px}.product-section .trade-btn .ico{left:auto;right:19px}.product-section .trade-btn .ico:after{margin-left:-9px}.product-section .trade-btn .ico:before{margin-left:-1px;border-top-color:#fff;border-right-color:#fff;border-left-color:transparent;border-bottom-color:transparent}.product-section .more-btn{padding-top:31px;margin-bottom:57px}.product-section .tab-control .text{display:none}.product-section .tab-control a{padding:10px 5px;display:-webkit-flex;display:-moz-flex;display:-ms-flex;display:-o-flex;display:flex;-webkit-flex-direction:column;-moz-flex-direction:column;-ms-flex-direction:column;-o-flex-direction:column;flex-direction:column;justify-content:center;-ms-align-items:center;align-items:center}.product-section .tab-control .ico-holder{margin:0}.product-section .tab-product-description{padding-top:55px;padding-bottom:35px}.product-section .tab-product-description ol:not([class]){padding-left:30px}.product-section .text-image-block h3{margin-left:-20px}.product-section .text-image-block ol:not([class]){padding-left:0}}.contacts-list{padding:18px 0 0;margin:0 0 21px;list-style:none;font-size:15px}.contacts-list dl,.contacts-list dt,.contacts-list dd{margin:0;padding:0}.contacts-list dt,.contacts-list dd{display:inline}.contacts-list dd{color:#241f1d}.contacts-list a{text-decoration:none;color:#00b9e1}.contacts-list a:hover{text-decoration:underline}.breadcrumbs{padding:0;margin:0 0 8px;list-style:none;font-size:0;line-height:0;letter-spacing:-4px}.breadcrumbs li{display:inline;font-size:13px;line-height:1.2;letter-spacing:0;position:relative}.breadcrumbs li:before{content:'';top:50%;width:22px;height:2px;margin:7px 12px 0 11px;display:inline-block;vertical-align:top;background:#241f1d}.breadcrumbs li:first-child:before{display:none}.breadcrumbs a{text-decoration:none;color:#00b9e1}.breadcrumbs .arrow{display:none}@media only screen and (max-width:767px){.breadcrumbs{margin:0 0 9px}.breadcrumbs li{display:none;padding:15px 0 0;margin:0}.breadcrumbs li:before{display:none}.breadcrumbs li:first-child{padding-top:0;display:block}.breadcrumbs li:first-child a{padding:0 15px 0 0;position:relative}.breadcrumbs li.active .arrow{top:7px;border-left-color:#020202;border-top-color:#020202;border-right-color:transparent;border-bottom-color:transparent}.breadcrumbs .arrow{display:block;position:absolute;top:1px;right:0;width:8px;height:8px;border:1px solid #020202;border-left-color:transparent;border-top-color:transparent;-webkit-transform:rotate(45deg);-ms-transform:rotate(45deg);transform:rotate(45deg);-webkit-transition:all .35s ease;-o-transition:all .35s ease;transition:all .35s ease}.breadcrumbs .arrow:after{position:absolute;content:'';top:-10px;left:-5px;right:-5px;bottom:-10px}.breadcrumbs a{display:inline-block}}.section-heading{overflow:hidden;min-height:313px;position:relative;padding:98px 0 60px}.section-heading h1{left:-4px;font-size:60px;position:relative;letter-spacing:.017em;margin-bottom:33px}.section-heading .bg-img{position:absolute;top:0;right:0;bottom:0;width:50%;z-index:50;background-position:50% 50%;background-size:cover}.section-heading .section-heading-content{max-width:50%;padding:0 50px 0 0}.section-heading .big-btn-holder{position:relative;z-index:100;font-size:25px;margin:-3px -200px -60px 0}.section-heading .big-btn-holder a{color:#fff;display:block;position:relative;text-decoration:none;padding:51px 90px 52px 50px;background:#00b9e1;-webkit-transition:background .35s ease;-o-transition:background .35s ease;transition:background .35s ease}.section-heading .big-btn-holder a:hover{background-color:#7aa3ba}.section-heading .big-btn-holder .ico{position:absolute;top:50%;right:30px;width:38px;height:38px;border:1px solid #fff;margin:-17px 0 0;-webkit-border-radius:50%;border-radius:50%}.section-heading .big-btn-holder .ico:after{position:absolute;content:'';top:50%;left:50%;width:17px;height:1px;margin:0 0 0 -9px;background:#fff}.section-heading .big-btn-holder .ico:before{position:absolute;content:'';top:50%;left:50%;width:9px;height:9px;margin:-4px 0 0 -2px;border:1px solid #fff;border-bottom-color:transparent;border-left-color:transparent;-webkit-transform:rotate(45deg);-ms-transform:rotate(45deg);transform:rotate(45deg)}.section-heading .theme-block{position:relative;z-index:100;padding:18px 0 0;margin:0 -148px -60px 0}.section-heading .theme-block h5{letter-spacing:.01em}@media only screen and (max-width:1259px){.section-heading h1{font-size:50px}}@media only screen and (max-width:1023px){.section-heading{min-height:0;padding:38px 0}.section-heading h1{margin-bottom:30px}.section-heading h5{margin-top:-3px}.section-heading .bg-img{display:none}.section-heading .section-heading-content{max-width:none;padding:0}.section-heading .big-btn-holder{padding:18px 0 0;margin:0 -20px -38px}.section-heading .theme-block{margin:0;padding:3px 0 0}.section-heading .theme-block .selecter{margin:0 -20px}}@media only screen and (max-width:767px){.section-heading{padding-bottom:7px}.section-heading h1{font-size:30px;left:-2px}.section-heading .big-btn-holder a{padding:25px 70px 18px 20px}.section-heading .big-btn-holder .ico{right:20px}.section-heading .theme-block .selecter .selecter-selected{padding-left:20px;padding-right:55px}.section-heading .theme-block .selecter .selecter-selected:after{right:23px}}.product-item-section{position:relative}.product-item-section .section-line1,.product-item-section .section-line2,.product-item-section .section-line3{opacity:1;background:#e0e7eb}.product-item-section .container{padding-left:11px;padding-right:11px}.product-item-section .section-heading{margin-bottom:94px}.product-item-section .section-heading .section-heading-content{max-width:45.7%}.product-item-section h3{letter-spacing:.018em}@media only screen and (max-width:1023px){.product-item-section .container{padding-left:20px;padding-right:20px}.product-item-section .section-heading{margin-bottom:54px}.product-item-section .section-heading .section-heading-content{max-width:none}}.small-container{max-width:1056px;margin:0 auto}.image-block{position:relative;padding:70px 0 85px}.image-block .col-row{margin-left:0;margin-right:0}.image-block .col-row>.col{padding-left:0;padding-right:0}.image-block .visual{z-index:100;padding:6px 0 0;position:relative}.image-block .visual img{display:block;width:100%}.image-block .visual .parralax{position:absolute;top:0;bottom:0;left:-10%;right:-10%;background-size:cover;background-position:50% 50%}.image-block ul:not([class]){margin:0 0 34px;list-style:none;padding:4px 30px 0 35px;position:relative;color:#000;letter-spacing:.025em}.image-block ul:not([class])>li{padding:0;margin:0 0 18px;padding-left:14px}.image-block ul:not([class]) a{text-decoration:none;color:#00b9e1}.image-block ul:not([class]) a:hover{text-decoration:underline}.image-block .content{padding-left:50px;padding-right:50px;max-width:592px;margin:0 auto}@media only screen and (max-width:1023px){.image-block .content{padding-left:25px;padding-right:25px}.image-block .visual{padding:0;margin:0 auto 33px;max-width:682px}.image-block .visual .parralax{display:none}.image-block .content{padding-left:20px;padding-right:20px;max-width:722px}}@media only screen and (max-width:767px){.image-block{padding-top:40px;padding-bottom:36px}.image-block ul:not([class]){padding:12px 0 0 21px}}.text-image-block{color:#fff;position:relative;background:#6d8fa7;margin:60px 0 0;padding:0 0 77px}.text-image-block .container{max-width:1236px}.text-image-block h3{display:inline-block;vertical-align:top;background:#edf2f5;position:relative;z-index:50;padding:51px 96px 52px 9999px;margin:-69px 0 58px -9977px}.text-image-block .visual{position:absolute;top:0;right:0;bottom:0;width:25%;background-size:cover;background-repeat:no-repeat;background-position:50% 50%}.text-image-block .content{padding:0 calc(25% + 50px) 0 0}.text-image-block ol:not([class])>li:before{color:#fff}.text-image-block ol:not([class]) ul{margin:0;padding:0}.text-image-block ol:not([class]) ul li{margin:0;padding:0}.text-image-block ol:not([class]) ul li:after{display:none}@media only screen and (max-width:767px){.text-image-block{margin:0;padding-bottom:42px}.text-image-block .content{padding:0}.text-image-block .visual{display:none}.text-image-block h3{display:block;margin:0 -20px 37px;padding:52px 20px}.text-image-block ol:not([class]){padding-left:0}}.text-columns-block{position:relative;z-index:50;padding:92px 0 75px;letter-spacing:.01em;background:#f2f6f8}.text-columns-block .col-row{letter-spacing:-5px;margin-left:-25px;margin-right:-25px;padding-right:50px}.text-columns-block .col-row>.col{display:inline-block;vertical-align:top;float:none;letter-spacing:.01em;padding-left:25px;padding-right:25px;margin-bottom:10px}.text-columns-block h2{margin-bottom:85px;letter-spacing:.016em}.text-columns-block p{margin-bottom:18px}.text-columns-block p+.attach-list{margin-top:-5px}@media only screen and (max-width:1023px){.text-columns-block{padding-top:70px;padding-bottom:60px}.text-columns-block .col-row{padding-right:0}}@media only screen and (max-width:767px){.text-columns-block{padding-top:50px;padding-bottom:31px}.text-columns-block .attach-list,.text-columns-block ul.without-markers{max-width:90%}.text-columns-block h2{margin-bottom:48px}}.attach-list{padding:0;margin:0;list-style:none}.attach-list>li{margin:0 0 12px}.attach-list a{text-decoration:none;color:#00b9e1;display:block;padding:12px 0 0 43px;position:relative;min-height:40px}.attach-list a:hover{text-decoration:underline}.attach-list .ico{position:absolute;top:3px;left:0}.attach-list .ico img{display:block;max-width:100%}.adwards-section{position:relative}.adwards-section .section-line1,.adwards-section .section-line2,.adwards-section .section-line3{opacity:1;background:#e0e7eb}.adwards-section h1{font-size:70px;margin-top:-10px}.adwards-section .container{padding-left:10px;padding-right:10px}.adwards-section .adwards-slider{position:absolute;top:0;right:0;bottom:0;width:50%;text-align:center;background:#f2f6f8;padding:40px 0 55px}.adwards-section .adwards-slider+.adwards-content{display:none}.adwards-section .adwards-slider img{display:block;height:auto;width:auto;max-width:100%;max-height:100%;margin:0 auto}.adwards-section .adwards-slider .visual{width:100%;display:table-cell;vertical-align:middle}.adwards-section .adwards-slider .item{padding-left:57px;padding-right:10px}.adwards-section .adwards-slider .slick-arrow{position:absolute;bottom:98px;z-index:1100;width:101px;height:101px;background:0 0;border:none;text-indent:-9999px;cursor:pointer;overflow:hidden;-webkit-appearance:none;-webkit-transition:all .35s ease;-o-transition:all .35s ease;transition:all .35s ease}.adwards-section .adwards-slider .slick-arrow:after,.adwards-section .adwards-slider .slick-arrow:before{position:absolute;content:'';top:50%;left:50%}.adwards-section .adwards-slider .slick-arrow:after{width:16px;height:2px;margin:-1px 0 0 -8px}.adwards-section .adwards-slider .slick-arrow:before{width:8px;height:8px;border:2px solid transparent;margin:-4px 0 0;-webkit-transform:rotate(45deg);-ms-transform:rotate(45deg);transform:rotate(45deg);z-index:10}.adwards-section .adwards-slider .slick-prev{right:100%;background:#e2eaef}.adwards-section .adwards-slider .slick-prev:after,.adwards-section .adwards-slider .slick-prev:before{-webkit-transition:all .35s ease;-o-transition:all .35s ease;transition:all .35s ease}.adwards-section .adwards-slider .slick-prev:after{background:#7aa3ba}.adwards-section .adwards-slider .slick-prev:before{margin-left:-9px;border-left-color:#7aa3ba;border-bottom-color:#7aa3ba;border-top-color:transparent;border-right-color:transparent}.adwards-section .adwards-slider .slick-prev:hover{background:#00b9e1}.adwards-section .adwards-slider .slick-prev:hover:after{background:#fff}.adwards-section .adwards-slider .slick-prev:hover:before{border-left-color:#fff;border-bottom-color:#fff}.adwards-section .adwards-slider .slick-next{left:0;background:#7aa3ba}.adwards-section .adwards-slider .slick-next:after{background:#fff}.adwards-section .adwards-slider .slick-next:before{border-top-color:#fff;border-right-color:#fff;border-left-color:transparent;border-bottom-color:transparent}.adwards-section .adwards-slider .slick-next:hover{background:#00b9e1}.adwards-section .adwards-slider .slick-list,.adwards-section .adwards-slider .slick-track,.adwards-section .adwards-slider .slick-slide{height:100%}.adwards-section .adwards-slider .slick-slide{display:table;width:100%}.adwards-section .adwards-content{max-width:472px;min-height:311px;padding:28px 65px 28px 0}.adwards-section h5{margin-bottom:10px}@media only screen and (max-width:1023px){.adwards-section .container{padding-left:20px;padding-right:20px}.adwards-section .adwards-slider{position:relative;width:auto;padding:50px 0 44px;margin:0 0 101px}.adwards-section .adwards-slider .item{padding-right:76px;padding-left:100px;display:block}.adwards-section .adwards-slider .visual{display:block}.adwards-section .adwards-slider .slick-list,.adwards-section .adwards-slider .slick-track,.adwards-section .adwards-slider .slick-slide{height:auto}.adwards-section .adwards-slider .slick-arrow{bottom:auto;top:100%}.adwards-section .adwards-slider .slick-prev{left:0;right:auto}.adwards-section .adwards-slider .slick-next{left:101px}.adwards-section .adwards-slider+.adwards-content{display:block}.adwards-section .section-heading-content .adwards-content{display:none}.adwards-section h1{margin-top:0;font-size:60px;margin-bottom:35px}.adwards-section .adwards-content{min-height:0;padding:39px 20px 2px}}@media only screen and (max-width:767px){.adwards-section h1{font-size:30px}.adwards-section h1 br{display:none}}.contacts-section{position:relative}.contacts-section .section-line1,.contacts-section .section-line2,.contacts-section .section-line3{opacity:1;background:#e0e7eb}.contacts-section h1{margin-bottom:0}.contacts-section .container{padding-left:11px;padding-right:11px}@media only screen and (max-width:1023px){.contacts-section .container{padding-left:20px;padding-right:20px}}@media only screen and (max-width:767px){.contacts-section .section-heading{padding-bottom:34px}}.map-section{background:#edf2f5}.map-section .tab-control{padding:0;margin:0;list-style:none;font-size:1px;line-height:1px;letter-spacing:-4px}.map-section .tab-control>li{display:inline-block;vertical-align:top;width:25%;letter-spacing:0;font-size:25px;line-height:1.2;border-left:1px solid #e0e7eb}.map-section .tab-control>li:first-child{border-left:none}.map-section .tab-control a{display:block;text-decoration:none;padding:37px 45px;-webkit-transition:all .35s ease;-o-transition:all .35s ease;transition:all .35s ease}.map-section .tab-control a:hover{color:#fff;background:#00b9e1}.map-section .tab-control .active a{color:#fff;background:#00b9e1}.map-section .expanded:after{content:'';clear:both;display:block}.map-section .tab-body{background:#fff}.map-section .map{height:533px;float:left;width:75%}.map-section .tab-content{padding:93px 50px 20px;float:right;width:25%}.map-section .tab-content dl{padding:0;margin:0 0 18px}.map-section .tab-content dt,.map-section .tab-content dd{margin:0;padding:0}.map-section .tab-content dd{color:#241f1d}.map-section .tab-content a{color:#00b9e1;text-decoration:none}.map-section .tab-content a:hover{text-decoration:underline}.map-section .tab-heading{display:none}@media only screen and (max-width:1259px){.map-section .tab-content{padding:70px 20px 20px}}@media only screen and (max-width:1023px){.map-section .tab-control>li{font-size:20px}.map-section .tab-control a{padding-left:35px;padding-right:35px}.map-section .map{float:none;width:auto;height:100vw;max-height:60vh}.map-section .tab-content{float:none;width:auto;padding:34px 50px 38px}}@media only screen and (max-width:767px){.map-section .tab-control{display:none}.map-section .tab-content{padding-left:20px;padding-right:20px}.map-section .tab-heading{display:block;font-size:25px}.map-section .tab-heading a{background:#edf2f5;display:block;text-decoration:none;padding:39px 19px 34px;-webkit-transition:all .35s ease;-o-transition:all .35s ease;transition:all .35s ease}.map-section .tab{position:static;opacity:1;top:auto;left:auto;border-top:1px solid #e0e7eb;-webkit-transition:border-color .35s ease;-o-transition:border-color .35s ease;transition:border-color .35s ease}.map-section .tab:first-child{border-top:none}.map-section .tab.active{-webkit-transition:border-color .35s ease;-o-transition:border-color .35s ease;transition:border-color .35s ease}.map-section .tab.active+.tab{border-top-color:#fff}.map-section .tab.active .tab-heading a{padding-left:36px;padding-right:36px;color:#fff;background:#00b9e1}}@media only screen and (min-width:767px){.map-section .expanded{display:block !important}}.contacts-form{margin:0;padding:0}.contacts-form fieldset{margin:0;padding:0;border:none;min-width:0}.contacts-form .col-row{margin-left:0;margin-right:0}.contacts-form .col-row>.col{padding-left:0;padding-right:0}.contacts-form .form-content{padding:45px 50px 20px}.contacts-form .form-row{margin:0 0 29px}.contacts-form .form-row:after{content:'';clear:both;display:block}.contacts-form .form-row>label{float:right;width:33.3%;text-align:left;padding:13px 0 0 48px;color:#241f1d;font:inherit}.contacts-form .row-content{overflow:hidden;padding:0 0 0 50px}.contacts-form textarea,.contacts-form input.text{display:block;width:100%;overflow:hidden;font:inherit;color:inherit;padding-left:15px;padding-right:15px;background:#fff;border:1px solid #e0e7eb;-webkit-border-radius:0;-webkit-appearance:none;-webkit-transition:all .35s ease;-o-transition:all .35s ease;transition:all .35s ease}.contacts-form textarea.error,.contacts-form input.text.error{color:#e10000;border-color:#e10000}.contacts-form input.text{padding-top:0;padding-bottom:0;height:43px}.contacts-form textarea{resize:none;height:110px;padding-top:10px;padding-bottom:10px}.contacts-form .submit-row{font-size:0;line-height:0;padding:0 0 0 50px;letter-spacing:-4px}.contacts-form .submit-row .captcha{display:inline-block;vertical-align:top;margin:0 28px 0 0}.contacts-form .submit-row .btn{display:inline-block;vertical-align:top}.contacts-form .input-holder{padding:50px 0;background:#f5f9fb}@media only screen and (max-width:1259px){.contacts-form .submit-row .captcha{display:block;margin:0 0 15px}}@media only screen and (max-width:1023px){.contacts-form .form-content{padding-top:30px;padding-bottom:11px}}@media only screen and (max-width:767px){.contacts-form .form-row>label{float:none;width:auto;padding:0;display:block;margin:0 0 10px}.contacts-form .row-content{overflow:visible;padding:0}.contacts-form .input-holder,.contacts-form .form-content{padding-left:20px;padding-right:20px}.contacts-form .submit-row{padding:0}}@media only screen and (max-width:560px){.contacts-form .submit-row{text-align:center}.contacts-form .submit-row .captcha .g-recaptcha>div{margin-left:auto;margin-right:auto}.contacts-form .btn{display:block;width:100%}}@media only screen and (max-width:340px){.contacts-form .submit-row .captcha{position:relative;left:-4%;-webkit-transform:scale(.93);-ms-transform:scale(.93);transform:scale(.93)}}.faq-section{position:relative;padding:0 0 29px}.faq-section .section-line1,.faq-section .section-line2,.faq-section .section-line3{opacity:1;background:#e0e7eb}.faq-section .section-heading{overflow:visible}.faq-section .container{padding-left:11px;padding-right:11px}@media only screen and (max-width:1023px){.faq-section .container{padding-left:20px;padding-right:20px}}@media only screen and (max-width:767px){.faq-section .section-heading{padding-bottom:0}}.faq-list{padding:0;margin:0 -95px;list-style:none;letter-spacing:0}.faq-list li{padding:27px 9999px;margin:0 -9999px}.faq-list li:nth-child(odd){background:#f5f9fb}.faq-list li:after{content:'';clear:both;display:block}.faq-list .answer,.faq-list .question{float:left;width:50%;padding:0 95px}.faq-list .answer{color:#241f1d;letter-spacing:.01em}.faq-list a{text-decoration:none;color:#00b9e1}.faq-list a:hover{text-decoration:underline}.faq-list .title{display:none}@media only screen and (max-width:1023px){.faq-list{margin-left:-30px;margin-right:-30px}.faq-list .answer,.faq-list .question{padding-left:30px;padding-right:30px}}@media only screen and (max-width:767px){.faq-list li{padding-bottom:59px}.faq-list .title{display:block;margin:0 0 13px}.faq-list .answer,.faq-list .question{float:none;display:block;width:auto}.faq-list .question{margin-bottom:29px;padding-bottom:29px;border-bottom:1px solid #e0e7eb}}.selecter{position:relative;font-size:17px;color:#fff;-webkit-transition:all .35s ease;-o-transition:all .35s ease;transition:all .35s ease}.selecter .selecter-element{position:absolute;top:0;bottom:0;left:0;right:0;opacity:0;filter:alpha(opacity=0);z-index:-1;width:100%}.selecter.mobile .selecter-element{z-index:10}.selecter .selecter-selected{padding:0 100px 0 60px;cursor:pointer;display:block;height:100%;position:relative;white-space:nowrap;overflow:hidden;font-size:25px;height:133px;line-height:128px;-o-text-overflow:ellipsis;text-overflow:ellipsis;background:#00b9e1;-webkit-transition:all .35s ease;-o-transition:all .35s ease;transition:all .35s ease}.selecter .selecter-selected:after{position:absolute;content:'';top:50%;right:33px;width:18px;height:18px;margin:-13px 0 0;border:1px solid #fff;border-top-color:transparent;border-left-color:transparent;-webkit-transform:rotate(45deg);-ms-transform:rotate(45deg);transform:rotate(45deg);-webkit-transition:all .35s ease;-o-transition:all .35s ease;transition:all .35s ease}.selecter .selecter-selected:hover:after{opacity:1}.selecter.open .selecter-selected:after{margin-top:-1px;border-top-color:#fff;border-left-color:#fff;border-right-color:transparent;border-bottom-color:transparent}.selecter.selected .selecter-selected{color:#181d2d}.selecter.selected .selecter-item:first-child{display:none}.selecter .selecter-options{position:absolute;top:100%;left:0;right:0;display:none;z-index:50;margin:-30px 0 0;padding:0 0 20px;max-height:400px;overflow-y:auto;overflow-x:hidden;border-top:none;vertical-align:top;background:#00b9e1;-webkit-transition:all ease .2s;-o-transition:all ease .2s;transition:all ease .2s}.selecter .selecter-item{display:block;cursor:pointer;padding:5px 59px;white-space:nowrap;-o-text-overflow:ellipsis;text-overflow:ellipsis;overflow:hidden;margin:0 0 26px;-webkit-transition:all ease .2s;-o-transition:all ease .2s;transition:all ease .2s}.selecter .selecter-item.selected{display:none}.selecter .selecter-item:hover{text-decoration:underline}.faq-list-holder{padding:55px 0 0}.faq-list-holder .col-row{margin-left:-95px;margin-right:-95px}.faq-list-holder .col-row>.col{padding-left:95px;padding-right:95px}@media only screen and (max-width:1023px){.faq-list-holder .col-row{margin-left:-30px;margin-right:-30px}.faq-list-holder .col-row>.col{padding-left:30px;padding-right:30px}}@media only screen and (max-width:767px){.faq-list-holder{padding-top:0}.faq-list-holder .heading{display:none}}.news-item-section{position:relative;padding:0 0 74px}.news-item-section .heading{overflow:hidden;position:relative;padding:98px 0 0}.news-item-section .section-line1,.news-item-section .section-line2,.news-item-section .section-line3{opacity:1;background:#e0e7eb}.news-item-section .container{position:relative;z-index:50;max-width:1212px}.news-item-section h1{font-size:60px;margin-bottom:66px}.news-item-section .inner-container{padding-right:25%}.news-item-section .links-list{padding:0 25% 0 0;margin:0 0 57px;list-style:none;font-size:0;line-height:0;letter-spacing:-4px}.news-item-section .links-list li{display:inline-block;vertical-align:top;letter-spacing:.01em;font-size:25px;line-height:1.2;width:33.3%;border-left:1px solid #e0e7eb}.news-item-section .links-list li:first-child{border-left:none}.news-item-section .links-list a{display:block;text-decoration:none;padding:52px 48px;background:#edf2f5;-webkit-transition:all .35s ease;-o-transition:all .35s ease;transition:all .35s ease}.news-item-section .links-list a:hover{color:#fff;background-color:#00b9e1}.news-item-section .links-list .active a{color:#fff;background-color:#00b9e1}@media only screen and (max-width:1023px){.news-item-section .links-list{display:none}.news-item-section .inner-container{padding:0}.news-item-section .heading{padding-top:45px}.news-item-section h1{font-size:50px;margin-bottom:34px}}@media only screen and (max-width:767px){.news-item-section{padding-bottom:40px}.news-item-section .heading{padding-top:38px}.news-item-section h1{font-size:30px}}.news-item{max-width:827px;letter-spacing:.0275em}.news-item .date{font-size:13px;display:block;margin:0 0 19px;color:#00b9e1}.news-item h2{margin-bottom:41px;letter-spacing:.02em}.news-item .visual{z-index:15;margin:0 0 47px;position:relative}.news-item .visual img{display:block;max-width:100%}@media only screen and (max-width:767px){.news-item .date{margin-bottom:24px}.news-item h2{margin-left:-3px;margin-right:-3px;margin-bottom:37px}.news-item h2 br{display:none}.news-item .visual{margin-bottom:37px}.news-item p{margin-bottom:18px}}.fixed-news-block{position:absolute;top:0;right:0;bottom:0;width:25%;z-index:150;max-height:calc(100vh - 93px);background:#f2f6f8}.fixed-news-block h2{text-align:left;padding:0 46px;margin-bottom:11px}.fixed-news-block>h2{display:none}.fixed-news-block .scroll-cover{max-height:100%;overflow:hidden}.fixed-news-block .scroll-holder{padding:42px 0 0}.fixed-news-block .close-ico{display:none;position:fixed;top:29vh;left:-41px;width:41px;height:60px;text-indent:-9999px;overflow:hidden;z-index:1700;background:#edf2f5;-webkit-transition:all .35s ease;-o-transition:all .35s ease;transition:all .35s ease}.fixed-news-block .close-ico:after,.fixed-news-block .close-ico:before{position:absolute;content:'';top:50%;left:50%;width:22px;height:1px;background:#241f1d;margin:0 0 0 -11px}.fixed-news-block .close-ico:after{-webkit-transform:rotate(45deg);-ms-transform:rotate(45deg);transform:rotate(45deg)}.fixed-news-block .close-ico:before{-webkit-transform:rotate(-45deg);-ms-transform:rotate(-45deg);transform:rotate(-45deg)}@media only screen and (max-width:1259px){.fixed-news-block h2{padding-left:20px;padding-right:20px}}@media only screen and (max-width:1023px){.fixed-news-block{position:static;max-height:none;width:auto;margin:0 0 37px;height:82px}.fixed-news-block.fixed h2{position:fixed;top:0;left:0;right:0;-webkit-transition:opacity .35s ease;-o-transition:opacity .35s ease;transition:opacity .35s ease}.fixed-news-block .scroll-cover{position:fixed;top:0;bottom:0;right:-100%;left:100%;z-index:1500;opacity:0;-webkit-transition:all .35s ease;-o-transition:all .35s ease;transition:all .35s ease}.fixed-news-block .scroll-holder{position:relative;padding:0 0 0 41px !important}.fixed-news-block.open .close-ico{left:0}.fixed-news-block.open .scroll-cover{left:0;right:0;opacity:1;background:rgba(36,31,29,.49)}.fixed-news-block .close-ico{display:block}.fixed-news-block h2{position:relative;padding:20px;background:#f2f6f8;z-index:200}.fixed-news-block h2:after{position:absolute;content:'';top:50%;right:22px;width:14px;height:14px;margin:-7px 0 0;border:1px solid #241f1d;border-left-color:transparent;border-bottom-color:transparent;-webkit-transform:rotate(45deg);-ms-transform:rotate(45deg);transform:rotate(45deg)}.fixed-news-block h2 br{display:none}.fixed-news-block>h2{display:block}.fixed-news-block .scroll-holder h2{display:none}}@media only screen and (max-width:767px){.fixed-news-block{height:60px}.fixed-news-block h2{font-size:25px;padding-top:15px;padding-bottom:15px}}#header.fixed.show+.news-item-section .fixed-news-block.fixed h2{opacity:0}@media only screen and (min-width:1024px){#header.fixed+.news-item-section .fixed-news-block{position:fixed;max-height:none;-webkit-transition:all .35s ease;-o-transition:all .35s ease;transition:all .35s ease}#header.fixed.show+.news-item-section .fixed-news-block{top:93px}}.fixed-news-list{padding:0;margin:0;list-style:none}.fixed-news-list time{display:block;margin:0 0 23px;font-size:13px;color:#696969;-webkit-transition:all .35s ease;-o-transition:all .35s ease;transition:all .35s ease}.fixed-news-list li{border-top:1px solid #e0e7eb}.fixed-news-list li:first-child{border-top:none}.fixed-news-list a{display:block;padding:18px 48px;text-decoration:none;-webkit-transition:all .35s ease;-o-transition:all .35s ease;transition:all .35s ease}.fixed-news-list a:hover{color:#fff;background:#6d8fa7}.fixed-news-list a:hover time{color:#fff}.fixed-news-list .active a{color:#fff;background:#6d8fa7}.fixed-news-list .active a time{color:#fff}@media only screen and (max-width:1259px){.fixed-news-list a{padding-left:20px;padding-right:20px}}@media only screen and (max-width:1023px){.fixed-news-list{position:relative;background:#f2f6f8}.fixed-news-list:after{position:absolute;content:'';top:100%;left:0;right:0;height:9999px;background:#f2f6f8}}@media only screen and (max-width:767px){.fixed-news-list{letter-spacing:.01em}.fixed-news-list a{padding-left:28px;padding-right:15px;padding:17px 15px 17px 28px}}.default-section{position:relative;padding:98px 0 0}.default-section .container{max-width:1212px}.default-section h1{font-size:60px;margin-bottom:0}.default-section .section-line1,.default-section .section-line2,.default-section .section-line3{opacity:1;background:#e0e7eb}.default-section .preview-img{display:block;height:314px;position:relative;z-index:50;margin:0 0 114px;background-position:50% 50%;background-repeat:no-repeat;background-size:cover}.default-section .preview-img.height-2{height:341px;margin:0 0 108px}.default-section .preview-img+.align-img-block{padding-top:0}.default-section .preview-img+.align-img-block h3{margin-bottom:14px}.default-section h3,.default-section .h3{letter-spacing:.018em;margin-bottom:20px}.default-section .block-title{position:absolute;bottom:0;z-index:25;font-size:35px;background:#edf2f5;color:#241f1d;-webkit-transform:translateY(50%);-ms-transform:translateY(50%);transform:translateY(50%);padding:45px 100px 46px 95px}.default-section .text-block{position:relative;z-index:50;padding:35px 0 25px}.default-section ul:not([class]){margin-bottom:30px;padding-left:46px}.default-section ul:not([class])+h3,.default-section ul:not([class])+.h3{padding-top:9px}.default-section .list-group{margin-bottom:-6px}.default-section .list-group ul:not([class]){margin-bottom:0;padding-top:25px}.default-section .list-group ul:not([class]):first-child{padding-top:0}.default-section .list-group ul:not([class])>li{margin-bottom:6px}.default-section .col-row{margin-left:-95px;margin-right:-95px}.default-section .col-row>.col{padding-left:95px;padding-right:95px}.default-section .attach-list{margin-bottom:59px}@media only screen and (max-width:1023px){.default-section{padding-top:38px}.default-section h1{font-size:50px}.default-section .col-row{margin-left:-20px;margin-right:-20px}.default-section .col-row>.col{padding-left:20px;padding-right:20px}.default-section .block-title{padding-left:40px;padding-right:40px}}@media only screen and (max-width:767px){.default-section h1{font-size:30px}.default-section .preview-img{height:23.125vw}.default-section .preview-img.height-2{height:25vw;margin-bottom:111px}.default-section .block-title{font-size:30px;padding:30px 17px;margin-bottom:-27px;max-width:80%}.default-section ul:not([class]){padding-left:20px}.default-section .list-group{margin-bottom:0}.default-section .attach-list{margin-bottom:36px}.default-section h3+ul:not([class]){padding-top:10px}}.nav-list{padding:0;margin:0;list-style:none;position:fixed;top:50%;left:7px;font-size:10px;z-index:1600;-webkit-transition:opacity .35s ease;-o-transition:opacity .35s ease;transition:opacity .35s ease;-webkit-transform:translateY(-50%);-ms-transform:translateY(-50%);transform:translateY(-50%)}.nav-list li{width:15px;margin:0 0 20px}.nav-list a{display:inline-block;padding:9px 30px 9px 11px;text-decoration:none;margin-left:12px;white-space:nowrap;height:30px;color:transparent;position:relative;-webkit-transform:translateX(-100%);-ms-transform:translateX(-100%);transform:translateX(-100%);-webkit-transition:all .35s ease;-o-transition:all .35s ease;transition:all .35s ease}.nav-list a:hover{color:#fff;margin-left:0;background:#7aa3ba;padding-right:11px;-webkit-transform:translateX(0);-ms-transform:translateX(0);transform:translateX(0)}.nav-list a:hover:after{width:0;opacity:0;margin-right:15px}.nav-list a:after{position:absolute;content:'';top:0;right:-3px;bottom:0;width:15px;background:#7aa3ba;-webkit-transition:all .2s ease;-o-transition:all .2s ease;transition:all .2s ease}.nav-list .active a{color:#fff;margin-left:0;padding-right:11px;background:#ffa800;-webkit-transform:translateX(0);-ms-transform:translateX(0);transform:translateX(0)}.nav-list .active a:after{width:0;opacity:0;margin-right:15px}@media only screen and (max-width:1023px){.nav-list{display:none}}.table-cover{position:relative;z-index:50;overflow:auto;padding:7px 0 0;margin:0 0 44px;color:#241f1d}.table-cover table{width:100%;border-collapse:collapse}.table-cover table th{padding-top:10px;padding-bottom:10px;text-align:left;font-weight:400;background:#e2eaef}.table-cover table td{padding-top:17px;padding-bottom:17px;background:#f2f6f8;border-bottom:1px solid #fff}.table-cover table td,.table-cover table th{padding-left:20px;padding-right:20px}.table-cover table td:first-child,.table-cover table th:first-child{padding-left:45px}@media only screen and (max-width:767px){.table-cover{padding-top:4px}.table-cover table td,.table-cover table th{padding-left:10px;padding-right:10px}.table-cover table td:first-child,.table-cover table th:first-child{padding-left:22px}}.num-list{padding:0;margin:-6px -95px 50px;list-style:none;letter-spacing:-4px;font-size:0;line-height:0}.num-list li{display:inline-block;vertical-align:top;letter-spacing:0;width:50%;padding:0 95px;font-size:15px;line-height:1.2}.num-list li:after{content:'';clear:both;display:block}.num-list .inner{display:table;width:100%}.num-list .num{display:table-cell;vertical-align:bottom;font-size:35px;padding:0 10px 0 0;width:0;color:#00b9e1}.num-list .text{width:100%;display:table-cell;vertical-align:bottom;padding:4px 0}@media only screen and (max-width:1023px){.num-list{margin-left:-20px;margin-right:-20px}.num-list li{padding-left:20px;padding-right:20px}}@media only screen and (max-width:767px){.num-list li{width:100%}.num-list .num{width:80px}.num-list .num,.num-list .text{vertical-align:middle}.num-list .text{width:auto}}.align-img-block{position:relative;z-index:50;overflow:hidden;padding:59px 0 41px}.align-img-block:after{content:'';clear:both;display:block}.align-img-block.to-left .visual{float:left;margin-right:95px}.align-img-block.to-right .visual{float:right;margin-left:95px}.align-img-block.to-right .content{float:right}.align-img-block .visual{width:50%;margin-top:6px}.align-img-block .visual img{display:block;width:100%}.align-img-block .content{overflow:hidden;max-width:490px}.align-img-block ul:not([class])+h3,.align-img-block ul:not([class])+.h3{padding-top:18px}.align-img-block h5{margin-top:-4px;line-height:24px;margin-bottom:15px}.align-img-block p+h3{padding-top:24px}.align-img-block+.align-img-block{padding-top:33px}.align-img-block+.container .col-row{padding-top:52px}@media only screen and (max-width:1259px){.align-img-block .content{max-width:none}.align-img-block.to-left .content{padding-right:20px}.align-img-block.to-right .content{float:none;padding-left:20px}}@media only screen and (max-width:1023px){.align-img-block{padding-top:23px}.align-img-block.to-left .visual{float:none;margin-right:auto}.align-img-block.to-left .content{padding-left:20px;padding-right:20px}.align-img-block.to-right .visual{float:none;margin-left:auto}.align-img-block.to-right .content{padding-right:20px}.align-img-block .visual{width:auto;max-width:682px;margin-left:auto;margin-right:auto;margin-bottom:33px}.align-img-block .content{max-width:682px;margin-left:auto;margin-right:auto}.align-img-block h3{margin-bottom:16px}.align-img-block p+h3{padding-top:9px}.align-img-block+.align-img-block{padding-top:0}.align-img-block+.container .col-row{padding-top:2px}}.section-slider{margin:0 0 16px;padding:0 0 5px;position:relative}.section-slider .heading{margin:0 -50px 33px 0}.section-slider .heading h3{margin:0 0 4px}.section-slider .heading h5,.section-slider .heading .h5{color:#696969}.section-slider .container:after{content:'';clear:both;display:block}.section-slider .slider-content{float:left;width:calc(50% - 2px);max-width:530px;padding:64px 120px 0 0}.section-slider .slick-arrow{position:absolute;left:0;bottom:79px;z-index:1100;width:101px;height:101px;background:0 0;border:none;text-indent:-9999px;cursor:pointer;overflow:hidden;display:inline-block;-webkit-appearance:none;-webkit-transition:all .35s ease;-o-transition:all .35s ease;transition:all .35s ease}.section-slider .slick-arrow:after,.section-slider .slick-arrow:before{position:absolute;content:'';top:50%;left:50%}.section-slider .slick-arrow:after{width:16px;height:2px;margin:-1px 0 0 -8px}.section-slider .slick-arrow:before{width:8px;height:8px;border:2px solid transparent;margin:-4px 0 0;-webkit-transform:rotate(45deg);-ms-transform:rotate(45deg);transform:rotate(45deg);z-index:10}.section-slider .slick-prev{margin-left:-102px;background:#e2eaef}.section-slider .slick-prev:after,.section-slider .slick-prev:before{-webkit-transition:all .35s ease;-o-transition:all .35s ease;transition:all .35s ease}.section-slider .slick-prev:after{background:#7aa3ba}.section-slider .slick-prev:before{margin-left:-9px;border-left-color:#7aa3ba;border-bottom-color:#7aa3ba;border-top-color:transparent;border-right-color:transparent}.section-slider .slick-prev:hover{background:#00b9e1}.section-slider .slick-prev:hover:after{background:#fff}.section-slider .slick-prev:hover:before{border-left-color:#fff;border-bottom-color:#fff}.section-slider .slick-next{margin-left:-1px;background:#7aa3ba}.section-slider .slick-next:after{background:#fff}.section-slider .slick-next:before{border-top-color:#fff;border-right-color:#fff;border-left-color:transparent;border-bottom-color:transparent}.section-slider .slick-next:hover{background:#00b9e1}.section-slider .visual{float:right;position:relative}.section-slider .visual img{width:100%;display:block}@media only screen and (max-width:1100px){.section-slider .visual{padding-bottom:101px}.section-slider .slick-arrow{bottom:0}.section-slider .slick-prev{margin-left:0}.section-slider .slick-next{margin-left:101px}}@media only screen and (max-width:1023px){.section-slider{margin-top:0}.section-slider .heading{margin-right:0}.section-slider .visual{float:none;width:auto !important;max-width:683px;margin:0 auto 30px !important;padding:0;position:relative;height:618px;overflow:hidden}.section-slider .visual img{width:auto;height:auto;min-width:100%;min-height:100%;position:absolute;top:50%;left:50%;-webkit-transform:translate(-50%,-50%);-ms-transform:translate(-50%,-50%);transform:translate(-50%,-50%)}.section-slider .slider-content{padding:0;float:none;width:auto;margin:0 auto;max-width:683px}}@media only screen and (max-width:683px){.section-slider .visual{max-width:none;height:auto;overflow:visible;margin-left:-20px !important;margin-right:-20px !important;padding-bottom:101px}.section-slider .visual img{min-width:0;min-height:0;max-width:100%;position:static;-webkit-transform:none;-ms-transform:none;transform:none}.section-slider .slick-arrow{top:auto;bottom:0}}@media only screen and (min-width:1600px){body{font-size:.9375vw}h2,.h2{font-size:2.1875vw;margin-bottom:1.0625vw}h3,.h3{font-size:1.5625vw;margin-bottom:1.25vw}h5,.h5{font-size:.9375vw;margin-bottom:1.0625vw}ul:not([class]){padding-left:1.125vw;margin-bottom:.8125vw}ul:not([class])>li{margin-bottom:1.125vw;padding-left:1.125vw}ul:not([class])>li:after{top:.375vw;width:.375vw;height:.375vw}ol:not([class]){padding-left:1.125vw;margin-bottom:1.1875vw}ol:not([class])>li{padding-left:1.125vw;margin-bottom:1.125vw}ol:not([class])>li:before{margin-right:-.625vw}ul.without-markers>li{margin-bottom:1.4375vw}.container{max-width:74.375vw;padding-left:1.25vw;padding-right:1.25vw}#nav{font-size:1.0625vw;padding-top:2.0625vw}#nav>ul{margin-left:-1.5vw;margin-right:-1.5vw}#nav>ul>li{padding-left:1.5vw;padding-right:1.5vw}#nav .drop{font-size:.8125vw;line-height:1.0625vw;padding-top:.9375vw;margin-right:-2.375vw}#nav .drop li{margin-bottom:.8125vw}#header{padding:.1875vw 1.75vw}#header.fixed .logo{width:3.25vw;height:3.25vw}#header.fixed #nav,#header.fixed .lang-list{padding-top:1.25vw}.logo{width:4.5625vw;height:4.625vw;margin-right:2.5rem}.lang-list{font-size:1.0625vw;padding-top:2.0625vw;margin-right:-.8125vw;margin-left:-.875vw}.lang-list li{margin-right:.8125vw;margin-left:.875vw}.fixed-logo{top:7vw}.fixed-logo li{margin-bottom:1.25vw}.fixed-logo img{width:4.5625vw}.intro{font-size:1.25vw}.intro .centered{padding-top:5.1875vw}.intro .content{max-width:43.125vw;margin-left:-.875vw}.intro h1,.intro .h1{font-size:4.375vw;margin-left:-.375vw;margin-bottom:1.25vw}.intro .slick-dots{bottom:3.125vw;left:1.875vw;margin:0 -.125vw}.intro .slick-dots li{margin:0 .125vw}.intro .slick-dots button{width:1.125vw;height:1.125vw;border-width:.0625vw}.intro .slick-dots button:after{top:.3125vw;left:.3125vw;right:.3125vw;bottom:.3125vw}.intro .btn-scroll{width:1.5vw;height:2.5vw;bottom:1.875vw;margin-left:-.75vw;border-width:.0625vw;border-radius:.625vw}.intro .btn-scroll:after{top:.4375vw;width:.375vw;height:.375vw;margin-left:-.1875vw}p{margin-bottom:1.1875vw}.about-section .content{padding-top:10.0625vw;padding-right:7.8125vw}.about-section .more-btn{margin-bottom:6vw}.about-section .presentation{padding-bottom:9.6875vw;font-size:1.5625vw}.about-section .presentation a{width:30.3125vw;padding:2.25vw 6.25vw 2.3125vw 3.125vw}.about-section .presentation a .ico{right:1.875vw;width:2.375vw;height:2.375vw;border-width:.0625vw;margin-top:-1.0625vw}.about-section .presentation a .ico:before{width:.5625vw;height:.5625vw;margin-top:-.125vw;margin-left:-.25vw;border-width:.0625vw}.about-section .presentation a .ico:after{margin-top:-.5625vw;height:1.0625vw;width:.0625vw}.more-btn{padding-top:.875vw}.more-btn a{padding-left:1.375vw}.more-btn a:after{top:.4375vw;left:-.5vw;height:.125vw;width:1.375vw}.branches-list>li{font-size:.9375vw}.news-section{padding-top:4.4375vw}.news-section h2{margin-bottom:5.75vw}.news-section .news-preview{font-size:1.0625vw}.news-section .news-preview .visual-slider .visual{margin-left:-3.125vw;margin-right:-3.125vw;margin-bottom:2.9375vw}.news-section .news-preview .visual-slider .slick-dots{left:3.125vw;margin-left:-.125vw;margin-right:-.125vw}.news-section .news-preview .visual-slider .slick-dots li{margin-left:.125vw;margin-right:.125vw}.news-section .news-preview .visual-slider .slick-dots button{width:1.125vw;height:1.125vw;border-width:.0625vw}.news-section .news-preview .visual-slider .slick-dots button:after{top:.3125vw;left:.3125vw;right:.3125vw;bottom:.3125vw}.news-section .news-preview time{font-size:.8125vw;margin-bottom:1.4375vw}.news-section .news-preview a{padding-left:3.125vw;padding-right:3.125vw;padding-bottom:3.4375vw}.news-section .all-news{font-size:1.5625vw;padding:2.75vw 2.9375vw 7.1875vw}.news-section .all-news .ico{bottom:3.3125vw;left:3.0625vw;width:2.375vw;height:2.375vw;border-width:.0625vw;margin-top:-1.1875vw}.news-section .all-news .ico:after{width:1.0625vw;height:.0625vw;margin-left:-.5625vw}.news-section .all-news .ico:before{width:.5625vw;height:.5625vw;margin-top:-.25vw;margin-left:-.125vw;border-width:.0625vw}.news-section .news-slider{font-size:1.0625vw}.news-section .news-slider a{padding:2.75vw 2.5625vw 7.1875vw}.news-section .news-slider .title{font-size:1.5625vw;margin-bottom:1.25vw;min-height:7.625vw}.news-section .news-slider .slick-dots{bottom:2.8125vw;left:2.3125vw;margin-left:-.125vw;margin-right:-.125vw}.news-section .news-slider .slick-dots li{margin-left:.125vw;margin-right:.125vw}.news-section .news-slider .slick-dots button{width:1.125vw;height:1.125vw;border-width:.0625vw}.news-section .news-slider .slick-dots button:after{top:.3125vw;left:.3125vw;right:.3125vw;bottom:.3125vw}.news-list{margin-left:-3.125vw;margin-right:-3.125vw;margin-bottom:3.4375vw;padding-left:6.25vw}.news-list li{font-size:.9375vw;padding-left:3.125vw;padding-right:3.125vw;margin-bottom:3.4375vw}.news-list time{font-size:.8125vw;margin-bottom:1.4375vw}.news-list .content{margin-right:-6.25vw;padding:2.375vw 3.125vw;width:calc(50% + 3.125vw)}.news-list .visual{width:calc(50% + 3.125vw)}.footer-list{padding:2.875vw 6.75vw 1.875vw 3.25vw}.footer-list>li{font-size:.8125vw}.footer-list h5{margin-bottom:1.5vw}.footer-list ul li{margin-bottom:.9375vw}#footer{font-size:.8125vw}#footer .content{padding:2.5vw 3.125vw}#footer .logo-list{margin:0 -.9375vw 4.8125vw}#footer .logo-list li{margin:0 .9375vw}.inner-page #wrapper{padding-top:5.8125vw}.inner-page #header{padding-bottom:.9375vw;border-bottom-width:.0625vw}.inner-page #header .logo{width:4.5625vw;height:4.625vw}.inner-page #header #nav,.inner-page #header .lang-list{padding-top:2.0625vw}.section-heading{min-height:19.5625vw;padding:6.125vw 0 3.75vw}.section-heading h1{left:-.25vw;font-size:3.75vw;margin-bottom:2.0625vw}.section-heading .big-btn-holder{font-size:1.5625vw;margin:-.1875vw -12.5vw -3.75vw 0}.section-heading .big-btn-holder a{padding:3.1875vw 5.625vw 3.25vw 3.125vw}.section-heading .big-btn-holder .ico{width:2.375vw;height:2.375vw;border-width:.0625vw;margin-top:-1.1865vw}.section-heading .big-btn-holder .ico:after{width:1.0625vw;height:.0625vw;margin-left:-.5625vw}.section-heading .big-btn-holder .ico:before{width:.5625vw;height:.5625vw;margin-top:-.25vw;margin-left:-.125vw;border-width:.0625vw}.section-heading .theme-block{padding:1.125vw 0 0;margin:0 -9.25vw -3.75vw 0}.breadcrumbs{margin:0 0 .5vw}.breadcrumbs li{font-size:.8125vw}.breadcrumbs li:before{width:1.375vw;height:.125vw;margin:.4375vw .75vw 0 .6875vw}.product-section .tab-head-content{padding:3.3125vw 5.625vw 11vw calc(50% + 6.0625vw)}.product-section .tab-control li{font-size:.9375vw}.product-section .tab-control a{padding:2.25vw 1.25vw 1.9375vw;min-height:8.625vw}.product-section .tab-control .ico-holder{margin-bottom:.625vw}.product-section .more-btn a{padding-left:1.875vw}.product-section .trade-btn a{padding:3.1875vw 1.5625vw 3.25vw 8.0625vw;font-size:1.5625vw}.product-section .tab-product-description{padding:4vw 0 5.5vw}.product-section .tab-product-description ol:not([class]){padding-left:4.6875vw}.product-section .trade-btn .ico{left:2.0625vw;width:2.375vw;height:2.375vw;margin-top:-1.0625vw}.product-section .trade-btn .ico:before{width:.625vw;height:.625vw;margin-top:-.3125vw;margin-left:-.375vw}.product-section .trade-btn .ico:after{width:1.0625vw;margin-left:-.5vw}.product-section .text-image-block h3{margin-left:-622.75vw}.product-section .text-image-block ol:not([class]){padding-left:1.6875vw}.contacts-list{font-size:.9375vw;padding-top:1.125vw;margin-bottom:1.3125vw}.product-item-section .container{padding-left:.6875vw;padding-right:.6875vw}.product-item-section .section-heading{margin-bottom:5.875vw}.small-container{max-width:66vw}.image-block{padding-top:4.375vw;padding-bottom:5.3125vw}.image-block .content{max-width:37vw;padding-left:3.125vw;padding-right:3.125vw}.image-block ul:not([class]){margin-bottom:2.125vw;padding:.25vw 1.875vw 0 2.1875vw}.image-block ul:not([class])>li{padding-left:.875vw;margin-bottom:1.125vw}.text-image-block{margin-top:3.75vw;padding-bottom:4.8125vw}.text-image-block .container{max-width:77.25vw}.text-image-block h3{padding:3.1875vw 6vw 3.25vw 624.9375vw;margin:-4.3125vw 0 3.625vw -623.5625vw}.text-image-block .content{padding-right:calc(25% + 3.125vw)}.text-columns-block{padding-top:5.75vw;padding-bottom:5.3125vw}.text-columns-block .col-row{padding-right:3.125vw;margin-left:-1.5625vw;margin-right:-1.5625vw;letter-spacing:-.3125vw}.text-columns-block .col-row>.col{margin-bottom:.625vw;padding-left:1.5625vw;padding-right:1.5625vw}.text-columns-block h2{margin-bottom:5.3125vw}.text-columns-block p{margin-bottom:1.125vw}.text-columns-block p+.attach-list{margin-top:-.3125vw}.attach-list a{min-height:2.5vw;padding:.75vw 0 0 2.6875vw}.attach-list .ico{width:1.6875vw}.attach-list .ico img{width:100%}.adwards-section h1{font-size:4.375vw;margin-top:-.625vw}.adwards-section .container{padding-left:.625vw;padding-right:.625vw}.adwards-section .adwards-slider{padding:2.625vw .625vw 3.4375vw 3.125vw}.adwards-section .adwards-slider .slick-arrow{bottom:6.125vw;width:6.3125vw;height:6.3125vw}.adwards-section .adwards-slider .slick-arrow:after{width:1vw;height:.125vw;margin:-.0625vw 0 0 -.5vw}.adwards-section .adwards-slider .slick-arrow:before{width:.5vw;height:.5vw;border-width:.125vw;margin:-.25vw 0 0}.adwards-section .adwards-slider .slick-prev:before{margin-left:-.5625vw}.adwards-section .adwards-content{max-width:29.5vw;min-height:19.4375vw;padding:1.75vw 4.0625vw 1.75vw 0}.adwards-section h5{margin-bottom:.625vw}.contacts-section .container{padding-left:.6875vw;padding-right:.6875vw}.map-section .tab-control>li{font-size:1.5625vw}.map-section .tab-control a{padding:2.3125vw 2.8125vw}.map-section .map{height:33.3125vw}.map-section .tab-content{padding:5.8125vw 3.125vw 1.25vw}.map-section .tab-content dl{margin:0 0 1.125vw}.contacts-form .form-content{padding:2.8125vw 3.125vw 1.25vw}.contacts-form .form-row{margin:0 0 1.8125vw}.contacts-form .form-row>label{padding:.8125vw 0 0 3vw}.contacts-form .row-content{padding:0 0 0 3.125vw}.contacts-form textarea,.contacts-form input.text{padding-left:.9375vw;padding-right:.9375vw;border-width:.0625vw}.contacts-form input.text{height:2.6875vw}.contacts-form textarea{height:6.875vw;padding-top:.625vw;padding-bottom:.625vw}.contacts-form .submit-row{padding:0 0 0 3.125vw}.contacts-form .submit-row .captcha{margin:0 1.75vw 0 0}.contacts-form .input-holder{padding:3.125vw 0}.faq-list{margin:0 -5.9375vw}.faq-list li{padding-top:1.6875vw;padding-bottom:1.6875vw}.faq-list .answer,.faq-list .question{padding:0 5.9375vw}.selecter{font-size:1.0625vw}.selecter .selecter-selected{padding:0 6.25vw 0 3.75vw;font-size:1.5625vw;height:8.3125vw;line-height:8vw}.selecter .selecter-selected:after{right:2.0625vw;width:1.125vw;height:1.125vw;margin:-.8125vw 0 0;border-width:.0625vw}.selecter.open .selecter-selected:after{margin-top:-.0625vw}.selecter .selecter-options{margin:-1.875vw 0 0;padding:0 0 1.25vw;max-height:25vw}.selecter .selecter-item{padding:.3125vw 3.6875vw;margin:0 0 1.625vw}.faq-list-holder{padding:3.4375vw 0 0}.faq-list-holder .col-row{margin-left:-5.9375vw;margin-right:-5.9375vw}.faq-list-holder .col-row>.col{padding-left:5.9375vw;padding-right:5.9375vw}.faq-section{padding-bottom:1.8125vw}.news-item-section{padding:0 0 4.625vw}.news-item-section .heading{padding:6.125vw 0 0}.news-item-section .container{max-width:75.75vw}.news-item-section h1{font-size:3.75vw;margin-bottom:4.125vw}.news-item-section .links-list{margin:0 0 3.5625vw}.news-item-section .links-list li{font-size:1.5625vw;border-left-width:.0625vw}.news-item-section .links-list a{padding:3.3125vw 3vw}.news-item{max-width:51.6875vw}.news-item .date{font-size:.8125vw;margin:0 0 1.1875vw}.news-item h2{margin-bottom:2.5625vw}.news-item .visual{margin:0 0 2.9375vw}.fixed-news-block{max-height:calc(100vh - 5.8125vw)}.fixed-news-block h2{padding:0 2.875vw;margin-bottom:.6875vw}.fixed-news-block .scroll-holder{padding:2.625vw 0 0}.fixed-news-list time{margin:0 0 1.4375vw;font-size:.8125vw}.fixed-news-list li{border-top-width:.0625vw}.fixed-news-list a{padding:1.125vw 3vw}#header.fixed.show+.news-item-section .fixed-news-block{top:5.8125vw}.default-section{padding:6.125vw 0 0}.default-section .container{max-width:75.75vw}.default-section h1{font-size:3.75vw}.default-section .preview-img{height:19.625vw;margin:0 0 7.125vw}.default-section .preview-img.height-2{height:21.3125vw;margin:0 0 6.75vw}.default-section .preview-img+.align-img-block h3{margin-bottom:.875vw}.default-section h3,.default-section .h3{margin-bottom:1.25vw}.default-section .nav-list{margin:-2.4375vw 0 0;font-size:.625vw}.default-section .nav-list li{margin:0 0 1.25vw}.default-section .nav-list a{padding:.5625vw .9375vw .5625vw .6875vw;margin-left:.75vw}.default-section .nav-list a:hover{padding-right:.6875vw}.default-section .nav-list .active a{padding-right:.6875vw}.default-section .block-title{font-size:2.1875vw;padding:2.8125vw 6.25vw 2.875vw 5.9375vw}.default-section .text-block{padding:2.1875vw 0 1.5625vw}.default-section ul:not([class]){margin-bottom:1.875vw;padding-left:2.875vw}.default-section ul:not([class])+h3,.default-section ul:not([class])+.h3{padding-top:.5625vw}.default-section .list-group{margin-bottom:-.375vw}.default-section .list-group ul:not([class]){padding-top:1.5625vw}.default-section .list-group ul:not([class])>li{margin-bottom:.375vw}.default-section .col-row{margin-left:-5.9375vw;margin-right:-5.9375vw}.default-section .col-row>.col{padding-left:5.9375vw;padding-right:5.9375vw}.default-section .attach-list{margin-bottom:3.6875vw}.table-cover{padding:.4375vw 0 0;margin:0 0 2.75vw}.table-cover table th{padding-top:.625vw;padding-bottom:.625vw}.table-cover table td{padding-top:1.0625vw;padding-bottom:1.0625vw;border-bottom-width:.0625vw}.table-cover table td,.table-cover table th{padding-left:1.25vw;padding-right:1.25vw}.table-cover table td:first-child,.table-cover table th:first-child{padding-left:2.8125vw}.num-list{margin:-.375vw -5.9375vw 3.125vw}.num-list li{padding:0 5.9375vw;font-size:.9375vw}.num-list .num{font-size:2.1875vw;padding:0 .625vw 0 0}.num-list .text{padding:.25vw 0}.align-img-block{padding:3.6875vw 0 2.5625vw}.align-img-block.to-left .visual{margin-right:5.9375vw}.align-img-block.to-right .visual{margin-left:5.9375vw}.align-img-block .visual{margin-top:.375vw}.align-img-block .content{max-width:30.625vw}.align-img-block ul:not([class])+h3,.align-img-block ul:not([class])+.h3{padding-top:1.125vw}.align-img-block h5{margin-top:-.25vw;line-height:1.5vw;margin-bottom:.9375vw}.align-img-block p+h3{padding-top:1.5vw}.align-img-block+.align-img-block{padding-top:2.0625vw}.align-img-block+.container .col-row{padding-top:3.25vw}.section-slider{margin:0 0 1vw;padding:0 0 .3125vw}.section-slider .heading{margin:0 -3.125vw 2.0625vw 0}.section-slider .heading h3{margin:0 0 .25vw}.section-slider .slider-content{max-width:33.125vw;width:calc(50% - .125vw);padding:4vw 7.5vw 0 0}.section-slider .slick-arrow{bottom:5.25vw;width:6.3125vw;height:6.3125vw}.section-slider .slick-arrow:after{width:1vw;height:.125vw;margin:-.0625vw 0 0 -.5vw}.section-slider .slick-arrow:before{width:.5vw;height:.5vw;border-width:.125vw;margin:-.25vw 0 0}.section-slider .slick-prev{margin-left:-6.375vw}.section-slider .slick-prev:before{margin-left:-.5625vw}.section-slider .slick-next{margin-left:-.0625vw}.section-slider .visual{margin-left:-5.9375vw}} /*! Animate.css - http://daneden.me/animate Licensed under the MIT license - http://opensource.org/licenses/MIT Copyright (c) 2014 Daniel Eden */ .animated{-webkit-animation-duration:1s;animation-duration:1s;-webkit-animation-fill-mode:both;animation-fill-mode:both}.animated.infinite{-webkit-animation-iteration-count:infinite;animation-iteration-count:infinite}.animated.hinge{-webkit-animation-duration:2s;animation-duration:2s}@-webkit-keyframes bounce{0%,20%,53%,80%,100%{-webkit-transition-timing-function:cubic-bezier(.215,.61,.355,1);transition-timing-function:cubic-bezier(.215,.61,.355,1);-webkit-transform:translate3d(0,0,0);transform:translate3d(0,0,0)}40%,43%{-webkit-transition-timing-function:cubic-bezier(.755,.05,.855,.06);transition-timing-function:cubic-bezier(.755,.05,.855,.06);-webkit-transform:translate3d(0,-30px,0);transform:translate3d(0,-30px,0)}70%{-webkit-transition-timing-function:cubic-bezier(.755,.05,.855,.06);transition-timing-function:cubic-bezier(.755,.05,.855,.06);-webkit-transform:translate3d(0,-15px,0);transform:translate3d(0,-15px,0)}90%{-webkit-transform:translate3d(0,-4px,0);transform:translate3d(0,-4px,0)}}@keyframes bounce{0%,20%,53%,80%,100%{-webkit-transition-timing-function:cubic-bezier(.215,.61,.355,1);-o-transition-timing-function:cubic-bezier(.215,.61,.355,1);transition-timing-function:cubic-bezier(.215,.61,.355,1);-webkit-transform:translate3d(0,0,0);transform:translate3d(0,0,0)}40%,43%{-webkit-transition-timing-function:cubic-bezier(.755,.05,.855,.06);-o-transition-timing-function:cubic-bezier(.755,.05,.855,.06);transition-timing-function:cubic-bezier(.755,.05,.855,.06);-webkit-transform:translate3d(0,-30px,0);transform:translate3d(0,-30px,0)}70%{-webkit-transition-timing-function:cubic-bezier(.755,.05,.855,.06);-o-transition-timing-function:cubic-bezier(.755,.05,.855,.06);transition-timing-function:cubic-bezier(.755,.05,.855,.06);-webkit-transform:translate3d(0,-15px,0);transform:translate3d(0,-15px,0)}90%{-webkit-transform:translate3d(0,-4px,0);transform:translate3d(0,-4px,0)}}.bounce{-webkit-animation-name:bounce;animation-name:bounce;-webkit-transform-origin:center bottom;-ms-transform-origin:center bottom;transform-origin:center bottom}@-webkit-keyframes flash{0%,50%,100%{opacity:1}25%,75%{opacity:0}}@keyframes flash{0%,50%,100%{opacity:1}25%,75%{opacity:0}}.flash{-webkit-animation-name:flash;animation-name:flash}@-webkit-keyframes pulse{0%{-webkit-transform:scale3d(1,1,1);transform:scale3d(1,1,1)}50%{-webkit-transform:scale3d(1.05,1.05,1.05);transform:scale3d(1.05,1.05,1.05)}100%{-webkit-transform:scale3d(1,1,1);transform:scale3d(1,1,1)}}@keyframes pulse{0%{-webkit-transform:scale3d(1,1,1);transform:scale3d(1,1,1)}50%{-webkit-transform:scale3d(1.05,1.05,1.05);transform:scale3d(1.05,1.05,1.05)}100%{-webkit-transform:scale3d(1,1,1);transform:scale3d(1,1,1)}}.pulse{-webkit-animation-name:pulse;animation-name:pulse}@-webkit-keyframes rubberBand{0%{-webkit-transform:scale3d(1,1,1);transform:scale3d(1,1,1)}30%{-webkit-transform:scale3d(1.25,.75,1);transform:scale3d(1.25,.75,1)}40%{-webkit-transform:scale3d(.75,1.25,1);transform:scale3d(.75,1.25,1)}50%{-webkit-transform:scale3d(1.15,.85,1);transform:scale3d(1.15,.85,1)}65%{-webkit-transform:scale3d(.95,1.05,1);transform:scale3d(.95,1.05,1)}75%{-webkit-transform:scale3d(1.05,.95,1);transform:scale3d(1.05,.95,1)}100%{-webkit-transform:scale3d(1,1,1);transform:scale3d(1,1,1)}}@keyframes rubberBand{0%{-webkit-transform:scale3d(1,1,1);transform:scale3d(1,1,1)}30%{-webkit-transform:scale3d(1.25,.75,1);transform:scale3d(1.25,.75,1)}40%{-webkit-transform:scale3d(.75,1.25,1);transform:scale3d(.75,1.25,1)}50%{-webkit-transform:scale3d(1.15,.85,1);transform:scale3d(1.15,.85,1)}65%{-webkit-transform:scale3d(.95,1.05,1);transform:scale3d(.95,1.05,1)}75%{-webkit-transform:scale3d(1.05,.95,1);transform:scale3d(1.05,.95,1)}100%{-webkit-transform:scale3d(1,1,1);transform:scale3d(1,1,1)}}.rubberBand{-webkit-animation-name:rubberBand;animation-name:rubberBand}@-webkit-keyframes shake{0%,100%{-webkit-transform:translate3d(0,0,0);transform:translate3d(0,0,0)}10%,30%,50%,70%,90%{-webkit-transform:translate3d(-10px,0,0);transform:translate3d(-10px,0,0)}20%,40%,60%,80%{-webkit-transform:translate3d(10px,0,0);transform:translate3d(10px,0,0)}}@keyframes shake{0%,100%{-webkit-transform:translate3d(0,0,0);transform:translate3d(0,0,0)}10%,30%,50%,70%,90%{-webkit-transform:translate3d(-10px,0,0);transform:translate3d(-10px,0,0)}20%,40%,60%,80%{-webkit-transform:translate3d(10px,0,0);transform:translate3d(10px,0,0)}}.shake{-webkit-animation-name:shake;animation-name:shake}@-webkit-keyframes swing{20%{-webkit-transform:rotate3d(0,0,1,15deg);transform:rotate3d(0,0,1,15deg)}40%{-webkit-transform:rotate3d(0,0,1,-10deg);transform:rotate3d(0,0,1,-10deg)}60%{-webkit-transform:rotate3d(0,0,1,5deg);transform:rotate3d(0,0,1,5deg)}80%{-webkit-transform:rotate3d(0,0,1,-5deg);transform:rotate3d(0,0,1,-5deg)}100%{-webkit-transform:rotate3d(0,0,1,0deg);transform:rotate3d(0,0,1,0deg)}}@keyframes swing{20%{-webkit-transform:rotate3d(0,0,1,15deg);transform:rotate3d(0,0,1,15deg)}40%{-webkit-transform:rotate3d(0,0,1,-10deg);transform:rotate3d(0,0,1,-10deg)}60%{-webkit-transform:rotate3d(0,0,1,5deg);transform:rotate3d(0,0,1,5deg)}80%{-webkit-transform:rotate3d(0,0,1,-5deg);transform:rotate3d(0,0,1,-5deg)}100%{-webkit-transform:rotate3d(0,0,1,0deg);transform:rotate3d(0,0,1,0deg)}}.swing{-webkit-transform-origin:top center;-ms-transform-origin:top center;transform-origin:top center;-webkit-animation-name:swing;animation-name:swing}@-webkit-keyframes tada{0%{-webkit-transform:scale3d(1,1,1);transform:scale3d(1,1,1)}10%,20%{-webkit-transform:scale3d(.9,.9,.9) rotate3d(0,0,1,-3deg);transform:scale3d(.9,.9,.9) rotate3d(0,0,1,-3deg)}30%,50%,70%,90%{-webkit-transform:scale3d(1.1,1.1,1.1) rotate3d(0,0,1,3deg);transform:scale3d(1.1,1.1,1.1) rotate3d(0,0,1,3deg)}40%,60%,80%{-webkit-transform:scale3d(1.1,1.1,1.1) rotate3d(0,0,1,-3deg);transform:scale3d(1.1,1.1,1.1) rotate3d(0,0,1,-3deg)}100%{-webkit-transform:scale3d(1,1,1);transform:scale3d(1,1,1)}}@keyframes tada{0%{-webkit-transform:scale3d(1,1,1);transform:scale3d(1,1,1)}10%,20%{-webkit-transform:scale3d(.9,.9,.9) rotate3d(0,0,1,-3deg);transform:scale3d(.9,.9,.9) rotate3d(0,0,1,-3deg)}30%,50%,70%,90%{-webkit-transform:scale3d(1.1,1.1,1.1) rotate3d(0,0,1,3deg);transform:scale3d(1.1,1.1,1.1) rotate3d(0,0,1,3deg)}40%,60%,80%{-webkit-transform:scale3d(1.1,1.1,1.1) rotate3d(0,0,1,-3deg);transform:scale3d(1.1,1.1,1.1) rotate3d(0,0,1,-3deg)}100%{-webkit-transform:scale3d(1,1,1);transform:scale3d(1,1,1)}}.tada{-webkit-animation-name:tada;animation-name:tada}@-webkit-keyframes wobble{0%{-webkit-transform:none;transform:none}15%{-webkit-transform:translate3d(-25%,0,0) rotate3d(0,0,1,-5deg);transform:translate3d(-25%,0,0) rotate3d(0,0,1,-5deg)}30%{-webkit-transform:translate3d(20%,0,0) rotate3d(0,0,1,3deg);transform:translate3d(20%,0,0) rotate3d(0,0,1,3deg)}45%{-webkit-transform:translate3d(-15%,0,0) rotate3d(0,0,1,-3deg);transform:translate3d(-15%,0,0) rotate3d(0,0,1,-3deg)}60%{-webkit-transform:translate3d(10%,0,0) rotate3d(0,0,1,2deg);transform:translate3d(10%,0,0) rotate3d(0,0,1,2deg)}75%{-webkit-transform:translate3d(-5%,0,0) rotate3d(0,0,1,-1deg);transform:translate3d(-5%,0,0) rotate3d(0,0,1,-1deg)}100%{-webkit-transform:none;transform:none}}@keyframes wobble{0%{-webkit-transform:none;transform:none}15%{-webkit-transform:translate3d(-25%,0,0) rotate3d(0,0,1,-5deg);transform:translate3d(-25%,0,0) rotate3d(0,0,1,-5deg)}30%{-webkit-transform:translate3d(20%,0,0) rotate3d(0,0,1,3deg);transform:translate3d(20%,0,0) rotate3d(0,0,1,3deg)}45%{-webkit-transform:translate3d(-15%,0,0) rotate3d(0,0,1,-3deg);transform:translate3d(-15%,0,0) rotate3d(0,0,1,-3deg)}60%{-webkit-transform:translate3d(10%,0,0) rotate3d(0,0,1,2deg);transform:translate3d(10%,0,0) rotate3d(0,0,1,2deg)}75%{-webkit-transform:translate3d(-5%,0,0) rotate3d(0,0,1,-1deg);transform:translate3d(-5%,0,0) rotate3d(0,0,1,-1deg)}100%{-webkit-transform:none;transform:none}}.wobble{-webkit-animation-name:wobble;animation-name:wobble}@-webkit-keyframes bounceIn{0%,20%,40%,60%,80%,100%{-webkit-transition-timing-function:cubic-bezier(.215,.61,.355,1);transition-timing-function:cubic-bezier(.215,.61,.355,1)}0%{opacity:0;-webkit-transform:scale3d(.3,.3,.3);transform:scale3d(.3,.3,.3)}20%{-webkit-transform:scale3d(1.1,1.1,1.1);transform:scale3d(1.1,1.1,1.1)}40%{-webkit-transform:scale3d(.9,.9,.9);transform:scale3d(.9,.9,.9)}60%{opacity:1;-webkit-transform:scale3d(1.03,1.03,1.03);transform:scale3d(1.03,1.03,1.03)}80%{-webkit-transform:scale3d(.97,.97,.97);transform:scale3d(.97,.97,.97)}100%{opacity:1;-webkit-transform:scale3d(1,1,1);transform:scale3d(1,1,1)}}@keyframes bounceIn{0%,20%,40%,60%,80%,100%{-webkit-transition-timing-function:cubic-bezier(.215,.61,.355,1);-o-transition-timing-function:cubic-bezier(.215,.61,.355,1);transition-timing-function:cubic-bezier(.215,.61,.355,1)}0%{opacity:0;-webkit-transform:scale3d(.3,.3,.3);transform:scale3d(.3,.3,.3)}20%{-webkit-transform:scale3d(1.1,1.1,1.1);transform:scale3d(1.1,1.1,1.1)}40%{-webkit-transform:scale3d(.9,.9,.9);transform:scale3d(.9,.9,.9)}60%{opacity:1;-webkit-transform:scale3d(1.03,1.03,1.03);transform:scale3d(1.03,1.03,1.03)}80%{-webkit-transform:scale3d(.97,.97,.97);transform:scale3d(.97,.97,.97)}100%{opacity:1;-webkit-transform:scale3d(1,1,1);transform:scale3d(1,1,1)}}.bounceIn{-webkit-animation-name:bounceIn;animation-name:bounceIn;-webkit-animation-duration:.75s;animation-duration:.75s}@-webkit-keyframes bounceInDown{0%,60%,75%,90%,100%{-webkit-transition-timing-function:cubic-bezier(.215,.61,.355,1);transition-timing-function:cubic-bezier(.215,.61,.355,1)}0%{opacity:0;-webkit-transform:translate3d(0,-3000px,0);transform:translate3d(0,-3000px,0)}60%{opacity:1;-webkit-transform:translate3d(0,25px,0);transform:translate3d(0,25px,0)}75%{-webkit-transform:translate3d(0,-10px,0);transform:translate3d(0,-10px,0)}90%{-webkit-transform:translate3d(0,5px,0);transform:translate3d(0,5px,0)}100%{-webkit-transform:none;transform:none}}@keyframes bounceInDown{0%,60%,75%,90%,100%{-webkit-transition-timing-function:cubic-bezier(.215,.61,.355,1);-o-transition-timing-function:cubic-bezier(.215,.61,.355,1);transition-timing-function:cubic-bezier(.215,.61,.355,1)}0%{opacity:0;-webkit-transform:translate3d(0,-3000px,0);transform:translate3d(0,-3000px,0)}60%{opacity:1;-webkit-transform:translate3d(0,25px,0);transform:translate3d(0,25px,0)}75%{-webkit-transform:translate3d(0,-10px,0);transform:translate3d(0,-10px,0)}90%{-webkit-transform:translate3d(0,5px,0);transform:translate3d(0,5px,0)}100%{-webkit-transform:none;transform:none}}.bounceInDown{-webkit-animation-name:bounceInDown;animation-name:bounceInDown}@-webkit-keyframes bounceInLeft{0%,60%,75%,90%,100%{-webkit-transition-timing-function:cubic-bezier(.215,.61,.355,1);transition-timing-function:cubic-bezier(.215,.61,.355,1)}0%{opacity:0;-webkit-transform:translate3d(-3000px,0,0);transform:translate3d(-3000px,0,0)}60%{opacity:1;-webkit-transform:translate3d(25px,0,0);transform:translate3d(25px,0,0)}75%{-webkit-transform:translate3d(-10px,0,0);transform:translate3d(-10px,0,0)}90%{-webkit-transform:translate3d(5px,0,0);transform:translate3d(5px,0,0)}100%{-webkit-transform:none;transform:none}}@keyframes bounceInLeft{0%,60%,75%,90%,100%{-webkit-transition-timing-function:cubic-bezier(.215,.61,.355,1);-o-transition-timing-function:cubic-bezier(.215,.61,.355,1);transition-timing-function:cubic-bezier(.215,.61,.355,1)}0%{opacity:0;-webkit-transform:translate3d(-3000px,0,0);transform:translate3d(-3000px,0,0)}60%{opacity:1;-webkit-transform:translate3d(25px,0,0);transform:translate3d(25px,0,0)}75%{-webkit-transform:translate3d(-10px,0,0);transform:translate3d(-10px,0,0)}90%{-webkit-transform:translate3d(5px,0,0);transform:translate3d(5px,0,0)}100%{-webkit-transform:none;transform:none}}.bounceInLeft{-webkit-animation-name:bounceInLeft;animation-name:bounceInLeft}@-webkit-keyframes bounceInRight{0%,60%,75%,90%,100%{-webkit-transition-timing-function:cubic-bezier(.215,.61,.355,1);transition-timing-function:cubic-bezier(.215,.61,.355,1)}0%{opacity:0;-webkit-transform:translate3d(3000px,0,0);transform:translate3d(3000px,0,0)}60%{opacity:1;-webkit-transform:translate3d(-25px,0,0);transform:translate3d(-25px,0,0)}75%{-webkit-transform:translate3d(10px,0,0);transform:translate3d(10px,0,0)}90%{-webkit-transform:translate3d(-5px,0,0);transform:translate3d(-5px,0,0)}100%{-webkit-transform:none;transform:none}}@keyframes bounceInRight{0%,60%,75%,90%,100%{-webkit-transition-timing-function:cubic-bezier(.215,.61,.355,1);-o-transition-timing-function:cubic-bezier(.215,.61,.355,1);transition-timing-function:cubic-bezier(.215,.61,.355,1)}0%{opacity:0;-webkit-transform:translate3d(3000px,0,0);transform:translate3d(3000px,0,0)}60%{opacity:1;-webkit-transform:translate3d(-25px,0,0);transform:translate3d(-25px,0,0)}75%{-webkit-transform:translate3d(10px,0,0);transform:translate3d(10px,0,0)}90%{-webkit-transform:translate3d(-5px,0,0);transform:translate3d(-5px,0,0)}100%{-webkit-transform:none;transform:none}}.bounceInRight{-webkit-animation-name:bounceInRight;animation-name:bounceInRight}@-webkit-keyframes bounceInUp{0%,60%,75%,90%,100%{-webkit-transition-timing-function:cubic-bezier(.215,.61,.355,1);transition-timing-function:cubic-bezier(.215,.61,.355,1)}0%{opacity:0;-webkit-transform:translate3d(0,3000px,0);transform:translate3d(0,3000px,0)}60%{opacity:1;-webkit-transform:translate3d(0,-20px,0);transform:translate3d(0,-20px,0)}75%{-webkit-transform:translate3d(0,10px,0);transform:translate3d(0,10px,0)}90%{-webkit-transform:translate3d(0,-5px,0);transform:translate3d(0,-5px,0)}100%{-webkit-transform:translate3d(0,0,0);transform:translate3d(0,0,0)}}@keyframes bounceInUp{0%,60%,75%,90%,100%{-webkit-transition-timing-function:cubic-bezier(.215,.61,.355,1);-o-transition-timing-function:cubic-bezier(.215,.61,.355,1);transition-timing-function:cubic-bezier(.215,.61,.355,1)}0%{opacity:0;-webkit-transform:translate3d(0,3000px,0);transform:translate3d(0,3000px,0)}60%{opacity:1;-webkit-transform:translate3d(0,-20px,0);transform:translate3d(0,-20px,0)}75%{-webkit-transform:translate3d(0,10px,0);transform:translate3d(0,10px,0)}90%{-webkit-transform:translate3d(0,-5px,0);transform:translate3d(0,-5px,0)}100%{-webkit-transform:translate3d(0,0,0);transform:translate3d(0,0,0)}}.bounceInUp{-webkit-animation-name:bounceInUp;animation-name:bounceInUp}@-webkit-keyframes bounceOut{20%{-webkit-transform:scale3d(.9,.9,.9);transform:scale3d(.9,.9,.9)}50%,55%{opacity:1;-webkit-transform:scale3d(1.1,1.1,1.1);transform:scale3d(1.1,1.1,1.1)}100%{opacity:0;-webkit-transform:scale3d(.3,.3,.3);transform:scale3d(.3,.3,.3)}}@keyframes bounceOut{20%{-webkit-transform:scale3d(.9,.9,.9);transform:scale3d(.9,.9,.9)}50%,55%{opacity:1;-webkit-transform:scale3d(1.1,1.1,1.1);transform:scale3d(1.1,1.1,1.1)}100%{opacity:0;-webkit-transform:scale3d(.3,.3,.3);transform:scale3d(.3,.3,.3)}}.bounceOut{-webkit-animation-name:bounceOut;animation-name:bounceOut;-webkit-animation-duration:.75s;animation-duration:.75s}@-webkit-keyframes bounceOutDown{20%{-webkit-transform:translate3d(0,10px,0);transform:translate3d(0,10px,0)}40%,45%{opacity:1;-webkit-transform:translate3d(0,-20px,0);transform:translate3d(0,-20px,0)}100%{opacity:0;-webkit-transform:translate3d(0,2000px,0);transform:translate3d(0,2000px,0)}}@keyframes bounceOutDown{20%{-webkit-transform:translate3d(0,10px,0);transform:translate3d(0,10px,0)}40%,45%{opacity:1;-webkit-transform:translate3d(0,-20px,0);transform:translate3d(0,-20px,0)}100%{opacity:0;-webkit-transform:translate3d(0,2000px,0);transform:translate3d(0,2000px,0)}}.bounceOutDown{-webkit-animation-name:bounceOutDown;animation-name:bounceOutDown}@-webkit-keyframes bounceOutLeft{20%{opacity:1;-webkit-transform:translate3d(20px,0,0);transform:translate3d(20px,0,0)}100%{opacity:0;-webkit-transform:translate3d(-2000px,0,0);transform:translate3d(-2000px,0,0)}}@keyframes bounceOutLeft{20%{opacity:1;-webkit-transform:translate3d(20px,0,0);transform:translate3d(20px,0,0)}100%{opacity:0;-webkit-transform:translate3d(-2000px,0,0);transform:translate3d(-2000px,0,0)}}.bounceOutLeft{-webkit-animation-name:bounceOutLeft;animation-name:bounceOutLeft}@-webkit-keyframes bounceOutRight{20%{opacity:1;-webkit-transform:translate3d(-20px,0,0);transform:translate3d(-20px,0,0)}100%{opacity:0;-webkit-transform:translate3d(2000px,0,0);transform:translate3d(2000px,0,0)}}@keyframes bounceOutRight{20%{opacity:1;-webkit-transform:translate3d(-20px,0,0);transform:translate3d(-20px,0,0)}100%{opacity:0;-webkit-transform:translate3d(2000px,0,0);transform:translate3d(2000px,0,0)}}.bounceOutRight{-webkit-animation-name:bounceOutRight;animation-name:bounceOutRight}@-webkit-keyframes bounceOutUp{20%{-webkit-transform:translate3d(0,-10px,0);transform:translate3d(0,-10px,0)}40%,45%{opacity:1;-webkit-transform:translate3d(0,20px,0);transform:translate3d(0,20px,0)}100%{opacity:0;-webkit-transform:translate3d(0,-2000px,0);transform:translate3d(0,-2000px,0)}}@keyframes bounceOutUp{20%{-webkit-transform:translate3d(0,-10px,0);transform:translate3d(0,-10px,0)}40%,45%{opacity:1;-webkit-transform:translate3d(0,20px,0);transform:translate3d(0,20px,0)}100%{opacity:0;-webkit-transform:translate3d(0,-2000px,0);transform:translate3d(0,-2000px,0)}}.bounceOutUp{-webkit-animation-name:bounceOutUp;animation-name:bounceOutUp}@-webkit-keyframes fadeIn{0%{opacity:0}100%{opacity:1}}@keyframes fadeIn{0%{opacity:0}100%{opacity:1}}.fadeIn{-webkit-animation-name:fadeIn;animation-name:fadeIn}@-webkit-keyframes fadeInDown{0%{opacity:0;-webkit-transform:translate3d(0,-100%,0);transform:translate3d(0,-100%,0)}100%{opacity:1;-webkit-transform:none;transform:none}}@keyframes fadeInDown{0%{opacity:0;-webkit-transform:translate3d(0,-100%,0);transform:translate3d(0,-100%,0)}100%{opacity:1;-webkit-transform:none;transform:none}}.fadeInDown{-webkit-animation-name:fadeInDown;animation-name:fadeInDown}@-webkit-keyframes fadeInDownBig{0%{opacity:0;-webkit-transform:translate3d(0,-2000px,0);transform:translate3d(0,-2000px,0)}100%{opacity:1;-webkit-transform:none;transform:none}}@keyframes fadeInDownBig{0%{opacity:0;-webkit-transform:translate3d(0,-2000px,0);transform:translate3d(0,-2000px,0)}100%{opacity:1;-webkit-transform:none;transform:none}}.fadeInDownBig{-webkit-animation-name:fadeInDownBig;animation-name:fadeInDownBig}@-webkit-keyframes fadeInLeft{0%{opacity:0;-webkit-transform:translate3d(-100%,0,0);transform:translate3d(-100%,0,0)}100%{opacity:1;-webkit-transform:none;transform:none}}@keyframes fadeInLeft{0%{opacity:0;-webkit-transform:translate3d(-100%,0,0);transform:translate3d(-100%,0,0)}100%{opacity:1;-webkit-transform:none;transform:none}}.fadeInLeft{-webkit-animation-name:fadeInLeft;animation-name:fadeInLeft}@-webkit-keyframes fadeInLeftBig{0%{opacity:0;-webkit-transform:translate3d(-2000px,0,0);transform:translate3d(-2000px,0,0)}100%{opacity:1;-webkit-transform:none;transform:none}}@keyframes fadeInLeftBig{0%{opacity:0;-webkit-transform:translate3d(-2000px,0,0);transform:translate3d(-2000px,0,0)}100%{opacity:1;-webkit-transform:none;transform:none}}.fadeInLeftBig{-webkit-animation-name:fadeInLeftBig;animation-name:fadeInLeftBig}@-webkit-keyframes fadeInRight{0%{opacity:0;-webkit-transform:translate3d(100%,0,0);transform:translate3d(100%,0,0)}100%{opacity:1;-webkit-transform:none;transform:none}}@keyframes fadeInRight{0%{opacity:0;-webkit-transform:translate3d(100%,0,0);transform:translate3d(100%,0,0)}100%{opacity:1;-webkit-transform:none;transform:none}}.fadeInRight{-webkit-animation-name:fadeInRight;animation-name:fadeInRight}@-webkit-keyframes fadeInRightBig{0%{opacity:0;-webkit-transform:translate3d(2000px,0,0);transform:translate3d(2000px,0,0)}100%{opacity:1;-webkit-transform:none;transform:none}}@keyframes fadeInRightBig{0%{opacity:0;-webkit-transform:translate3d(2000px,0,0);transform:translate3d(2000px,0,0)}100%{opacity:1;-webkit-transform:none;transform:none}}.fadeInRightBig{-webkit-animation-name:fadeInRightBig;animation-name:fadeInRightBig}@-webkit-keyframes fadeInUp{0%{opacity:0;-webkit-transform:translate3d(0,100%,0);transform:translate3d(0,100%,0)}100%{opacity:1;-webkit-transform:none;transform:none}}@keyframes fadeInUp{0%{opacity:0;-webkit-transform:translate3d(0,100%,0);transform:translate3d(0,100%,0)}100%{opacity:1;-webkit-transform:none;transform:none}}.fadeInUp{-webkit-animation-name:fadeInUp;animation-name:fadeInUp}@-webkit-keyframes fadeInUpBig{0%{opacity:0;-webkit-transform:translate3d(0,2000px,0);transform:translate3d(0,2000px,0)}100%{opacity:1;-webkit-transform:none;transform:none}}@keyframes fadeInUpBig{0%{opacity:0;-webkit-transform:translate3d(0,2000px,0);transform:translate3d(0,2000px,0)}100%{opacity:1;-webkit-transform:none;transform:none}}.fadeInUpBig{-webkit-animation-name:fadeInUpBig;animation-name:fadeInUpBig}@-webkit-keyframes fadeOut{0%{opacity:1}100%{opacity:0}}@keyframes fadeOut{0%{opacity:1}100%{opacity:0}}.fadeOut{-webkit-animation-name:fadeOut;animation-name:fadeOut}@-webkit-keyframes fadeOutDown{0%{opacity:1}100%{opacity:0;-webkit-transform:translate3d(0,100%,0);transform:translate3d(0,100%,0)}}@keyframes fadeOutDown{0%{opacity:1}100%{opacity:0;-webkit-transform:translate3d(0,100%,0);transform:translate3d(0,100%,0)}}.fadeOutDown{-webkit-animation-name:fadeOutDown;animation-name:fadeOutDown}@-webkit-keyframes fadeOutDownBig{0%{opacity:1}100%{opacity:0;-webkit-transform:translate3d(0,2000px,0);transform:translate3d(0,2000px,0)}}@keyframes fadeOutDownBig{0%{opacity:1}100%{opacity:0;-webkit-transform:translate3d(0,2000px,0);transform:translate3d(0,2000px,0)}}.fadeOutDownBig{-webkit-animation-name:fadeOutDownBig;animation-name:fadeOutDownBig}@-webkit-keyframes fadeOutLeft{0%{opacity:1}100%{opacity:0;-webkit-transform:translate3d(-100%,0,0);transform:translate3d(-100%,0,0)}}@keyframes fadeOutLeft{0%{opacity:1}100%{opacity:0;-webkit-transform:translate3d(-100%,0,0);transform:translate3d(-100%,0,0)}}.fadeOutLeft{-webkit-animation-name:fadeOutLeft;animation-name:fadeOutLeft}@-webkit-keyframes fadeOutLeftBig{0%{opacity:1}100%{opacity:0;-webkit-transform:translate3d(-2000px,0,0);transform:translate3d(-2000px,0,0)}}@keyframes fadeOutLeftBig{0%{opacity:1}100%{opacity:0;-webkit-transform:translate3d(-2000px,0,0);transform:translate3d(-2000px,0,0)}}.fadeOutLeftBig{-webkit-animation-name:fadeOutLeftBig;animation-name:fadeOutLeftBig}@-webkit-keyframes fadeOutRight{0%{opacity:1}100%{opacity:0;-webkit-transform:translate3d(100%,0,0);transform:translate3d(100%,0,0)}}@keyframes fadeOutRight{0%{opacity:1}100%{opacity:0;-webkit-transform:translate3d(100%,0,0);transform:translate3d(100%,0,0)}}.fadeOutRight{-webkit-animation-name:fadeOutRight;animation-name:fadeOutRight}@-webkit-keyframes fadeOutRightBig{0%{opacity:1}100%{opacity:0;-webkit-transform:translate3d(2000px,0,0);transform:translate3d(2000px,0,0)}}@keyframes fadeOutRightBig{0%{opacity:1}100%{opacity:0;-webkit-transform:translate3d(2000px,0,0);transform:translate3d(2000px,0,0)}}.fadeOutRightBig{-webkit-animation-name:fadeOutRightBig;animation-name:fadeOutRightBig}@-webkit-keyframes fadeOutUp{0%{opacity:1}100%{opacity:0;-webkit-transform:translate3d(0,-100%,0);transform:translate3d(0,-100%,0)}}@keyframes fadeOutUp{0%{opacity:1}100%{opacity:0;-webkit-transform:translate3d(0,-100%,0);transform:translate3d(0,-100%,0)}}.fadeOutUp{-webkit-animation-name:fadeOutUp;animation-name:fadeOutUp}@-webkit-keyframes fadeOutUpBig{0%{opacity:1}100%{opacity:0;-webkit-transform:translate3d(0,-2000px,0);transform:translate3d(0,-2000px,0)}}@keyframes fadeOutUpBig{0%{opacity:1}100%{opacity:0;-webkit-transform:translate3d(0,-2000px,0);transform:translate3d(0,-2000px,0)}}.fadeOutUpBig{-webkit-animation-name:fadeOutUpBig;animation-name:fadeOutUpBig}@-webkit-keyframes flip{0%{-webkit-transform:perspective(400px) rotate3d(0,1,0,-360deg);transform:perspective(400px) rotate3d(0,1,0,-360deg);-webkit-animation-timing-function:ease-out;animation-timing-function:ease-out}40%{-webkit-transform:perspective(400px) translate3d(0,0,150px) rotate3d(0,1,0,-190deg);transform:perspective(400px) translate3d(0,0,150px) rotate3d(0,1,0,-190deg);-webkit-animation-timing-function:ease-out;animation-timing-function:ease-out}50%{-webkit-transform:perspective(400px) translate3d(0,0,150px) rotate3d(0,1,0,-170deg);transform:perspective(400px) translate3d(0,0,150px) rotate3d(0,1,0,-170deg);-webkit-animation-timing-function:ease-in;animation-timing-function:ease-in}80%{-webkit-transform:perspective(400px) scale3d(.95,.95,.95);transform:perspective(400px) scale3d(.95,.95,.95);-webkit-animation-timing-function:ease-in;animation-timing-function:ease-in}100%{-webkit-transform:perspective(400px);transform:perspective(400px);-webkit-animation-timing-function:ease-in;animation-timing-function:ease-in}}@keyframes flip{0%{-webkit-transform:perspective(400px) rotate3d(0,1,0,-360deg);transform:perspective(400px) rotate3d(0,1,0,-360deg);-webkit-animation-timing-function:ease-out;animation-timing-function:ease-out}40%{-webkit-transform:perspective(400px) translate3d(0,0,150px) rotate3d(0,1,0,-190deg);transform:perspective(400px) translate3d(0,0,150px) rotate3d(0,1,0,-190deg);-webkit-animation-timing-function:ease-out;animation-timing-function:ease-out}50%{-webkit-transform:perspective(400px) translate3d(0,0,150px) rotate3d(0,1,0,-170deg);transform:perspective(400px) translate3d(0,0,150px) rotate3d(0,1,0,-170deg);-webkit-animation-timing-function:ease-in;animation-timing-function:ease-in}80%{-webkit-transform:perspective(400px) scale3d(.95,.95,.95);transform:perspective(400px) scale3d(.95,.95,.95);-webkit-animation-timing-function:ease-in;animation-timing-function:ease-in}100%{-webkit-transform:perspective(400px);transform:perspective(400px);-webkit-animation-timing-function:ease-in;animation-timing-function:ease-in}}.animated.flip{-webkit-backface-visibility:visible;backface-visibility:visible;-webkit-animation-name:flip;animation-name:flip}@-webkit-keyframes flipInX{0%{-webkit-transform:perspective(400px) rotate3d(1,0,0,90deg);transform:perspective(400px) rotate3d(1,0,0,90deg);-webkit-transition-timing-function:ease-in;transition-timing-function:ease-in;opacity:0}40%{-webkit-transform:perspective(400px) rotate3d(1,0,0,-20deg);transform:perspective(400px) rotate3d(1,0,0,-20deg);-webkit-transition-timing-function:ease-in;transition-timing-function:ease-in}60%{-webkit-transform:perspective(400px) rotate3d(1,0,0,10deg);transform:perspective(400px) rotate3d(1,0,0,10deg);opacity:1}80%{-webkit-transform:perspective(400px) rotate3d(1,0,0,-5deg);transform:perspective(400px) rotate3d(1,0,0,-5deg)}100%{-webkit-transform:perspective(400px);transform:perspective(400px)}}@keyframes flipInX{0%{-webkit-transform:perspective(400px) rotate3d(1,0,0,90deg);transform:perspective(400px) rotate3d(1,0,0,90deg);-webkit-transition-timing-function:ease-in;-o-transition-timing-function:ease-in;transition-timing-function:ease-in;opacity:0}40%{-webkit-transform:perspective(400px) rotate3d(1,0,0,-20deg);transform:perspective(400px) rotate3d(1,0,0,-20deg);-webkit-transition-timing-function:ease-in;-o-transition-timing-function:ease-in;transition-timing-function:ease-in}60%{-webkit-transform:perspective(400px) rotate3d(1,0,0,10deg);transform:perspective(400px) rotate3d(1,0,0,10deg);opacity:1}80%{-webkit-transform:perspective(400px) rotate3d(1,0,0,-5deg);transform:perspective(400px) rotate3d(1,0,0,-5deg)}100%{-webkit-transform:perspective(400px);transform:perspective(400px)}}.flipInX{-webkit-backface-visibility:visible !important;backface-visibility:visible !important;-webkit-animation-name:flipInX;animation-name:flipInX}@-webkit-keyframes flipInY{0%{-webkit-transform:perspective(400px) rotate3d(0,1,0,90deg);transform:perspective(400px) rotate3d(0,1,0,90deg);-webkit-transition-timing-function:ease-in;transition-timing-function:ease-in;opacity:0}40%{-webkit-transform:perspective(400px) rotate3d(0,1,0,-20deg);transform:perspective(400px) rotate3d(0,1,0,-20deg);-webkit-transition-timing-function:ease-in;transition-timing-function:ease-in}60%{-webkit-transform:perspective(400px) rotate3d(0,1,0,10deg);transform:perspective(400px) rotate3d(0,1,0,10deg);opacity:1}80%{-webkit-transform:perspective(400px) rotate3d(0,1,0,-5deg);transform:perspective(400px) rotate3d(0,1,0,-5deg)}100%{-webkit-transform:perspective(400px);transform:perspective(400px)}}@keyframes flipInY{0%{-webkit-transform:perspective(400px) rotate3d(0,1,0,90deg);transform:perspective(400px) rotate3d(0,1,0,90deg);-webkit-transition-timing-function:ease-in;-o-transition-timing-function:ease-in;transition-timing-function:ease-in;opacity:0}40%{-webkit-transform:perspective(400px) rotate3d(0,1,0,-20deg);transform:perspective(400px) rotate3d(0,1,0,-20deg);-webkit-transition-timing-function:ease-in;-o-transition-timing-function:ease-in;transition-timing-function:ease-in}60%{-webkit-transform:perspective(400px) rotate3d(0,1,0,10deg);transform:perspective(400px) rotate3d(0,1,0,10deg);opacity:1}80%{-webkit-transform:perspective(400px) rotate3d(0,1,0,-5deg);transform:perspective(400px) rotate3d(0,1,0,-5deg)}100%{-webkit-transform:perspective(400px);transform:perspective(400px)}}.flipInY{-webkit-backface-visibility:visible !important;backface-visibility:visible !important;-webkit-animation-name:flipInY;animation-name:flipInY}@-webkit-keyframes flipOutX{0%{-webkit-transform:perspective(400px);transform:perspective(400px)}30%{-webkit-transform:perspective(400px) rotate3d(1,0,0,-20deg);transform:perspective(400px) rotate3d(1,0,0,-20deg);opacity:1}100%{-webkit-transform:perspective(400px) rotate3d(1,0,0,90deg);transform:perspective(400px) rotate3d(1,0,0,90deg);opacity:0}}@keyframes flipOutX{0%{-webkit-transform:perspective(400px);transform:perspective(400px)}30%{-webkit-transform:perspective(400px) rotate3d(1,0,0,-20deg);transform:perspective(400px) rotate3d(1,0,0,-20deg);opacity:1}100%{-webkit-transform:perspective(400px) rotate3d(1,0,0,90deg);transform:perspective(400px) rotate3d(1,0,0,90deg);opacity:0}}.flipOutX{-webkit-animation-name:flipOutX;animation-name:flipOutX;-webkit-animation-duration:.75s;animation-duration:.75s;-webkit-backface-visibility:visible !important;backface-visibility:visible !important}@-webkit-keyframes flipOutY{0%{-webkit-transform:perspective(400px);transform:perspective(400px)}30%{-webkit-transform:perspective(400px) rotate3d(0,1,0,-15deg);transform:perspective(400px) rotate3d(0,1,0,-15deg);opacity:1}100%{-webkit-transform:perspective(400px) rotate3d(0,1,0,90deg);transform:perspective(400px) rotate3d(0,1,0,90deg);opacity:0}}@keyframes flipOutY{0%{-webkit-transform:perspective(400px);transform:perspective(400px)}30%{-webkit-transform:perspective(400px) rotate3d(0,1,0,-15deg);transform:perspective(400px) rotate3d(0,1,0,-15deg);opacity:1}100%{-webkit-transform:perspective(400px) rotate3d(0,1,0,90deg);transform:perspective(400px) rotate3d(0,1,0,90deg);opacity:0}}.flipOutY{-webkit-backface-visibility:visible !important;backface-visibility:visible !important;-webkit-animation-name:flipOutY;animation-name:flipOutY;-webkit-animation-duration:.75s;animation-duration:.75s}@-webkit-keyframes lightSpeedIn{0%{-webkit-transform:translate3d(100%,0,0) skewX(-30deg);transform:translate3d(100%,0,0) skewX(-30deg);opacity:0}60%{-webkit-transform:skewX(20deg);transform:skewX(20deg);opacity:1}80%{-webkit-transform:skewX(-5deg);transform:skewX(-5deg);opacity:1}100%{-webkit-transform:none;transform:none;opacity:1}}@keyframes lightSpeedIn{0%{-webkit-transform:translate3d(100%,0,0) skewX(-30deg);transform:translate3d(100%,0,0) skewX(-30deg);opacity:0}60%{-webkit-transform:skewX(20deg);transform:skewX(20deg);opacity:1}80%{-webkit-transform:skewX(-5deg);transform:skewX(-5deg);opacity:1}100%{-webkit-transform:none;transform:none;opacity:1}}.lightSpeedIn{-webkit-animation-name:lightSpeedIn;animation-name:lightSpeedIn;-webkit-animation-timing-function:ease-out;animation-timing-function:ease-out}@-webkit-keyframes lightSpeedOut{0%{opacity:1}100%{-webkit-transform:translate3d(100%,0,0) skewX(30deg);transform:translate3d(100%,0,0) skewX(30deg);opacity:0}}@keyframes lightSpeedOut{0%{opacity:1}100%{-webkit-transform:translate3d(100%,0,0) skewX(30deg);transform:translate3d(100%,0,0) skewX(30deg);opacity:0}}.lightSpeedOut{-webkit-animation-name:lightSpeedOut;animation-name:lightSpeedOut;-webkit-animation-timing-function:ease-in;animation-timing-function:ease-in}@-webkit-keyframes rotateIn{0%{-webkit-transform-origin:center;transform-origin:center;-webkit-transform:rotate3d(0,0,1,-200deg);transform:rotate3d(0,0,1,-200deg);opacity:0}100%{-webkit-transform-origin:center;transform-origin:center;-webkit-transform:none;transform:none;opacity:1}}@keyframes rotateIn{0%{-webkit-transform-origin:center;transform-origin:center;-webkit-transform:rotate3d(0,0,1,-200deg);transform:rotate3d(0,0,1,-200deg);opacity:0}100%{-webkit-transform-origin:center;transform-origin:center;-webkit-transform:none;transform:none;opacity:1}}.rotateIn{-webkit-animation-name:rotateIn;animation-name:rotateIn}@-webkit-keyframes rotateInDownLeft{0%{-webkit-transform-origin:left bottom;transform-origin:left bottom;-webkit-transform:rotate3d(0,0,1,-45deg);transform:rotate3d(0,0,1,-45deg);opacity:0}100%{-webkit-transform-origin:left bottom;transform-origin:left bottom;-webkit-transform:none;transform:none;opacity:1}}@keyframes rotateInDownLeft{0%{-webkit-transform-origin:left bottom;transform-origin:left bottom;-webkit-transform:rotate3d(0,0,1,-45deg);transform:rotate3d(0,0,1,-45deg);opacity:0}100%{-webkit-transform-origin:left bottom;transform-origin:left bottom;-webkit-transform:none;transform:none;opacity:1}}.rotateInDownLeft{-webkit-animation-name:rotateInDownLeft;animation-name:rotateInDownLeft}@-webkit-keyframes rotateInDownRight{0%{-webkit-transform-origin:right bottom;transform-origin:right bottom;-webkit-transform:rotate3d(0,0,1,45deg);transform:rotate3d(0,0,1,45deg);opacity:0}100%{-webkit-transform-origin:right bottom;transform-origin:right bottom;-webkit-transform:none;transform:none;opacity:1}}@keyframes rotateInDownRight{0%{-webkit-transform-origin:right bottom;transform-origin:right bottom;-webkit-transform:rotate3d(0,0,1,45deg);transform:rotate3d(0,0,1,45deg);opacity:0}100%{-webkit-transform-origin:right bottom;transform-origin:right bottom;-webkit-transform:none;transform:none;opacity:1}}.rotateInDownRight{-webkit-animation-name:rotateInDownRight;animation-name:rotateInDownRight}@-webkit-keyframes rotateInUpLeft{0%{-webkit-transform-origin:left bottom;transform-origin:left bottom;-webkit-transform:rotate3d(0,0,1,45deg);transform:rotate3d(0,0,1,45deg);opacity:0}100%{-webkit-transform-origin:left bottom;transform-origin:left bottom;-webkit-transform:none;transform:none;opacity:1}}@keyframes rotateInUpLeft{0%{-webkit-transform-origin:left bottom;transform-origin:left bottom;-webkit-transform:rotate3d(0,0,1,45deg);transform:rotate3d(0,0,1,45deg);opacity:0}100%{-webkit-transform-origin:left bottom;transform-origin:left bottom;-webkit-transform:none;transform:none;opacity:1}}.rotateInUpLeft{-webkit-animation-name:rotateInUpLeft;animation-name:rotateInUpLeft}@-webkit-keyframes rotateInUpRight{0%{-webkit-transform-origin:right bottom;transform-origin:right bottom;-webkit-transform:rotate3d(0,0,1,-90deg);transform:rotate3d(0,0,1,-90deg);opacity:0}100%{-webkit-transform-origin:right bottom;transform-origin:right bottom;-webkit-transform:none;transform:none;opacity:1}}@keyframes rotateInUpRight{0%{-webkit-transform-origin:right bottom;transform-origin:right bottom;-webkit-transform:rotate3d(0,0,1,-90deg);transform:rotate3d(0,0,1,-90deg);opacity:0}100%{-webkit-transform-origin:right bottom;transform-origin:right bottom;-webkit-transform:none;transform:none;opacity:1}}.rotateInUpRight{-webkit-animation-name:rotateInUpRight;animation-name:rotateInUpRight}@-webkit-keyframes rotateOut{0%{-webkit-transform-origin:center;transform-origin:center;opacity:1}100%{-webkit-transform-origin:center;transform-origin:center;-webkit-transform:rotate3d(0,0,1,200deg);transform:rotate3d(0,0,1,200deg);opacity:0}}@keyframes rotateOut{0%{-webkit-transform-origin:center;transform-origin:center;opacity:1}100%{-webkit-transform-origin:center;transform-origin:center;-webkit-transform:rotate3d(0,0,1,200deg);transform:rotate3d(0,0,1,200deg);opacity:0}}.rotateOut{-webkit-animation-name:rotateOut;animation-name:rotateOut}@-webkit-keyframes rotateOutDownLeft{0%{-webkit-transform-origin:left bottom;transform-origin:left bottom;opacity:1}100%{-webkit-transform-origin:left bottom;transform-origin:left bottom;-webkit-transform:rotate3d(0,0,1,45deg);transform:rotate3d(0,0,1,45deg);opacity:0}}@keyframes rotateOutDownLeft{0%{-webkit-transform-origin:left bottom;transform-origin:left bottom;opacity:1}100%{-webkit-transform-origin:left bottom;transform-origin:left bottom;-webkit-transform:rotate3d(0,0,1,45deg);transform:rotate3d(0,0,1,45deg);opacity:0}}.rotateOutDownLeft{-webkit-animation-name:rotateOutDownLeft;animation-name:rotateOutDownLeft}@-webkit-keyframes rotateOutDownRight{0%{-webkit-transform-origin:right bottom;transform-origin:right bottom;opacity:1}100%{-webkit-transform-origin:right bottom;transform-origin:right bottom;-webkit-transform:rotate3d(0,0,1,-45deg);transform:rotate3d(0,0,1,-45deg);opacity:0}}@keyframes rotateOutDownRight{0%{-webkit-transform-origin:right bottom;transform-origin:right bottom;opacity:1}100%{-webkit-transform-origin:right bottom;transform-origin:right bottom;-webkit-transform:rotate3d(0,0,1,-45deg);transform:rotate3d(0,0,1,-45deg);opacity:0}}.rotateOutDownRight{-webkit-animation-name:rotateOutDownRight;animation-name:rotateOutDownRight}@-webkit-keyframes rotateOutUpLeft{0%{-webkit-transform-origin:left bottom;transform-origin:left bottom;opacity:1}100%{-webkit-transform-origin:left bottom;transform-origin:left bottom;-webkit-transform:rotate3d(0,0,1,-45deg);transform:rotate3d(0,0,1,-45deg);opacity:0}}@keyframes rotateOutUpLeft{0%{-webkit-transform-origin:left bottom;transform-origin:left bottom;opacity:1}100%{-webkit-transform-origin:left bottom;transform-origin:left bottom;-webkit-transform:rotate3d(0,0,1,-45deg);transform:rotate3d(0,0,1,-45deg);opacity:0}}.rotateOutUpLeft{-webkit-animation-name:rotateOutUpLeft;animation-name:rotateOutUpLeft}@-webkit-keyframes rotateOutUpRight{0%{-webkit-transform-origin:right bottom;transform-origin:right bottom;opacity:1}100%{-webkit-transform-origin:right bottom;transform-origin:right bottom;-webkit-transform:rotate3d(0,0,1,90deg);transform:rotate3d(0,0,1,90deg);opacity:0}}@keyframes rotateOutUpRight{0%{-webkit-transform-origin:right bottom;transform-origin:right bottom;opacity:1}100%{-webkit-transform-origin:right bottom;transform-origin:right bottom;-webkit-transform:rotate3d(0,0,1,90deg);transform:rotate3d(0,0,1,90deg);opacity:0}}.rotateOutUpRight{-webkit-animation-name:rotateOutUpRight;animation-name:rotateOutUpRight}@-webkit-keyframes hinge{0%{-webkit-transform-origin:top left;transform-origin:top left;-webkit-animation-timing-function:ease-in-out;animation-timing-function:ease-in-out}20%,60%{-webkit-transform:rotate3d(0,0,1,80deg);transform:rotate3d(0,0,1,80deg);-webkit-transform-origin:top left;transform-origin:top left;-webkit-animation-timing-function:ease-in-out;animation-timing-function:ease-in-out}40%,80%{-webkit-transform:rotate3d(0,0,1,60deg);transform:rotate3d(0,0,1,60deg);-webkit-transform-origin:top left;transform-origin:top left;-webkit-animation-timing-function:ease-in-out;animation-timing-function:ease-in-out;opacity:1}100%{-webkit-transform:translate3d(0,700px,0);transform:translate3d(0,700px,0);opacity:0}}@keyframes hinge{0%{-webkit-transform-origin:top left;transform-origin:top left;-webkit-animation-timing-function:ease-in-out;animation-timing-function:ease-in-out}20%,60%{-webkit-transform:rotate3d(0,0,1,80deg);transform:rotate3d(0,0,1,80deg);-webkit-transform-origin:top left;transform-origin:top left;-webkit-animation-timing-function:ease-in-out;animation-timing-function:ease-in-out}40%,80%{-webkit-transform:rotate3d(0,0,1,60deg);transform:rotate3d(0,0,1,60deg);-webkit-transform-origin:top left;transform-origin:top left;-webkit-animation-timing-function:ease-in-out;animation-timing-function:ease-in-out;opacity:1}100%{-webkit-transform:translate3d(0,700px,0);transform:translate3d(0,700px,0);opacity:0}}.hinge{-webkit-animation-name:hinge;animation-name:hinge}@-webkit-keyframes rollIn{0%{opacity:0;-webkit-transform:translate3d(-100%,0,0) rotate3d(0,0,1,-120deg);transform:translate3d(-100%,0,0) rotate3d(0,0,1,-120deg)}100%{opacity:1;-webkit-transform:none;transform:none}}@keyframes rollIn{0%{opacity:0;-webkit-transform:translate3d(-100%,0,0) rotate3d(0,0,1,-120deg);transform:translate3d(-100%,0,0) rotate3d(0,0,1,-120deg)}100%{opacity:1;-webkit-transform:none;transform:none}}.rollIn{-webkit-animation-name:rollIn;animation-name:rollIn}@-webkit-keyframes rollOut{0%{opacity:1}100%{opacity:0;-webkit-transform:translate3d(100%,0,0) rotate3d(0,0,1,120deg);transform:translate3d(100%,0,0) rotate3d(0,0,1,120deg)}}@keyframes rollOut{0%{opacity:1}100%{opacity:0;-webkit-transform:translate3d(100%,0,0) rotate3d(0,0,1,120deg);transform:translate3d(100%,0,0) rotate3d(0,0,1,120deg)}}.rollOut{-webkit-animation-name:rollOut;animation-name:rollOut}@-webkit-keyframes zoomIn{0%{opacity:0;-webkit-transform:scale3d(.3,.3,.3);transform:scale3d(.3,.3,.3)}50%{opacity:1}}@keyframes zoomIn{0%{opacity:0;-webkit-transform:scale3d(.3,.3,.3);transform:scale3d(.3,.3,.3)}50%{opacity:1}}.zoomIn{-webkit-animation-name:zoomIn;animation-name:zoomIn}@-webkit-keyframes zoomInDown{0%{opacity:0;-webkit-transform:scale3d(.1,.1,.1) translate3d(0,-1000px,0);transform:scale3d(.1,.1,.1) translate3d(0,-1000px,0);-webkit-animation-timing-function:cubic-bezier(.55,.055,.675,.19);animation-timing-function:cubic-bezier(.55,.055,.675,.19)}60%{opacity:1;-webkit-transform:scale3d(.475,.475,.475) translate3d(0,60px,0);transform:scale3d(.475,.475,.475) translate3d(0,60px,0);-webkit-animation-timing-function:cubic-bezier(.175,.885,.32,1);animation-timing-function:cubic-bezier(.175,.885,.32,1)}}@keyframes zoomInDown{0%{opacity:0;-webkit-transform:scale3d(.1,.1,.1) translate3d(0,-1000px,0);transform:scale3d(.1,.1,.1) translate3d(0,-1000px,0);-webkit-animation-timing-function:cubic-bezier(.55,.055,.675,.19);animation-timing-function:cubic-bezier(.55,.055,.675,.19)}60%{opacity:1;-webkit-transform:scale3d(.475,.475,.475) translate3d(0,60px,0);transform:scale3d(.475,.475,.475) translate3d(0,60px,0);-webkit-animation-timing-function:cubic-bezier(.175,.885,.32,1);animation-timing-function:cubic-bezier(.175,.885,.32,1)}}.zoomInDown{-webkit-animation-name:zoomInDown;animation-name:zoomInDown}@-webkit-keyframes zoomInLeft{0%{opacity:0;-webkit-transform:scale3d(.1,.1,.1) translate3d(-1000px,0,0);transform:scale3d(.1,.1,.1) translate3d(-1000px,0,0);-webkit-animation-timing-function:cubic-bezier(.55,.055,.675,.19);animation-timing-function:cubic-bezier(.55,.055,.675,.19)}60%{opacity:1;-webkit-transform:scale3d(.475,.475,.475) translate3d(10px,0,0);transform:scale3d(.475,.475,.475) translate3d(10px,0,0);-webkit-animation-timing-function:cubic-bezier(.175,.885,.32,1);animation-timing-function:cubic-bezier(.175,.885,.32,1)}}@keyframes zoomInLeft{0%{opacity:0;-webkit-transform:scale3d(.1,.1,.1) translate3d(-1000px,0,0);transform:scale3d(.1,.1,.1) translate3d(-1000px,0,0);-webkit-animation-timing-function:cubic-bezier(.55,.055,.675,.19);animation-timing-function:cubic-bezier(.55,.055,.675,.19)}60%{opacity:1;-webkit-transform:scale3d(.475,.475,.475) translate3d(10px,0,0);transform:scale3d(.475,.475,.475) translate3d(10px,0,0);-webkit-animation-timing-function:cubic-bezier(.175,.885,.32,1);animation-timing-function:cubic-bezier(.175,.885,.32,1)}}.zoomInLeft{-webkit-animation-name:zoomInLeft;animation-name:zoomInLeft}@-webkit-keyframes zoomInRight{0%{opacity:0;-webkit-transform:scale3d(.1,.1,.1) translate3d(1000px,0,0);transform:scale3d(.1,.1,.1) translate3d(1000px,0,0);-webkit-animation-timing-function:cubic-bezier(.55,.055,.675,.19);animation-timing-function:cubic-bezier(.55,.055,.675,.19)}60%{opacity:1;-webkit-transform:scale3d(.475,.475,.475) translate3d(-10px,0,0);transform:scale3d(.475,.475,.475) translate3d(-10px,0,0);-webkit-animation-timing-function:cubic-bezier(.175,.885,.32,1);animation-timing-function:cubic-bezier(.175,.885,.32,1)}}@keyframes zoomInRight{0%{opacity:0;-webkit-transform:scale3d(.1,.1,.1) translate3d(1000px,0,0);transform:scale3d(.1,.1,.1) translate3d(1000px,0,0);-webkit-animation-timing-function:cubic-bezier(.55,.055,.675,.19);animation-timing-function:cubic-bezier(.55,.055,.675,.19)}60%{opacity:1;-webkit-transform:scale3d(.475,.475,.475) translate3d(-10px,0,0);transform:scale3d(.475,.475,.475) translate3d(-10px,0,0);-webkit-animation-timing-function:cubic-bezier(.175,.885,.32,1);animation-timing-function:cubic-bezier(.175,.885,.32,1)}}.zoomInRight{-webkit-animation-name:zoomInRight;animation-name:zoomInRight}@-webkit-keyframes zoomInUp{0%{opacity:0;-webkit-transform:scale3d(.1,.1,.1) translate3d(0,1000px,0);transform:scale3d(.1,.1,.1) translate3d(0,1000px,0);-webkit-animation-timing-function:cubic-bezier(.55,.055,.675,.19);animation-timing-function:cubic-bezier(.55,.055,.675,.19)}60%{opacity:1;-webkit-transform:scale3d(.475,.475,.475) translate3d(0,-60px,0);transform:scale3d(.475,.475,.475) translate3d(0,-60px,0);-webkit-animation-timing-function:cubic-bezier(.175,.885,.32,1);animation-timing-function:cubic-bezier(.175,.885,.32,1)}}@keyframes zoomInUp{0%{opacity:0;-webkit-transform:scale3d(.1,.1,.1) translate3d(0,1000px,0);transform:scale3d(.1,.1,.1) translate3d(0,1000px,0);-webkit-animation-timing-function:cubic-bezier(.55,.055,.675,.19);animation-timing-function:cubic-bezier(.55,.055,.675,.19)}60%{opacity:1;-webkit-transform:scale3d(.475,.475,.475) translate3d(0,-60px,0);transform:scale3d(.475,.475,.475) translate3d(0,-60px,0);-webkit-animation-timing-function:cubic-bezier(.175,.885,.32,1);animation-timing-function:cubic-bezier(.175,.885,.32,1)}}.zoomInUp{-webkit-animation-name:zoomInUp;animation-name:zoomInUp}@-webkit-keyframes zoomOut{0%{opacity:1}50%{opacity:0;-webkit-transform:scale3d(.3,.3,.3);transform:scale3d(.3,.3,.3)}100%{opacity:0}}@keyframes zoomOut{0%{opacity:1}50%{opacity:0;-webkit-transform:scale3d(.3,.3,.3);transform:scale3d(.3,.3,.3)}100%{opacity:0}}.zoomOut{-webkit-animation-name:zoomOut;animation-name:zoomOut}@-webkit-keyframes zoomOutDown{40%{opacity:1;-webkit-transform:scale3d(.475,.475,.475) translate3d(0,-60px,0);transform:scale3d(.475,.475,.475) translate3d(0,-60px,0);-webkit-animation-timing-function:cubic-bezier(.55,.055,.675,.19);animation-timing-function:cubic-bezier(.55,.055,.675,.19)}100%{opacity:0;-webkit-transform:scale3d(.1,.1,.1) translate3d(0,2000px,0);transform:scale3d(.1,.1,.1) translate3d(0,2000px,0);-webkit-transform-origin:center bottom;transform-origin:center bottom;-webkit-animation-timing-function:cubic-bezier(.175,.885,.32,1);animation-timing-function:cubic-bezier(.175,.885,.32,1)}}@keyframes zoomOutDown{40%{opacity:1;-webkit-transform:scale3d(.475,.475,.475) translate3d(0,-60px,0);transform:scale3d(.475,.475,.475) translate3d(0,-60px,0);-webkit-animation-timing-function:cubic-bezier(.55,.055,.675,.19);animation-timing-function:cubic-bezier(.55,.055,.675,.19)}100%{opacity:0;-webkit-transform:scale3d(.1,.1,.1) translate3d(0,2000px,0);transform:scale3d(.1,.1,.1) translate3d(0,2000px,0);-webkit-transform-origin:center bottom;transform-origin:center bottom;-webkit-animation-timing-function:cubic-bezier(.175,.885,.32,1);animation-timing-function:cubic-bezier(.175,.885,.32,1)}}.zoomOutDown{-webkit-animation-name:zoomOutDown;animation-name:zoomOutDown}@-webkit-keyframes zoomOutLeft{40%{opacity:1;-webkit-transform:scale3d(.475,.475,.475) translate3d(42px,0,0);transform:scale3d(.475,.475,.475) translate3d(42px,0,0)}100%{opacity:0;-webkit-transform:scale(.1) translate3d(-2000px,0,0);transform:scale(.1) translate3d(-2000px,0,0);-webkit-transform-origin:left center;transform-origin:left center}}@keyframes zoomOutLeft{40%{opacity:1;-webkit-transform:scale3d(.475,.475,.475) translate3d(42px,0,0);transform:scale3d(.475,.475,.475) translate3d(42px,0,0)}100%{opacity:0;-webkit-transform:scale(.1) translate3d(-2000px,0,0);transform:scale(.1) translate3d(-2000px,0,0);-webkit-transform-origin:left center;transform-origin:left center}}.zoomOutLeft{-webkit-animation-name:zoomOutLeft;animation-name:zoomOutLeft}@-webkit-keyframes zoomOutRight{40%{opacity:1;-webkit-transform:scale3d(.475,.475,.475) translate3d(-42px,0,0);transform:scale3d(.475,.475,.475) translate3d(-42px,0,0)}100%{opacity:0;-webkit-transform:scale(.1) translate3d(2000px,0,0);transform:scale(.1) translate3d(2000px,0,0);-webkit-transform-origin:right center;transform-origin:right center}}@keyframes zoomOutRight{40%{opacity:1;-webkit-transform:scale3d(.475,.475,.475) translate3d(-42px,0,0);transform:scale3d(.475,.475,.475) translate3d(-42px,0,0)}100%{opacity:0;-webkit-transform:scale(.1) translate3d(2000px,0,0);transform:scale(.1) translate3d(2000px,0,0);-webkit-transform-origin:right center;transform-origin:right center}}.zoomOutRight{-webkit-animation-name:zoomOutRight;animation-name:zoomOutRight}@-webkit-keyframes zoomOutUp{40%{opacity:1;-webkit-transform:scale3d(.475,.475,.475) translate3d(0,60px,0);transform:scale3d(.475,.475,.475) translate3d(0,60px,0);-webkit-animation-timing-function:cubic-bezier(.55,.055,.675,.19);animation-timing-function:cubic-bezier(.55,.055,.675,.19)}100%{opacity:0;-webkit-transform:scale3d(.1,.1,.1) translate3d(0,-2000px,0);transform:scale3d(.1,.1,.1) translate3d(0,-2000px,0);-webkit-transform-origin:center bottom;transform-origin:center bottom;-webkit-animation-timing-function:cubic-bezier(.175,.885,.32,1);animation-timing-function:cubic-bezier(.175,.885,.32,1)}}@keyframes zoomOutUp{40%{opacity:1;-webkit-transform:scale3d(.475,.475,.475) translate3d(0,60px,0);transform:scale3d(.475,.475,.475) translate3d(0,60px,0);-webkit-animation-timing-function:cubic-bezier(.55,.055,.675,.19);animation-timing-function:cubic-bezier(.55,.055,.675,.19)}100%{opacity:0;-webkit-transform:scale3d(.1,.1,.1) translate3d(0,-2000px,0);transform:scale3d(.1,.1,.1) translate3d(0,-2000px,0);-webkit-transform-origin:center bottom;transform-origin:center bottom;-webkit-animation-timing-function:cubic-bezier(.175,.885,.32,1);animation-timing-function:cubic-bezier(.175,.885,.32,1)}}.zoomOutUp{-webkit-animation-name:zoomOutUp;animation-name:zoomOutUp}@-webkit-keyframes slideInDown{0%{-webkit-transform:translateY(-100%);transform:translateY(-100%);visibility:visible}100%{-webkit-transform:translateY(0);transform:translateY(0)}}@keyframes slideInDown{0%{-webkit-transform:translateY(-100%);transform:translateY(-100%);visibility:visible}100%{-webkit-transform:translateY(0);transform:translateY(0)}}.slideInDown{-webkit-animation-name:slideInDown;animation-name:slideInDown}@-webkit-keyframes slideInLeft{0%{-webkit-transform:translateX(-100%);transform:translateX(-100%);visibility:visible}100%{-webkit-transform:translateX(0);transform:translateX(0)}}@keyframes slideInLeft{0%{-webkit-transform:translateX(-100%);transform:translateX(-100%);visibility:visible}100%{-webkit-transform:translateX(0);transform:translateX(0)}}.slideInLeft{-webkit-animation-name:slideInLeft;animation-name:slideInLeft}@-webkit-keyframes slideInRight{0%{-webkit-transform:translateX(100%);transform:translateX(100%);visibility:visible}100%{-webkit-transform:translateX(0);transform:translateX(0)}}@keyframes slideInRight{0%{-webkit-transform:translateX(100%);transform:translateX(100%);visibility:visible}100%{-webkit-transform:translateX(0);transform:translateX(0)}}.slideInRight{-webkit-animation-name:slideInRight;animation-name:slideInRight}@-webkit-keyframes slideInUp{0%{-webkit-transform:translateY(100%);transform:translateY(100%);visibility:visible}100%{-webkit-transform:translateY(0);transform:translateY(0)}}@keyframes slideInUp{0%{-webkit-transform:translateY(100%);transform:translateY(100%);visibility:visible}100%{-webkit-transform:translateY(0);transform:translateY(0)}}.slideInUp{-webkit-animation-name:slideInUp;animation-name:slideInUp}@-webkit-keyframes slideOutDown{0%{-webkit-transform:translateY(0);transform:translateY(0)}100%{visibility:hidden;-webkit-transform:translateY(100%);transform:translateY(100%)}}@keyframes slideOutDown{0%{-webkit-transform:translateY(0);transform:translateY(0)}100%{visibility:hidden;-webkit-transform:translateY(100%);transform:translateY(100%)}}.slideOutDown{-webkit-animation-name:slideOutDown;animation-name:slideOutDown}@-webkit-keyframes slideOutLeft{0%{-webkit-transform:translateX(0);transform:translateX(0)}100%{visibility:hidden;-webkit-transform:translateX(-100%);transform:translateX(-100%)}}@keyframes slideOutLeft{0%{-webkit-transform:translateX(0);transform:translateX(0)}100%{visibility:hidden;-webkit-transform:translateX(-100%);transform:translateX(-100%)}}.slideOutLeft{-webkit-animation-name:slideOutLeft;animation-name:slideOutLeft}@-webkit-keyframes slideOutRight{0%{-webkit-transform:translateX(0);transform:translateX(0)}100%{visibility:hidden;-webkit-transform:translateX(100%);transform:translateX(100%)}}@keyframes slideOutRight{0%{-webkit-transform:translateX(0);transform:translateX(0)}100%{visibility:hidden;-webkit-transform:translateX(100%);transform:translateX(100%)}}.slideOutRight{-webkit-animation-name:slideOutRight;animation-name:slideOutRight}@-webkit-keyframes slideOutUp{0%{-webkit-transform:translateY(0);transform:translateY(0)}100%{visibility:hidden;-webkit-transform:translateY(-100%);transform:translateY(-100%)}}@keyframes slideOutUp{0%{-webkit-transform:translateY(0);transform:translateY(0)}100%{visibility:hidden;-webkit-transform:translateY(-100%);transform:translateY(-100%)}}.slideOutUp{-webkit-animation-name:slideOutUp;animation-name:slideOutUp}.default-section .heading{position:relative;z-index:50}.values-text-block .preview-img.height-2{margin-bottom:79px}.values-text-block h2,.values-text-block .h2{padding-top:44px}.service-list{padding:15px 0 0;margin:0 -47px 10px;list-style:none;text-align:center;color:#241f1d;font-size:0;line-height:0;letter-spacing:-4px;position:relative;z-index:50}.service-list>li{display:inline-block;vertical-align:top;letter-spacing:0;font-size:15px;line-height:1.2;width:20%;z-index:10;margin:0 0 30px;position:relative;padding:0 47px}.service-list>li:after{position:absolute;content:'';top:60px;left:0;right:0;height:2px;z-index:-10;background:#00b9e1}.service-list>li:nth-child(5n+1):after{left:100%}.service-list>li:nth-child(5n+1)+li:after{left:-26%}.service-list>li:last-child:after,.service-list>li:nth-child(5n+5):after{right:50%}.service-list .ico{display:block;color:#00b9e1;margin:0 auto 17px;border:2px solid #00b9e1;width:120px;height:120px;position:relative;z-index:50;background:#fff;line-height:116px;text-align:center;-webkit-border-radius:50%;border-radius:50%;-webkit-transition:all .35s ease;-o-transition:all .35s ease;transition:all .35s ease}.service-list .ico img,.service-list .ico svg{display:inline-block;vertical-align:middle;max-width:100%}.service-list .ico path{fill:#00b9e1;-webkit-transition:all .35s ease;-o-transition:all .35s ease;transition:all .35s ease}.service-list .text{opacity:0;-webkit-transition:all .35s ease;-o-transition:all .35s ease;transition:all .35s ease}.service-list .inner:hover .ico{color:#fff;background-color:#00b9e1}.service-list .inner:hover .ico path:not(.no-fill){fill:#fff}.service-list .inner .ico path.no-fill{fill:transparent}.service-list .inner:hover .ico path.no-fill{fill:transparent;stroke:#fff}.service-list .inner:hover .text{opacity:1}.service-list .ico .hse{display:inline-block;vertical-align:middle;text-transform:uppercase;font-weight:500;letter-spacing:.02em;font-size:32px}@media only screen and (max-width:1024px){.service-list>li:after{display:none}.service-list>li:before{position:absolute;content:'';top:0;left:0;right:0;bottom:0;z-index:150}.service-list .text{opacity:1}.service-list{margin-left:-15px;margin-right:-15px}.service-list>li{width:25%;padding-left:15px;padding-right:15px}}@media only screen and (max-width:767px){.service-list>li{width:50%;margin-bottom:36px}.values-text-block h2,.values-text-block .h2{font-size:25px;padding-top:33px}.service-list{margin-bottom:0}.service-list .ico{margin-bottom:20px}.service-list .inner{max-width:200px;margin:0 auto}.values-text-block .preview-img.height-2{margin-bottom:85px}}@media only screen and (max-width:479px){.service-list>li{width:100%}}@media only screen and (min-width:1600px){.values-text-block .preview-img.height-2{margin-bottom:4.9375vw}.values-text-block h2,.values-text-block .h2{padding-top:2.75vw}.service-list{padding:.9375vw 0 0;margin:0 -2.9375vw .625vw}.service-list>li{font-size:.9375vw;margin:0 0 1.875vw;padding:0 2.9375vw}.service-list>li:after{top:3.75vw}.service-list .ico{width:7.5vw;height:7.5vw;line-height:calc(7.5vw - 4px);margin-bottom:1.0625vw}.service-list .ico .hse{font-size:2vw}}.default-section .text-block.timeline-block{padding-bottom:0}.timeline-block .preview-img,.timeline-block .preview-img.height-2{margin-bottom:0}.timeline-holder:after{content:'';clear:both;display:block}.timeline-holder .slider-switcher{background:#edf2f5;float:right;width:50%;overflow:hidden;position:relative;padding:0;margin:0;list-style:none;min-height:682px;text-align:center;color:#7aa3ba;font-size:30px;line-height:1.2;letter-spacing:.02em}.timeline-holder .slider-switcher li{position:relative;width:240px;min-height:682px;overflow:visible;-webkit-transition:all .35s ease;-o-transition:all .35s ease;transition:all .35s ease}.timeline-holder .slider-switcher li:first-child .text:before{position:absolute;content:'';bottom:8px;right:50%;width:1000px;height:2px;z-index:-15;background:#7aa3ba;-webkit-transform:rotate(-5deg);-ms-transform:rotate(-5deg);-o-transform:rotate(-5deg);transform:rotate(-5deg);-webkit-transform-origin:100% 50%;-moz-transform-origin:100% 50%;-ms-transform-origin:100% 50%;-o-transform-origin:100% 50%;transform-origin:100% 50%}.timeline-holder .slider-switcher li:last-child .line{display:none}.timeline-holder .slider-switcher li:last-child .text:before{position:absolute;content:'';bottom:8px;left:50%;width:1000px;height:2px;z-index:-15;background:#7aa3ba;-webkit-transform:rotate(5deg);-ms-transform:rotate(5deg);-o-transform:rotate(5deg);transform:rotate(5deg);-webkit-transform-origin:0 50%;-moz-transform-origin:0 50%;-ms-transform-origin:0 50%;-o-transform-origin:0 50%;transform-origin:0 50%}.timeline-holder .slider-switcher .slick-current{color:#00b9e1;font-weight:700;font-size:118px}.timeline-holder .slider-switcher .text{position:absolute;left:50%;z-index:150;width:360px;height:160px;cursor:pointer;text-align:center;padding:105px 0 22px;margin-left:-180px;-webkit-transition:all .7s ease;-o-transition:all .7s ease;transition:all .7s ease}.timeline-holder .slider-switcher .slick-current .text{padding-top:0;-webkit-transition:all .35s ease;-o-transition:all .35s ease;transition:all .35s ease}.timeline-holder .slider-switcher .text:after{position:absolute;content:'';bottom:0;left:50%;width:18px;height:18px;z-index:-10;background:#7aa3ba;margin:0 0 0 -9px;-webkit-border-radius:50%;border-radius:50%;-webkit-transition:all .35s ease;-o-transition:all .35s ease;transition:all .35s ease}.timeline-holder .slider-switcher .slick-current .text:after{width:38px;height:38px;bottom:-5px;margin-left:-19px;background-color:#00b9e1}.timeline-holder .slider-switcher .line{position:absolute;left:50%;bottom:8px;height:2px;width:240px;overflow:hidden;text-indent:-9999px;background:#7aa3ba;z-index:-15;-webkit-transform-origin:0 50%;-moz-transform-origin:0 50%;-ms-transform-origin:0 50%;-o-transform-origin:0 50%;transform-origin:0 50%}.timeline-slider{float:left;width:50%;min-height:682px;position:relative;padding:184px 0 140px}.timeline-slider ul:not([class]){padding-left:75px;max-height:312px;overflow-x:hidden;overflow-y:auto}.timeline-slider .slick-arrow.slick-disabled{opacity:.5;cursor:default}.timeline-slider .slick-arrow{position:absolute;bottom:74px;z-index:1100;width:101px;height:101px;background:0 0;border:none;text-indent:-9999px;cursor:pointer;overflow:hidden;-webkit-appearance:none;-webkit-transition:all .35s ease;-o-transition:all .35s ease;transition:all .35s ease}.timeline-slider .slick-arrow:after,.timeline-slider .slick-arrow:before{position:absolute;content:'';top:50%;left:50%}.timeline-slider .slick-arrow:after{width:16px;height:2px;margin:-1px 0 0 -8px}.timeline-slider .slick-arrow:before{width:8px;height:8px;border:2px solid transparent;margin:-4px 0 0;-webkit-transform:rotate(45deg);-ms-transform:rotate(45deg);transform:rotate(45deg);z-index:10}.timeline-slider .slick-prev{right:0;background:#e2eaef}.timeline-slider .slick-prev:after,.timeline-slider .slick-prev:before{-webkit-transition:all .35s ease;-o-transition:all .35s ease;transition:all .35s ease}.timeline-slider .slick-prev:after{background:#7aa3ba}.timeline-slider .slick-prev:before{margin-left:-9px;border-left-color:#7aa3ba;border-bottom-color:#7aa3ba;border-top-color:transparent;border-right-color:transparent}.timeline-slider .slick-prev:hover{background:#00b9e1}.timeline-slider .slick-prev:hover:after{background:#fff}.timeline-slider .slick-prev:hover:before{border-left-color:#fff;border-bottom-color:#fff}.timeline-slider .slick-next{left:100%;background:#7aa3ba}.timeline-slider .slick-next:after{background:#fff}.timeline-slider .slick-next:before{border-top-color:#fff;border-right-color:#fff;border-left-color:transparent;border-bottom-color:transparent}.timeline-slider .slick-next:hover{background:#00b9e1}@media only screen and (min-width:1600px){.timeline-holder .slider-switcher{min-height:42.625vw;font-size:1.875vw}.timeline-holder .slider-switcher li{width:15vw;min-height:42.625vw}.timeline-holder .slider-switcher li:last-child .text:before,.timeline-holder .slider-switcher li:first-child .text:before{bottom:.5vw;width:62.5vw;height:.125vw}.timeline-holder .slider-switcher .slick-current{font-size:7.375vw}.timeline-holder .slider-switcher .text{width:22.5vw;height:10vw;padding:6.5625vw 0 1.375vw;margin-left:-11.25vw}.timeline-holder .slider-switcher .text:after{width:1.125vw;height:1.125vw;margin:0 0 0 -.5625vw}.timeline-holder .slider-switcher .slick-current .text:after{width:2.375vw;height:2.375vw;bottom:-.3125vw;margin-left:-1.1875vw}.timeline-holder .slider-switcher .line{bottom:.5vw;height:.125vw;width:15vw}.timeline-slider{min-height:42.625vw;padding:11.5vw 0 8.75vw}.timeline-slider ul:not([class]){padding-left:4.6875vw}.timeline-slider .slick-arrow{bottom:4.625vw;width:6.3125vw;height:6.3125vw}.timeline-slider .slick-arrow:after{width:1vw;height:.125vw;margin:-.0625vw 0 0 -.5vw}.timeline-slider .slick-arrow:before{width:.5vw;height:.5vw;margin:-.25vw 0 0}.timeline-slider .slick-prev:before{margin-left:-.5625vw}}@media only screen and (max-width:1023px){.timeline-block .preview-img,.timeline-block .preview-img.height-2{margin-bottom:116px}.timeline-holder .slider-switcher{float:none;width:auto;min-height:500px;margin:0}.timeline-holder .slider-switcher li{min-height:500px}.timeline-slider{padding:139px 0 0;width:auto;float:none;min-height:0;max-width:682px;margin:0 auto 25px}.timeline-slider ul:not([class]){padding-left:46px;overflow:visible;max-height:none}.timeline-slider .slick-arrow{top:0}.timeline-slider .slick-prev{left:0;right:auto}.timeline-slider .slick-next{left:101px}}@media only screen and (max-width:767px){.timeline-holder .slider-switcher{min-height:0;font-size:4.375vw}.timeline-holder .slider-switcher li{min-height:0;height:100vw;width:34.375vw}.timeline-holder .slider-switcher .slick-current{font-size:17.5vw}.timeline-holder .slider-switcher .text{height:25vw;width:51.25vw;margin-left:-25.625vw;padding:12.5vw 0 4.6875vw}.timeline-holder .slider-switcher .text:after{width:2.8125vw;height:2.8125vw;margin-left:-1.5625vw}.timeline-holder .slider-switcher .line{width:34.375vw;bottom:1.25vw}.timeline-holder .slider-switcher .slick-current .text:after{width:5.625vw;height:5.625vw;bottom:-.9375vw;margin-left:-2.8125vw}.timeline-holder .slider-switcher li:first-child .text:before,.timeline-holder .slider-switcher li:last-child .text:before{bottom:1.25vw}.timeline-slider ul:not([class]){padding-left:0}}.partners-list{padding:43px 0 0;margin:0 0 -25px;list-style:none;font-size:0;line-height:0;letter-spacing:-4px}.partners-list>li{display:inline-block;vertical-align:top;letter-spacing:0;font-size:15px;line-height:24px;width:25%;min-height:272px;position:relative;padding:47px 52px 70px}.partners-list>li:nth-child(even){background:#f2f6f8}@media only screen and (min-width:1600px){.partners-list{margin-bottom:-1.5625vw}}@media only screen and (min-width:480px){.partners-list>li:nth-child(even){background:0 0}.partners-list>li:nth-child(4n+2),.partners-list>li:nth-child(4n+3){background:#f2f6f8}}@media only screen and (min-width:768px){.partners-list>li:nth-child(4n+2),.partners-list>li:nth-child(4n+3){background:0 0}.partners-list>li:nth-child(6n+2),.partners-list>li:nth-child(6n+4),.partners-list>li:nth-child(6n+6){background:#f2f6f8}}@media only screen and (min-width:1024px){.partners-list>li:nth-child(6n+2),.partners-list>li:nth-child(6n+4),.partners-list>li:nth-child(6n+6){background:0 0}.partners-list>li:nth-child(8n+2),.partners-list>li:nth-child(8n+4),.partners-list>li:nth-child(8n+5),.partners-list>li:nth-child(8n+7){background:#f2f6f8}}.partners-list p{margin:0}.partners-list .more-btn{position:absolute;left:0;right:0;padding:0 52px;bottom:35px}.partners-list .more-btn a{color:#00b9e1;padding-left:30px}.partners-list .more-btn a:after{top:11px;left:0}.partners-list .visual{margin:0 0 21px}.partners-list .visual img{display:block;max-width:100%}@media only screen and (max-width:1259px){.partners-list>li,.partners-list .more-btn{padding-left:20px;padding-right:20px}}@media only screen and (max-width:1023px){.partners-list>li{width:33.3%}}@media only screen and (max-width:767px){.partners-list>li{width:50%}}@media only screen and (max-width:479px){.partners-list{padding-top:0;margin-top:-39px}.partners-list>li{width:100%;padding-top:45px}.partners-list>li,.partners-list .more-btn{padding-left:40px;padding-right:40px}}.download-list{padding:33px 0 0;margin:0 0 47px;list-style:none;font-size:0;line-height:0;letter-spacing:-4px}.download-list>li{display:inline-block;vertical-align:top;letter-spacing:0;font-size:15px;line-height:1.2;width:25%;margin:0 0 25px}.download-list .visual{display:-webkit-flex;display:-moz-flex;display:-ms-flex;display:-o-flex;display:flex;-webkit-flex-direction:column;-moz-flex-direction:column;-ms-flex-direction:column;-o-flex-direction:column;flex-direction:column;-ms-align-items:center;align-items:center;justify-content:center;padding:0 15px;margin:0 0 58px;min-height:24.7vw;background-position:50% 50%;-webkit-background-size:cover;background-size:cover;position:relative;background-repeat:no-repeat}.download-list .visual.presentation{text-align:center;background-color:#e9fdfd}.download-list .visual.presentation img{margin-bottom:50px}.download-list .visual-panel{position:absolute;top:0;left:0;right:0;background:#7aa3ba;color:#fff;font-size:13px;letter-spacing:.03em;padding:38px 10px 33px 82px}.download-list .visual-panel .ico{position:absolute;top:50%;left:14px;max-width:65px;margin-top:-28px}.download-list .visual-panel .ico img{display:block;max-width:100%}.download-list .visual img{display:block;max-width:100%}.download-list .visual.monochrome{background-color:#241f1d}.download-list .content{padding:0 50px}.download-list .inner{padding:18px 0 0;margin:0;color:#00b9e1;max-width:215px;list-style:none}.download-list .inner li{margin:0 0 12px}.download-list .inner a{display:inline-block;padding:8px 0 0 43px;position:relative;overflow:hidden;cursor:pointer;min-height:34px;color:inherit;text-decoration:none}.download-list .inner a:hover{text-decoration:underline}.download-list .inner input[type=file]{position:absolute;top:0;left:0;width:100%;height:100%;cursor:pointer;margin:0;padding:0;opacity:0;z-index:10;-webkit-appearance:none;-moz-appearance:none;appearance:none}.download-list .inner .ico{position:absolute;top:0;left:0}.download-list .inner .ico img{display:block;max-width:100%}.media-block .tab-control{padding:0;margin:0;list-style:none;font-size:25px;line-height:1.2}.media-block .tab-control:after{content:'';clear:both;display:block}.media-block .tab-control li{float:left;width:25%}.media-block .tab-control a{display:block;padding:51px 50px;background:#e2eaef;text-decoration:none;-webkit-transition:all .35s ease;-o-transition:all .35s ease;transition:all .35s ease}.media-block .tab-control a:hover{background-color:#c8d9e4}.media-block .tab-control .active a{color:#fff;background:#7aa3ba}.media-list{padding:5px 0;margin:0;z-index:10;list-style:none;font-size:25px;line-height:1.2;position:relative}.media-list:before{position:absolute;content:'';top:0;left:0;right:0;bottom:0;z-index:-10;border-top:5px solid #7aa3ba;border-bottom:5px solid #7aa3ba}.media-list:after{content:'';clear:both;display:block}.media-list>li{float:left;width:25%}.media-list a{color:#fff;z-index:10;display:block;height:24.7vw;overflow:hidden;position:relative;text-decoration:none;padding:53px 30px 30px 35px;-webkit-background-size:cover;background-size:cover;background-position:50% 50%;background-repeat:no-repeat}.media-list a:after{position:absolute;content:'';top:0;left:0;right:0;bottom:0;z-index:-10;border:5px solid #7aa3ba;-webkit-transition:all .35s ease;-o-transition:all .35s ease;transition:all .35s ease}.media-list a:hover:after{background-color:rgba(76,118,142,.7)}.media-list .title{display:block;opacity:0;-webkit-transition:opacity .35s ease;-o-transition:opacity .35s ease;transition:opacity .35s ease}.media-list a:hover .title{opacity:1}.media-section{padding-bottom:0}.video-block{width:100%;height:410px;max-width:730px;margin:0 auto 37px;padding:16px 0 0}.video-block iframe{display:block;width:100%;height:100%}@media only screen and (min-width:1600px){.download-list{padding:2.0625vw 0 0;margin:0 0 2.9375vw}.download-list>li{font-size:.9375vw;margin:0 0 1.5625vw}.download-list .visual{padding:0 .9375vw;margin:0 0 3.625vw}.download-list .visual.presentation img{margin-bottom:3.125vw}.download-list .visual-panel{font-size:.8125vw;padding:2.375vw .625vw 2.0625vw 5.125vw}.download-list .visual-panel .ico{left:.875vw;max-width:4.0625vw;margin-top:-1.75vw}.download-list .content{padding:0 3.125vw}.download-list .inner{padding:1.125vw 0 0;max-width:13.4375vw}.download-list .inner li{margin:0 0 .75vw}.download-list .inner a{padding:.5vw 0 0 2.6875vw}.media-block .tab-control{font-size:1.5625vw}.media-block .tab-control a{padding:3.1875vw 3.125vw}.media-list{padding:.3125vw 0;font-size:1.5625vw}.media-list:before{border-top-width:.3125vw;border-bottom-width:.3125vw}.media-list a{padding:3.3125vw 1.875vw 1.875vw 2.1875vw}.media-list a:after{border-width:.3125vw}.video-block{height:25.625vw;max-width:45.625vw;margin:0 auto 2.3125vw;padding-top:1vw}}@media only screen and (max-width:1259px){.download-list{padding-top:21px;margin-bottom:16px}.download-list .content{padding-left:15px;padding-right:15px}.download-list .visual-panel{padding-left:65px}.download-list .visual-panel .ico{left:10px;max-width:50px}.download-list .visual{margin-bottom:30px}.download-list>li{margin-bottom:25px}.media-list{font-size:20px}.media-list a{padding:20px 25px}}@media only screen and (max-width:1023px){.download-list>li{width:50%}.download-list .visual{min-height:50vw}.media-block .tab-control li{width:50%}.media-list>li{width:33.3%}.media-list a{height:33.3vw}}@media only screen and (max-width:767px){.download-list>li{width:100%}.download-list .visual{min-height:0;height:100vw;max-height:380px}.download-list .visual img{max-height:100%}.download-list .content{padding-left:21px;padding-right:21px}.download-list .visual.presentation{font-size:14px}.media-list{padding:0}.media-list:before{display:none}.media-list>li{width:50%}.media-list a{height:50vw}.media-block .tab-control{position:relative;z-index:150}.media-block .tab-control li{position:absolute;top:-9999px;left:-9999px;opacity:0;width:100%;-webkit-transition:all 0s ease .35s,opacity .35s ease;-o-transition:all 0s ease .35s,opacity .35s ease;transition:all 0s ease .35s,opacity .35s ease}.media-block .tab-control li.active{position:relative;top:auto;left:auto;opacity:1;-webkit-transition:opacity .35s ease;-o-transition:opacity .35s ease;transition:opacity .35s ease}.media-block .tab-control a{color:#fff;position:relative;background:#7aa3ba;padding:49px 20px 54px}.media-block .tab-control a:hover{background:#7aa3ba}.media-block .tab-control a:after{position:absolute;content:'';top:50%;right:26px;width:19px;height:19px;display:none;margin:-16px 0 0;border:1px solid #fff;border-top-color:transparent;border-left-color:transparent;-webkit-transform:rotate(45deg);-ms-transform:rotate(45deg);-o-transform:rotate(45deg);transform:rotate(45deg);-webkit-transition:all .35s ease;-o-transition:all .35s ease;transition:all .35s ease}.media-block .tab-control .active a{padding-right:65px}.media-block .tab-control .active a:after{display:block}.media-block .tab-control.open li:not(.active){position:absolute;top:100%;left:0;opacity:1;-webkit-transition:opacity .35s ease;-o-transition:opacity .35s ease;transition:opacity .35s ease}.media-block .tab-control.open .active a:after{margin-top:-5px;border-top-color:#fff;border-left-color:#fff;border-right-color:transparent;border-bottom-color:transparent}.video-block{height:53.455vw;padding-top:2.086vw}}@media only screen and (max-width:479px){.media-list>li{width:100%;margin:0 0 11px}.media-list a{height:100.625vw}.media-list{background:#7aa3ba}.media-list a:after{border:none}}.media-list.type2{padding:25px 0 0}.media-list.type2:before{display:none}.media-list.type2 a:after{display:none}.media-list.type2 li{overflow:hidden;border-top:1px solid #e0e7eb;border-left:1px solid #e0e7eb}.media-list.type2 li:first-child,.media-list.type2 li:nth-child(4n+1){border-left:none}.media-list.type2 a{-webkit-transition:all .35s ease;-o-transition:all .35s ease;transition:all .35s ease}.media-list.type2 a:hover{-webkit-transform:scale(1.2);-ms-transform:scale(1.2);-o-transform:scale(1.2);transform:scale(1.2)}@media only screen and (max-width:1023px){.media-list.type2 li:nth-child(4n+1){border-left:1px solid #e0e7eb}.media-list.type2 li:nth-child(3n+1){border-left:none}}@media only screen and (max-width:767px){.media-list.type2 li:nth-child(3n+1){border-left:1px solid #e0e7eb}.media-list.type2 li:nth-child(2n+1){border-left:none}}@media only screen and (max-width:479px){.media-list.type2{padding-top:0}.media-list.type2 li{width:50%;margin-bottom:0}.media-list.type2 a{height:50vw}}.text-block .product-section{padding:20px 0}.text-block .product-section .trade-btn{position:static}.inner-trade-btn{padding:40px 0 20px}.inner-trade-btn a{color:#fff;font-size:25px;line-height:1.2;display:inline-block;position:relative;text-decoration:none;padding:51px 25px 52px 129px;background:#00b9e1;letter-spacing:.016em;text-align:center;-webkit-transition:background .35s ease;-o-transition:background .35s ease;transition:background .35s ease}.inner-trade-btn .ico{position:absolute;top:50%;left:33px;width:38px;height:38px;border:1px solid #fff;margin:-17px 0 0;-webkit-border-radius:50%;border-radius:50%}.inner-trade-btn .ico:after{position:absolute;content:'';top:50%;left:50%;width:17px;height:1px;margin:0 0 0 -8px;background:#fff}.inner-trade-btn .ico:before{position:absolute;content:'';top:50%;left:50%;width:9px;height:9px;margin:-4px 0 0 -6px;border:1px solid #fff;border-top-color:transparent;border-right-color:transparent;-webkit-transform:rotate(45deg);-ms-transform:rotate(45deg);transform:rotate(45deg)}@media only screen and (min-width:1600px){.inner-trade-btn a{padding:3.1875vw 1.5625vw 3.25vw 8.0625vw;font-size:1.5625vw}.inner-trade-btn .ico{left:2.0625vw;width:2.375vw;height:2.375vw;margin-top:-1.0625vw}.inner-trade-btn .ico:before{width:.625vw;height:.625vw;margin-top:-.3125vw;margin-left:-.375vw}.inner-trade-btn .ico:after{width:1.0625vw;margin-left:-.5vw}}@media only screen and (max-width:1023px){.inner-trade-btn .ico{position:absolute;top:50%;left:33px;width:38px;height:38px;border:1px solid #fff;margin:-17px 0 0;-webkit-border-radius:50%;border-radius:50%}.inner-trade-btn .ico:after{position:absolute;content:'';top:50%;left:50%;width:17px;height:1px;margin:0 0 0 -8px;background:#fff}.inner-trade-btn .ico:before{position:absolute;content:'';top:50%;left:50%;width:9px;height:9px;margin:-4px 0 0 -6px;border:1px solid #fff;border-top-color:transparent;border-right-color:transparent;-webkit-transform:rotate(45deg);-ms-transform:rotate(45deg);transform:rotate(45deg)}.inner-trade-btn a{padding:51px 15px 52px 90px}}@media only screen and (max-width:767px){.inner-trade-btn a{text-align:left;padding:21px 75px 21px 19px}.inner-trade-btn .ico{left:auto;right:19px}.inner-trade-btn .ico:after{margin-left:-9px}.inner-trade-btn .ico:before{margin-left:-1px;border-top-color:#fff;border-right-color:#fff;border-left-color:transparent;border-bottom-color:transparent}}.manage-slider-cover{overflow:hidden}.manage-slider{position:relative;padding:0;text-align:center;letter-spacing:0;margin:0 0 15px;white-space:nowrap}.manage-slider:after{content:'';clear:both;display:block}.manage-slider .item{cursor:pointer;min-height:350px;width:202px;display:inline-block;vertical-align:top;white-space:normal;padding:33px 6px 0;-webkit-transition:all .35s ease;-o-transition:all .35s ease;transition:all .35s ease}.manage-slider .item.active{width:290px;padding-top:12px}.manage-slider-holder{position:relative;padding:0 50px}.manage-slider-holder .nav-arrow{position:absolute;top:80px;z-index:50;cursor:pointer;-webkit-appearance:none;-moz-appearance:none;appearance:none;border:none;margin:0;padding:0;width:100px;height:100px;text-indent:-9999px;overflow:hidden;background:#e2eaef;-webkit-transition:all .35s ease;-o-transition:all .35s ease;transition:all .35s ease}.manage-slider-holder .nav-arrow:after,.manage-slider-holder .nav-arrow:before{position:absolute;content:'';top:50%;left:50%;-webkit-transition:all .35s ease;-o-transition:all .35s ease;transition:all .35s ease}.manage-slider-holder .nav-arrow:after{width:16px;height:2px;background:#84aabf;margin:-1px 0 0 -8px}.manage-slider-holder .nav-arrow:hover:after{background:#fff}.manage-slider-holder .nav-arrow:before{width:8px;height:8px;z-index:10;border:2px solid transparent;margin:-4px 0 0;-webkit-transform:rotate(45deg);-ms-transform:rotate(45deg);transform:otate(45deg)}.manage-slider-holder .nav-arrow.prev:before{margin-left:-9px;border-left-color:#84aabf;border-bottom-color:#84aabf;border-top-color:transparent;border-right-color:transparent}.manage-slider-holder .nav-arrow.prev:hover:before{border-left-color:#fff;border-bottom-color:#fff}.manage-slider-holder .nav-arrow.next:before{border-top-color:#84aabf;border-right-color:#84aabf;border-left-color:transparent;border-bottom-color:transparent}.manage-slider-holder .nav-arrow.next:hover:before{border-top-color:#fff;border-right-color:#fff}.manage-slider-holder .nav-arrow:hover{background:#7aa3ba}.manage-slider-holder .nav-arrow.prev{left:-60px}.manage-slider-holder .nav-arrow.next{right:-60px}.manage-slider .visual{width:182px;height:188px;display:block;padding:15px 12px;position:relative;margin:0 auto 2px;-webkit-transition:all .35s ease;-o-transition:all .35s ease;transition:all .35s ease}.manage-slider .visual span{display:block;height:100%;background-repeat:no-repeat;background-position:50% 50%;-webkit-background-size:cover;background-size:cover}.manage-slider .visual:after{position:absolute;content:'';top:0;left:0;right:0;bottom:0;opacity:0;-webkit-border-radius:10%;border-radius:10%;border:1px solid #00b9e1;-webkit-transition:all .35s ease;-o-transition:all .35s ease;transition:all .35s ease}.manage-slider .item.active .visual{padding:0;width:230px;height:230px;margin-bottom:25px}.manage-slider .item.active .visual:after{top:-12px;left:-12px;right:-12px;bottom:-12px;opacity:1;border-width:4px;-webkit-border-radius:0;border-radius:0;-webkit-transition:border-width .35s ease,opacity .7s ease,all .2s ease;-o-transition:border-width .35s ease,opacity .7s ease,all .2s ease;transition:border-width .35s ease,opacity .7s ease,all .2s ease}.manage-slider .head-panel{line-height:1.2;color:#241f1d;max-width:200px;margin:0 auto;padding:0;position:relative;letter-spacing:.02em;-webkit-transition:padding .35s ease;-o-transition:padding .35s ease;transition:padding .35s ease}.manage-slider .head-panel:after{position:absolute;content:'';bottom:0;left:50%;width:44px;height:3px;opacity:0;margin:0 0 0 -22px;background:#00b9e1;-webkit-transition:opacity .35s ease;-o-transition:opacity .35s ease;transition:opacity .35s ease}.manage-slider .slick-current .head-panel{padding-bottom:19px}.manage-slider .slick-current .head-panel:after{opacity:1}.manage-slider .title{display:block;font-size:16px;margin:0 0 10px}.manage-slider .post{display:block;font-size:13px;text-align:center;color:#7aa3ba}.manage-slider p{margin:0}.manage-slider .expanded{padding:20px 0 0}.manage-slider-text{text-align:center;padding:0 0 14px}.manage-slider-text .inner{max-width:626px;margin:0 auto}@media only screen and (min-width:1600px){.manage-slider{margin:0 0 .9375vw}.manage-slider .item{min-height:21.875vw;width:12.625vw;padding:2.0625vw .375vw 0}.manage-slider .item.active{width:18.125vw;padding-top:.75vw}.manage-slider-holder{padding:0 3.125vw}.manage-slider-holder .nav-arrow{top:5vw;width:6.25vw;height:6.25vw}.manage-slider-holder .nav-arrow:after{width:1vw;height:.125vw;margin:-.0625vw 0 0 -.5vw}.manage-slider-holder .nav-arrow:before{width:.5vw;height:.5vw;border-width:.125vw;margin:-.25vw 0 0}.manage-slider-holder .nav-arrow.prev:before{margin-left:-.5625vw}.manage-slider-holder .nav-arrow.prev{left:-3.75vw}.manage-slider-holder .nav-arrow.next{right:-3.75vw}.manage-slider .visual{width:11.375vw;height:11.75vw;padding:.9375vw .75vw;margin:0 auto .125vw}.manage-slider .item.active .visual{width:14.375vw;height:14.375vw;margin-bottom:1.5625vw}.manage-slider .item.active .visual:after{top:-.75vw;left:-.75vw;right:-.75vw;bottom:-.75vw;border-width:.25vw}.manage-slider .head-panel{max-width:12.5vw}.manage-slider .head-panel:after{width:2.75vw;height:.1875vw;margin:0 0 0 -1.375vw}.manage-slider .slick-current .head-panel{padding-bottom:1.1875vw}.manage-slider .title{font-size:1vw;margin:0 0 .625vw}.manage-slider .post{font-size:.8125vw}.manage-slider .expanded{padding:1.25vw 0 0}.manage-slider-text{padding:0 0 .875vw}.manage-slider-text .inner{max-width:39.125vw}}@media only screen and (max-width:1320px){.manage-slider-holder{padding-left:90px;padding-right:90px}.manage-slider-holder .nav-arrow.prev{left:-10px}.manage-slider-holder .nav-arrow.next{right:-10px}.manage-slider-cover{max-width:706px;margin-left:auto;margin-right:auto}}@media only screen and (max-width:900px){.manage-slider .item{opacity:0}.manage-slider .item.active{opacity:1}.manage-slider-cover{max-width:400px;overflow:visible !important}}@media only screen and (max-width:479px){.manage-slider .item.active{width:184px}.manage-slider .item.active .visual{width:168px;height:168px}.manage-slider .visual{width:150px;height:150px}.manage-slider .item{width:150px;min-height:300px}.manage-slider-holder .nav-arrow{top:60px;width:76px;height:76px}.manage-slider-holder .nav-arrow.prev{left:-20px}.manage-slider-holder .nav-arrow.next{right:-20px}}.service-list2{padding:18px 0 0;margin:0 -45px 55px;list-style:none;text-align:center;font-size:0;line-height:0;letter-spacing:-4px;color:#696969;position:relative}.service-list2 li{display:inline-block;vertical-align:top;letter-spacing:0;letter-spacing:.02em;font-size:15px;line-height:1.2;margin:0 0 40px;padding:20px 45px 0;width:350px}.service-list2 li.reverse .ico .in{-webkit-animation:spin 3s linear infinite;animation:spin 3s linear infinite}.service-list2 li.reverse .ico .out{-webkit-animation:spin 5s linear reverse infinite;animation:spin 5s linear reverse infinite}.service-list2 li.in-1-4 .ico .in{border-top-color:transparent}.service-list2 li.in-3-4 .ico .in{border-left-color:#7aa3ba}.service-list2 li.out-1-4 .ico .out{border-top-color:transparent}.service-list2 li.out-3-4 .ico .out{border-left-color:#7aa3ba}.service-list2 .ico{display:block;width:114px;height:114px;line-height:114px;margin:0 auto 40px;text-align:center;background:#00b9e1;border-radius:50%;position:relative}.service-list2 .ico img{max-width:80%;display:inline-block;vertical-align:middle}.service-list2 .ico .border{position:absolute;overflow:hidden;border-radius:50%;text-indent:-9999px;border:2px solid #00b9e1}.service-list2 .ico .in{top:50%;left:50%;width:134px;height:134px;margin:-67px 0 0 -67px;border-left-color:transparent;border-right-color:transparent;border-top-color:#7aa3ba;border-bottom-color:#7aa3ba;-webkit-animation:spin 3s linear reverse infinite;animation:spin 3s linear reverse infinite}.service-list2 .ico .out{top:50%;left:50%;width:150px;height:150px;margin:-75px 0 0 -75px;border-left-color:transparent;border-right-color:transparent;border-top-color:#00b9e1;border-bottom-color:#00b9e1;-webkit-animation:spin 5s linear infinite;animation:spin 5s linear infinite}@-webkit-keyframes spin{from{-webkit-transform:rotate(0deg);transform:rotate(0deg)}to{-webkit-transform:rotate(360deg);transform:rotate(360deg)}}@keyframes spin{from{-webkit-transform:rotate(0deg);transform:rotate(0deg)}to{-webkit-transform:rotate(360deg);transform:rotate(360deg)}}.service-list2 .num{display:block;color:#00b9e1;font-size:34px;line-height:1.2;margin:0 0 17px}.service-list2 .num small{color:#696969;display:block;font-size:15px;line-height:1.2;font-weight:400;margin-top:-1px}@media only screen and (max-width:767px){.service-list2{margin-left:0;margin-right:0}.service-list2 li{padding-left:0;padding-right:0;display:block;width:auto}}@media only screen and (min-width:1600px){.service-list2{padding:1.125vw 0 0;margin:0 -2.8125vw 3.4375vw}.service-list2 li{font-size:.9375vw;margin:0 0 2.5vw;padding:20px 2.8125vw 0;width:21.875vw}.service-list2 .ico{width:7.125vw;height:7.125vw;line-height:7.125vw;margin:0 auto 2.5vw}.service-list2 .ico .border{border-width:.125vw}.service-list2 .ico .out{width:8.375vw;height:8.375vw;margin:-4.1875vw 0 0 -4.1875vw}.service-list2 .ico .in{width:9.375vw;height:9.375vw;margin:-4.6875vw 0 0 -4.6875vw}.service-list2 .num{font-size:2.125vw;margin:0 0 1.0625vw}.service-list2 .num small{font-size:.9375vw}} .alignnone{margin:5px 20px 20px 0}.aligncenter,div.aligncenter{margin:auto}.alignright{float:right;margin:5px 0 20px 20px}.alignleft{float:left;margin:5px 20px 20px 0}.aligncenter{display:block;margin:5px auto 5px auto}a img.alignright{float:right;margin:5px 0 20px 20px}a img.alignnone{margin:5px 20px 20px 0}a img.alignleft{float:left;margin:5px 20px 20px 0}a img.aligncenter{display:block;margin-left:auto;margin-right:auto}.wp-caption{background:#fff;border:1px solid #f0f0f0;max-width:96%;padding:5px 3px 10px;text-align:center}.wp-caption.alignnone{margin:5px 20px 20px 0}.wp-caption.alignleft{margin:5px 20px 20px 0}.wp-caption.alignright{margin:5px 0 20px 20px}.wp-caption img{border:0 none;height:auto;margin:0;max-width:98.5%;padding:0;width:auto}.wp-caption p.wp-caption-text{font-size:11px;line-height:17px;margin:0;padding:0 4px 5px}.wpcf7-not-valid-tip{display:none!Important}.wpcf7-not-valid{border:1px solid #e10000!Important;color:#e10000}.wpcf7-response-output{border:none!Important;padding:0 0 0 50px!Important;margin:0!Important}.submit-row>p{display:inline-block}@media only screen and (max-width:767px){.news-item img{max-width:100%;height:100%}}.video_content iframe{max-width:730px !important;max-height:410px !important}@media screen and (max-width:480px){.video_content iframe{height:210px !important;width:100% !important}}@media screen and (max-width:380px){.video_content iframe{height:147px !important;width:100% !important}}@media (min-width:700px){.special-padding{padding-top:37px !important;padding-bottom:37px !important}}@media (min-width:1600px){.special-padding{padding-top:2.38vw !important;padding-bottom:2.38vw !important}} /*! fancyBox v2.1.4 fancyapps.com | fancyapps.com/fancybox/#license */ .fancybox-wrap,.fancybox-skin,.fancybox-outer,.fancybox-inner,.fancybox-image,.fancybox-wrap iframe,.fancybox-wrap object,.fancybox-nav,.fancybox-nav span,.fancybox-tmp{padding:0;margin:0;border:0;outline:none;vertical-align:top}.fancybox-wrap{position:absolute;top:0;left:0;z-index:8020}.fancybox-skin{position:relative;background:#f9f9f9;color:#444;text-shadow:none;-webkit-border-radius:10px;-moz-border-radius:10px;border-radius:10px}.fancybox-opened{z-index:8030}.fancybox-opened .fancybox-skin{-webkit-box-shadow:0 10px 25px rgba(0,0,0,.5);-moz-box-shadow:0 10px 25px rgba(0,0,0,.5);box-shadow:0 10px 25px rgba(0,0,0,.5)}.fancybox-outer,.fancybox-inner{position:relative}.fancybox-inner{overflow:hidden}.fancybox-type-iframe .fancybox-inner{-webkit-overflow-scrolling:touch}.fancybox-error{color:#444;font:14px/20px "Helvetica Neue",Helvetica,Arial,sans-serif;margin:0;padding:15px;white-space:nowrap}.fancybox-image,.fancybox-iframe{display:block;width:100%;height:100%}.fancybox-image{max-width:100%;max-height:100%}#fancybox-loading,.fancybox-close,.fancybox-prev span,.fancybox-next span{background-image:url(//www.ppc.net.ua/wp-content/themes/ppc/js/fancybox/fancybox_sprite.png)}#fancybox-loading{position:fixed;top:50%;left:50%;margin-top:-22px;margin-left:-22px;background-position:0 -108px;opacity:.8;cursor:pointer;z-index:8060}#fancybox-loading div{width:44px;height:44px;background:url(//www.ppc.net.ua/wp-content/themes/ppc/js/fancybox/fancybox_loading.gif) center center no-repeat}.fancybox-close{position:absolute;top:-18px;right:-18px;width:36px;height:36px;cursor:pointer;z-index:8040}.fancybox-nav{position:absolute;top:0;width:40%;height:100%;cursor:pointer;text-decoration:none;background:transparent url(//www.ppc.net.ua/wp-content/themes/ppc/js/fancybox/blank.gif);-webkit-tap-highlight-color:rgba(0,0,0,0);z-index:8040}.fancybox-prev{left:0}.fancybox-next{right:0}.fancybox-nav span{position:absolute;top:50%;width:36px;height:34px;margin-top:-18px;cursor:pointer;z-index:8040;visibility:hidden}.fancybox-prev span{left:10px;background-position:0 -36px}.fancybox-next span{right:10px;background-position:0 -72px}.fancybox-nav:hover span{visibility:visible}.fancybox-tmp{position:absolute;top:-99999px;left:-99999px;visibility:hidden;max-width:99999px;max-height:99999px;overflow:visible !important}.fancybox-lock{overflow:hidden}.fancybox-overlay{position:absolute;top:0;left:0;overflow:hidden;display:none;z-index:8010;background:url(//www.ppc.net.ua/wp-content/themes/ppc/js/fancybox/fancybox_overlay.png)}.fancybox-overlay-fixed{position:fixed;bottom:0;right:0}.fancybox-lock .fancybox-overlay{overflow:auto;overflow-y:scroll}.fancybox-title{visibility:hidden;font:normal 13px/20px "Helvetica Neue",Helvetica,Arial,sans-serif;position:relative;text-shadow:none;z-index:8050}.fancybox-opened .fancybox-title{visibility:visible}.fancybox-title-float-wrap{position:absolute;bottom:0;right:50%;margin-bottom:-35px;z-index:8050;text-align:center}.fancybox-title-float-wrap .child{display:inline-block;margin-right:-100%;padding:2px 20px;background:0 0;background:rgba(0,0,0,.8);-webkit-border-radius:15px;-moz-border-radius:15px;border-radius:15px;text-shadow:0 1px 2px #222;color:#fff;font-weight:700;line-height:24px;white-space:nowrap}.fancybox-title-outside-wrap{position:relative;margin-top:10px;color:#fff}.fancybox-title-inside-wrap{padding-top:10px}.fancybox-title-over-wrap{position:absolute;bottom:0;left:0;color:#fff;padding:10px;background:#000;background:rgba(0,0,0,.8)} #fancybox-buttons{position:fixed;left:0;width:100%;z-index:8050}#fancybox-buttons.top{top:10px}#fancybox-buttons.bottom{bottom:10px}#fancybox-buttons ul{display:block;width:166px;height:30px;margin:0 auto;padding:0;list-style:none;border:1px solid #111;border-radius:3px;-webkit-box-shadow:inset 0 0 0 1px rgba(255,255,255,.05);-moz-box-shadow:inset 0 0 0 1px rgba(255,255,255,.05);box-shadow:inset 0 0 0 1px rgba(255,255,255,.05);background:#323232;background:-moz-linear-gradient(top,#444 0%,#343434 50%,#292929 50%,#333 100%);background:-webkit-gradient(linear,left top,left bottom,color-stop(0%,#444),color-stop(50%,#343434),color-stop(50%,#292929),color-stop(100%,#333));background:-webkit-linear-gradient(top,#444 0%,#343434 50%,#292929 50%,#333 100%);background:-o-linear-gradient(top,#444 0%,#343434 50%,#292929 50%,#333 100%);background:-ms-linear-gradient(top,#444 0%,#343434 50%,#292929 50%,#333 100%);background:linear-gradient(top,#444 0%,#343434 50%,#292929 50%,#333 100%);filter:progid:DXImageTransform.Microsoft.gradient(startColorstr='#444444',endColorstr='#222222',GradientType=0)}#fancybox-buttons ul li{float:left;margin:0;padding:0}#fancybox-buttons a{display:block;width:30px;height:30px;text-indent:-9999px;background-image:url(//www.ppc.net.ua/wp-content/themes/ppc/js/fancybox/helpers/fancybox_buttons.png);background-repeat:no-repeat;outline:none;opacity:.8}#fancybox-buttons a:hover{opacity:1}#fancybox-buttons a.btnPrev{background-position:5px 0}#fancybox-buttons a.btnNext{background-position:-33px 0;border-right:1px solid #3e3e3e}#fancybox-buttons a.btnPlay{background-position:0 -30px}#fancybox-buttons a.btnPlayOn{background-position:-30px -30px}#fancybox-buttons a.btnToggle{background-position:3px -60px;border-left:1px solid #111;border-right:1px solid #3e3e3e;width:35px}#fancybox-buttons a.btnToggleOn{background-position:-27px -60px}#fancybox-buttons a.btnClose{border-left:1px solid #111;width:35px;background-position:-56px 0}#fancybox-buttons a.btnDisabled{opacity:.4;cursor:default} #fancybox-thumbs{position:fixed;left:0;width:100%;overflow:hidden;z-index:8050}#fancybox-thumbs.bottom{bottom:2px}#fancybox-thumbs.top{top:2px}#fancybox-thumbs ul{position:relative;list-style:none;margin:0;padding:0}#fancybox-thumbs ul li{float:left;padding:1px;opacity:.5}#fancybox-thumbs ul li.active{opacity:.75;padding:0;border:1px solid #fff}#fancybox-thumbs ul li:hover{opacity:1}#fancybox-thumbs ul li a{display:block;position:relative;overflow:hidden;border:1px solid #222;background:#111;outline:none}#fancybox-thumbs ul li img{display:block;position:relative;border:0;padding:0}
JV PPC presented gifts to children of Poltava region for Children's Day
Social responsibility
JV PPC presented gifts to children of Poltava region for Children's Day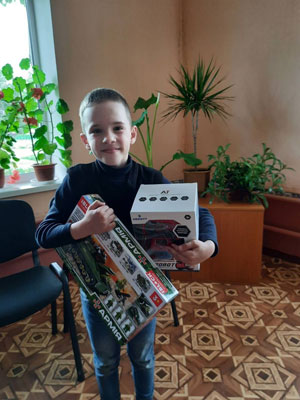 June 1, Poltava – JV Poltava Petroleum Company (hereinafter referred to as JV PPC) presented children with special needs living on the territory of the Nekhvoroshchansky community with gifts for the Children's Day.
JV PPC is a socially responsible company and a reliable partner of the Poltava region. The company always pays special attention to young residents of the communities of the Poltava region, where it conducts mining activities.
Reference
JV Poltava Petroleum Company is a Ukrainian-British joint venture established in 1994 and is a subsidiary of JKX Oil & Gas plc. JV PPC is one of the leaders among the non-state oil and gas companies in Ukraine. The company's field of activity is the search, exploration, production and treatment of gas and oil. Poltava Petroleum Company uses the most modern technologies and methods to achieve energy independence for Ukraine.
The parent company, JKX Oil & Gas plc, is a publicly traded company listed on the London Stock Exchange since 1995 and is governed by a Board of Directors. The CEO of JV PPC and JKX Oil & Gas plc is Viktor Gladun, who has been heading the company since 2016.